River Flow canoes and rafts - Outdoor Norway
Address: Evangervegen 16, 5700 Voss
Date: Thursday 19 sep 2019 - Thursday 31 Oct 2019
Show map

Address: Evangervegen 16, 5700 Voss

Paddle along the beautiful stretch of the gorgeous Raundal River on our fun "Flow" canoes and rafts!
Take your entire family or friends on a relaxing and outstanding adventure! Outdoor Norway will take you on a stunning trip to discover the magnificent Raundal River from an inflatable canoe or small raft.

Your 5km "fun-flow" experience starts where the Marine Canyon finishes at. A friendly experienced guide will accompany you while you 'go with the flow' and paddle down this picturesque river and enjoy the outstanding scenery.

Your tour will finish at Palmafossen; a 15m high waterfall on the Raundalselva river, here you will find a Salmon Ladder that helps the salmon to swim all the way up the Raundalen. There the shuttle back to Voss awaits you.

Our fun Flow Canoes and Rafts provide you with the perfect way for you and your entire family to enjoy this breathtaking scenery. The section of river we paddle contains many fun rapids in the Class I-II category as well as many beautiful pools for you to relax and float through while enjoying the crystal clear water.

Our qualified guide will provide instruction (dry land and on-the-water) so that you not only have a great trip but learn skills that you can apply to future paddle adventures as well.

Season:
June til September
Trip times: 10:15 & 14:00 – daily
Minimum 3 persons enrolled or payment equivalent
Maximum 16 guests per trip

Duration:
3 hours total
20 minutes transport in and 10 minutes back. 30 minutes for changing clothes + outfitting gear + preparations.
On the river with canoes & rafts approx. 1,5 – 2 hours river trip.

Price:
Adult kr. 850,00
Youth kr. 650,00 – Price category for: born in 1999 until 2005 (13 years old until 17 years old)
Child kr. 550,00 – Price category for: born in 2006 and after (4 years old until 12 years old

Guests requirements:
Minimum age 4 years. Ages 4 to 7 years must go in a raft, minimum age in a canoe is 8 years. Children 12 years and under are to be accompanied by an adult in the same water craft.
Under 18 years – guardian conditions apply. A guardian must sign the waiver liability form.
You must be able to swim
Weight limit 120kg
Normal physical health
Please inform us of any medical conditions like asthma, epilepsy etc.

What's included:
– Professional river guide
– Top quality equipment
– Inflatable Canoes & Rafts
– Canoe paddle
– PFD (personal flotation device)
– Splash jacket
– Wetsuits required early and late in the season
– Footwear
– Transport in and out of the river
– A fantastic river tour in Voss, Norway

What to bring with you:
– Swimming clothes
– Thermal underwear if cold
– Change of clothes
– Suncream

Weather limitations:
It's a great activity to do on sunny or rainy day's

Additional Information:
– No experience necessary
– Inflatable Canoes can hold up to 3 adults each or 2 adults + 2 kids. Max. load (kg) 280
– Inflatable Rafts can hold up to 6 people each

Tour highligts:
- Scenic view of the mountains surrounding the river and the crystal clear water you are paddling in.
- Few fun grade 2 rapids and many other grade 1 rapids.
- Palmafossen – 15m high waterfall on the Raundal River.
- Fish Ladders are one of the most commonly used methods to grow the fish population in Norway. These 'Ladders' help by allowing the fish to access larger areas of the river upstream which they otherwise could not access due to large obstacles in the river that they can't swim up – e.g. waterfalls. By helping the fish to come up such previously impassable obstacles, it gives them more space to breed and feed. Fish Ladders have great significance for the maintenance of biodiversity and productivity. In the current situation with many endangered stocks of salmon and freshwater fish, this is particularly important.

Intinerary:
Our base is a tent located by the lakeside of Vangsvatnet, the main lake in Voss, only 100mtr in front of Voss Gondola and the Train station.

Show up 10 minutes before your scheduled time at our operational base

1- Check-in at our outdoor base
2 – Gear up
3 – Shuttle to the river
4 – Safety instructions
5 – Warm-up and practice at river pool
6 – River trip
7 – Load back in the van
8 – Shuttle back to our outdoor base.
Show more
Book now - choose start date and product
About this activity
Prices from

Price information

Adult: 850 NOK, Children (4-12 years): 550 NOK
Cabins
Distance: 3 km
Cozy cabin area with self-service cabins located right below the ski resort. Bavallslia is the area closest to the ski ticket office and chair lift in Bavallen. The cabins are located 500 meters from the reception.
Apartments
Distance: 3 km
Stay in modern self-service apartments with the mountains and nature is located right outside your doorstep. These apartments are located on the second floor of the service building in Bavallstunet, 100-500 meters from the ski lift.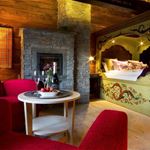 Hotels
Distance: 1.6 km
Store Ringheim Hotel is an old farm that is restored and made into a small and unique boutique hotel.