High Rope & Zip-line Park
Address: Nedkvitnesvegen 25, 5710 Skulestadmo
Date: Saturday 15 may 2021 - Sunday 17 Oct 2021
Show map
Address: Nedkvitnesvegen 25, 5710 Skulestadmo

Located in scenic surroundings of the Stranda river in Åsbrekkegjellet, the varied, fun and challenging elements offer something for all ages.
Out park has 60 elements with 2 Main Courses and a Zip-line Park for everyone over 140 cm tall and 4 Mini Courses for anyone over 100cm tall.

High Rope & Zip-Line Park
Our park has 60 elements with 2 Main Courses and a Zip-line Park for anyone over 140cm tall and 4 Mini Courses for anyone over 100cm tall.

Located in scenic surroundings of the Stranda river in Åsbrekkegjellet, the varied, fun and challenging elements offer something for all ages.

Main Course
2 Courses, 26 Elements and 2 long Zip-Lines

Each element presents different challenges and there are several junctions where you can take a short-cut past some of the more challenging elements and come back to them later.

Mini & Micro Courses
4 Courses, 23 Elements and 4 Zip-Lines

These courses are for the smaller adventurers! On the Micro Course parents can help the smallest monkeys get ready for the Mini Course nice and close to the ground.

There are no age limit in the park, but some of the courses requires either adult supervision, signing of a waiver, depending on your age. You find a description of the requirements under each product.

Info on Covid Measures for the High Rope Park:

We must implement various measure to ensure a safe and quality experience for all participants. People must not visit the park if you are sick or suspected of being sick or if you are in the risk group defined by the government.

Your visit in the park is limited to 2 hours. The park is an amazing place, but in these special times we hope you understand these measures.

Park entry can only be purchased online. Please get in touch directly at [email protected] if you want to use a gift card or Season Ticket to book a session. Meet at the park reception at least 15 minutes before your session.


You can book 5 different products: 1. Main Course 2. Main Course - Zipline 3. Mini Course 4. Mini Course + Zipline 5. Zipline.

To read more about the different products, click on them!

It is important that you read closely about the product you book and about the height limits for each products and adult supervision. It is also important that you are sure that you can visit the park at the occasion and date you choose. Because of the strict measures and high demand in the park now we can not change the booking, product or occasion close to the arrival date.

- All participants should disinfect their hands on arrival at the park - there are disinfection points in various places in the park.
- All equipment shall be disinfected after each use.
- After demonstration and under supervision, all participants shall fit themselves with the safety equipment. Members of their own group can help each other.
- Please practice distancing of minimum 1 meter to all other visitors in the park.
- Briefings shall take place as normal, but in smaller groups.
- You are welcome to bring your own food and drink. We cannot offer any refreshments or BBQ facilities at this time.
- If you require help whilst in the trees: Firstly remember the instructions from the briefing and the methods of helping each other in the - group. In cases requiring help from an instructor, they shall be equipped with clean gloves and a face mask.
- Toilets are available as usual but we obviously require you to take extra care with personal hygiene.
- Following sensible measures everything will be as fun as ever and an exciting experience shall be enjoyed by everyone!

To contact us: [email protected]
+ (47) 56 51 05 25

2020 Season
Open Weekends: 23rd May > 11th Oct

Open every day: 20th June > 30th Aug

BRIEFING AND SAFETY SYSTEM
After Check-in and before entering any of the Courses you will be equipped with the correct harness, helmet and safety system and then take part in a safety briefing. Our trained instructors will make sure everyone understands how to use the equipment and make their way around the trees safely.

The entire park now uses the same Continuous Belay Safety System which you guide around each course without ever being disconnected from the safety wire.

Follow the E16 and look for the Parking area on the right 1,8 km after Tvinde Camping (about 150 meter before you cross a river bridge).

From the car park is about 5 minutes by foot to the park following the signs.

Note that there is no shuttle buss or transport offerings to the park this year, so you have to drive out there yourself or take the bus to the nearest bus stop (1,1 km from the park). If you are going by buss, we recommend that you check the buss departures before you book and ensure that you book the right occasion.
Show more
Book now - choose start date and product
Hostels
Distance: 4.2 km
Located with own beach 800m from Voss station. 4-5-bedded standard room with bunk beds that can be booked privately for 1-4 persons. No extra cost for children from 0-3 years. Rate includes bed linen and breakfast. All our rooms have toilet and shower.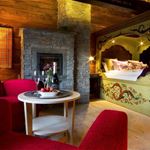 Hotels
Distance: 2 km
Store Ringheim Hotel is an old farm that is restored and made into a small and unique boutique hotel.
Accommodation
Distance: 22.2 km
In this area you'll find smaller apartments built between 2004 - 2008. The apartments have basic standard and are located 310 - 460 metres south-west from Myrkdalen Hotel. Walking distance to the ski resort.