Family rafting grade 2 in Raundal River
Address: Evangervegen 14, 5704 Vossevangen
Date: Tuesday 20 jul 2021 - Sunday 10 Oct 2021
Show map
Address: Evangervegen 14, 5704 Vossevangen

Explore the great Raundal river in Voss on our family rafting trip. An outstanding safe and fun adventure to discover the Raundal river.

The perfect tour for families or groups with young kids and youths.
On this whitewater rafting tour, you'll be able to paddle awesome, family-friendly rapids in one of the most scenic environments in the world.

Our qualified international guides are certified River Rafting Guides who will guide through great grade II rapids. We hire the best guides out there, with years of experience in rafting for your safety!

They will provide you safety instructions before and during the tour (on land and on water) and teach you some skills to apply to some future paddle adventures. This tour is suitable for beginners and families with small kids.

The complete tour is 3 hours. We run all very efficiently, so you will be on the river for approximately 2 hrs.
Instructions and giving you the gear are part of the trip.
Our start point in the river is less than a 20min drive away from our base!

You have to paddle and work as a team to navigate down the river. But there will be opportunities to relax and enjoy the beautiful pools and waterfalls along the trip!
Show more
Book now - choose start date and product
About this activity
Contact person email
Opening hours
Spring/Summer May 10th to June 25th 10:00 am until 4:00 pm, daily Main Summer From June 26th until August 21st 9:00 am until 6:00 pm, daily Summer/Autumn August 22nd to October 17th 10:00 am until 4:00 pm, daily
Apartments
Distance: 3 km
Stay in modern self-service apartments with the mountains and nature is located right outside your doorstep. These apartments are located on the second floor above the reception.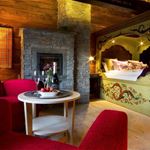 Hotels
Distance: 1.6 km
Store Ringheim Hotel is an old farm that is restored and made into a small and unique boutique hotel.
Hostels
Distance: 731 meters
Located with own beach 800m from Voss station. 4-5-bedded standard room with bunk beds that can be booked privately for 1-4 persons. No extra cost for children from 0-3 years. Rate includes bed linen and breakfast. All our rooms have toilet and shower.