Plan your stay
1. Travelling to Voss
It is easy to get to Voss by train, bus and car from gateways with international arrivals, such as Bergen and Oslo. The town is centrally located in South-western Norway and "the heart of Fjord Norway", between the famous fjords of Sognefjorden and Hardangerfjorden.
Bergen is the main gateway for both international and national arrivals  by plane, bus or boat. If you are on a round trip without a car, there are several destinations in the region that have connections to Voss by public transport.
By car:
BERGEN-VOSS:
Route: E16;  Arna, Dale
Kilometres: approx. 100 km
Time: approx. 1 hour 30 minutes
OSLO - VOSS:
Route 1: Rv 52 via Hemsedal; Gol - Borlaug
Kilometres: approx. 396 km
Time: approx. 6 hours 30 minutes
Route 2: Rv7: Hardangervidda
Kilometres: approx. 380 km
Time: approx. 6 hours
Route 3: Rv 50; Hol - Aurland
Kilometres: approx. 382 km
Time: approx. 6 hours
Route 4: E16; Filefjell
Kilometres: approx. 420 km
Time: approx. 7 hours
Voss is a central stop on the Bergen Railway between Oslo and Bergen and a stop for express coaches and regional bus services.
By train
There are several daily departures to Voss from both Oslo and Bergen. Check www.vy.no for booking and timetables.
Bergen: 1 hour and 15 minutes
Oslo: 6 hours
Flåm: 1 hour and 45 minutes
By expess coach and bus:
Voss is a stop for several express coach services and regional services with connections to Voss. You can get here by bus from several destinations, such as Bergen, Lillehammer, Sogndal, Flåm, Gudvangen, Odda, Kvanndal and Ulvik.
Selected express coach services:
Sognebussen: Bergen - Voss - Sogndal (see www.skyss.no)
Øst-Vestekspressen: Lillehammer - Voss - Bergen
Haukeliekspressen: Oslo - Åmot - Haukeli - Odda* - Bergen
* Change in Odda for bus to Voss
2. Parking and electric vehicle charging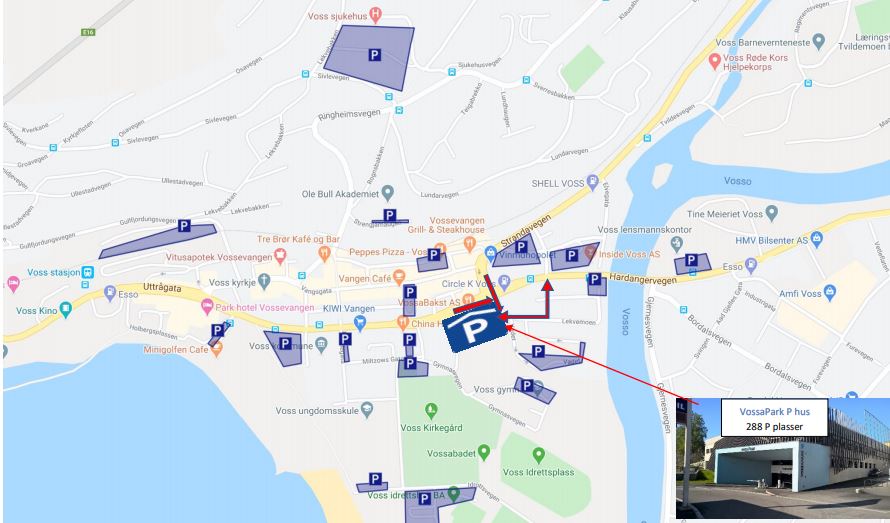 Parking
In the centre of Voss there are nearly 1,300 parking spaces, so it is usually not a problem to find an available parking space in the centre or close to the centre. The exception is when there are major happenings in the downtown area.
VossaPark is the parking garage in Voss, located in the centre of Voss behind the gas station Circle K. The garage has a capacity of 288 cars and is open 24/7.
What does it cost?
Max 3 hours: 15 NOK per hour
Long term: 40 NOK per day
Please be aware of the maximum parking time in the different parking areas. A ticket for one whole day is not valid on the parking areas with maximum parking time for 3 hours.
Where can I park, for how long?
Max parking time for 3 hours: In the streets and in the parking areas in the centre of Voss
Max parking time for 8 hours: Tinghusplassen
Max parking time for 24 hours: Holbergsplassen, Fredheim, Idrottsplassen, Utebassenget/Idrottsvegen, Strengjarhaugen/Ole Bull Akademiet, and near Langabrua.
Max parking time for 7 days: Voss hospital, and parking area behind the mexican restaurant "Bodega" near Voss station.
Max parking time for 14 days: The parking area near Voss station. Entrance via Gullfjordungsvegen. 
The parking garage VossaPark is the place to park if you wish to leave your car for a longer period of time. VossaPark lies in the centre, right behind Circle K. 
When do I have to pay?
Monday-Friday: Between 09:00-17:00
Saturday: Between 09:00-15:00. Free parking on selected areas from 10:00.
Sunday: Free parking except on the long-term parking spots.  
Tickets machines at the parking places/lots. Remember to place the ticket visible in the windshield!
Fast electric vehicle charging:
Tinghusplassen: 8 charging points.
Amfi shopping centre: 1 charging point. 
Gas station YX in Skulestadmo: 
Gas station Esso at Vinje: 2 charging points. 
Rema 1000 Palmafossen: 2 charging points.
The parking garage VossaPark has 8 charging points as well, but these are not fast charging points.
3. Useful phone numbers
Emergency phone numbers:
110 (Fire)
112 (Police)
113 (Ambulance)
Emergency ward: +47 116 117
Voss hospital: +47 56 53 35 00
Local police: +47 56 52 87 00
Dentist: +47 56 53 23 50
Breakdown rescue service:
+ 47 56 51 53 00 (Naf/Falck)
+ 47 56 51 27 00 (Viking)
Taxi: +47 56 51 13 50 (+47 93 24 98 44 for maxi-taxi)
Vet: +47 56 51 54 00
4. Luggage storage
At Voss station (at ground level, next to the Tourist Information) you'll find storage rooms for lockers in two different sizes. These are available for rent for 50 or 60 NOK for one day. 
<% totalFilter %> filter applicerade