Top four mountain hikes with fjord views
Voss is most famous for extreme sports and skiing, but in this western Norwegian village, you will also find spectacular summit hikes with views over the Hardangerfjord, Nærøyfjord, and Bolstadfjord.
Breidskrednosi via Rimstigen

This is a long hike, but the view is worth it. Photo: Espen Haagensen
Nærøyfjorden is one of the most spectacular fjords in Norway. Snow-white mountains tower high above this narrow fjord, sending cascades of meltwater down their steep, tall cliffs. Down by the fjord, you'll find beautiful farms and small villages.
We recommend taking the hike to Breidskrednosi, as a round trip from Bakka near Nærøyfjorden, approximately a 50-minute drive from the center of Voss.
This is a long hike, with considerable elevation gain, and you should plan to spend 8-9 hours for the round trip. However, the hike is well worth it, as from Breidskrednosi, at 1189 meters above the fjord, you'll have a panoramic view of Nærøyfjorden and the UNESCO World Heritage area.
Wild Voss offers guided tours to Breidskrednosi.
Ingebjørgfjellet & Oksen
Ingebjørgfjellet is the lesser-known "little sister" and neighboring mountain to Oksen, with equally beautiful views.
The hike to Ingebjørgfjellet starts at Stokksel in Granvin. From Voss, drive to Granvin and Kjerland, then continue towards Tveito for about 2 km. Follow Stokkselvegen until you reach the parking area.
From Stokksel to Ingebjørgfjellet, you should plan for a 4-6 hour round trip. From the summit, you'll have a spectacular view straight down to Sørfjorden and Hardangerfjorden. Once you reach the top of Ingebjørgfjellet, you can return the same way or choose to continue to Oksen. The route continues along a broad mountain ridge, offering views all the way.
The hike to Oksen from Stokksel is a long one, taking around 8-10 hours in total. Due to traffic congestion and significant pressure on the local community at the starting point in Tjoflot, we strongly recommend using Stokksel as the starting point for Oksen as well.
For more details, you can buy a map of the ara at Voss Touristinformation
Karaldenuten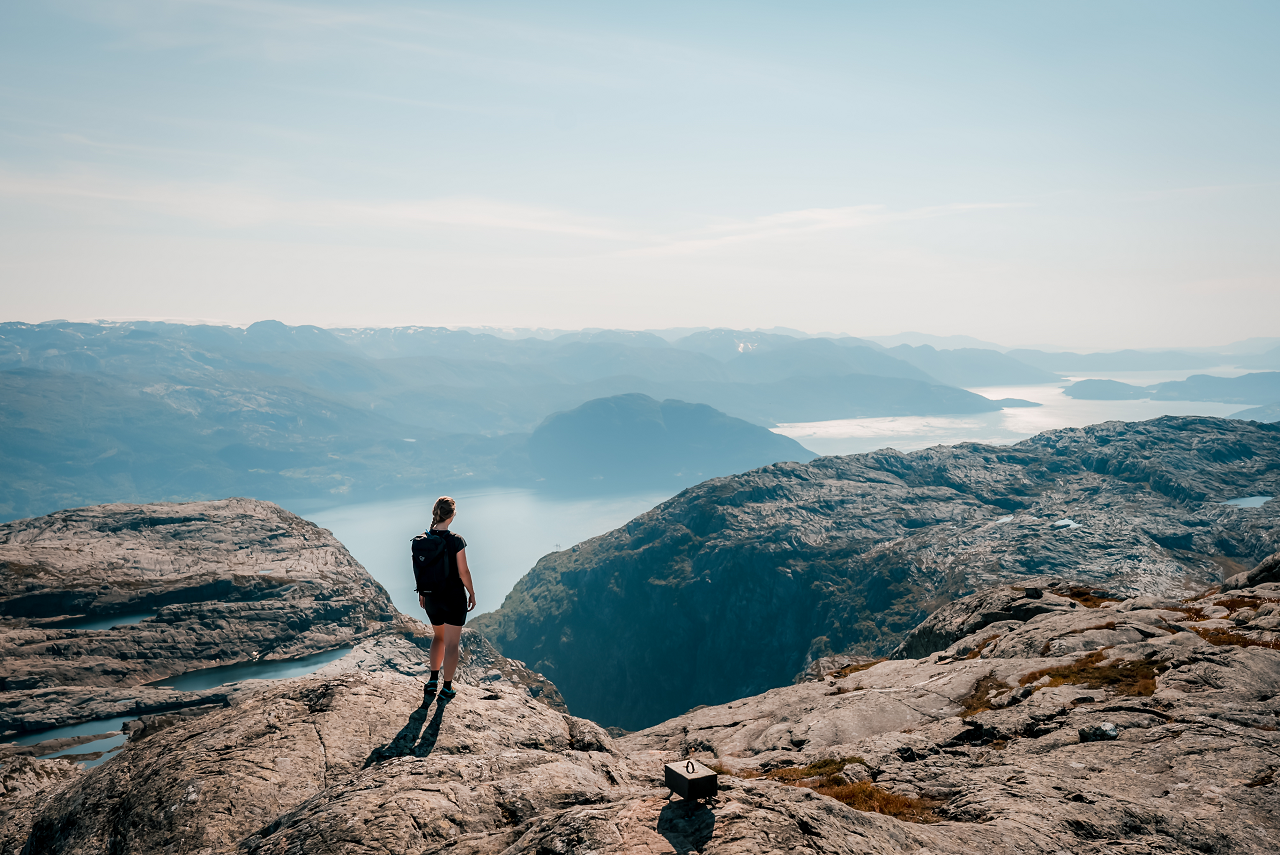 This beautiful hike offer an even more beautiful view at the top. Photo: Lars Korvald
Karaldenuten, located at the innermost part of Bordalen, offers a fantastic view over Hardangerfjorden.
This hike is not marked with trail signs. The most common route to reach Karaldenuten during the summer is to follow the marked trail towards Ålvik until you reach Grunganevatnet. At Grunganevatnet, you will leave the marked trail, cross the river, and then ascend naturally using small ledges until you reach the summit.
The hike to Karaldenuten is relatively challenging and steep, and you should plan for at least 5-6 hours for the round trip.
The starting point and parking area are at Voss Lodge Rongastovo, which is a 25-30 minutes drive from Voss town center.
See our video from the hike, here!
Jonshorgi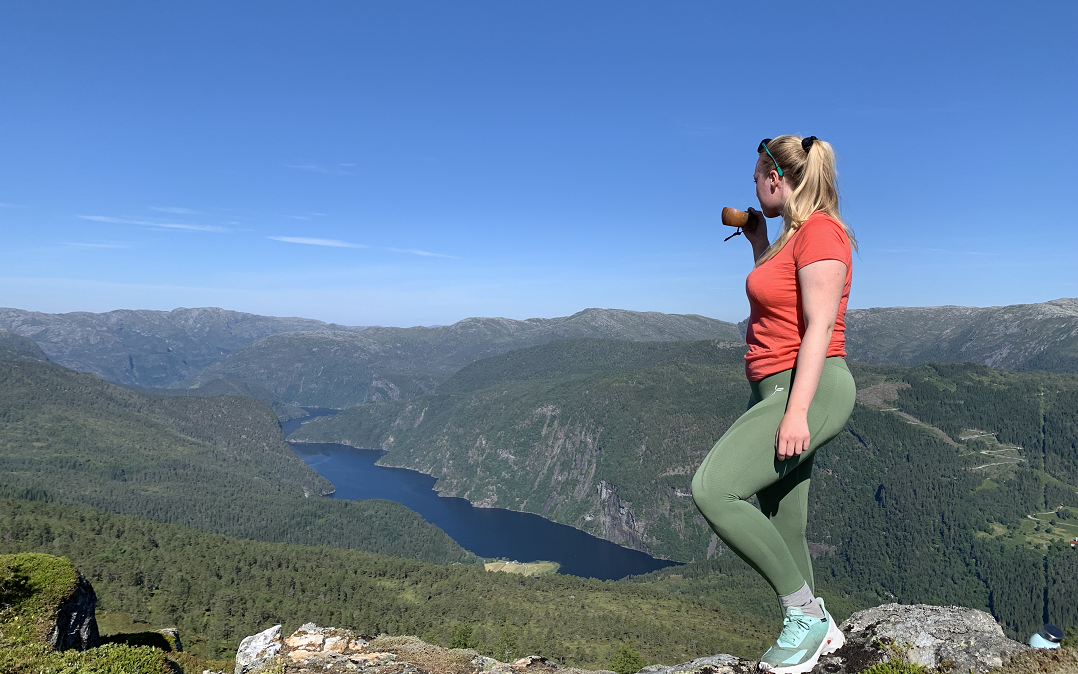 Jonshorgi. Photo: Visit Voss
The hike to Jonshorgi is an unknown gem that offers a beautiful view over Bolstadfjorden.
To get to the starting point, drive for about 30 minutes from Voss town center on E16 towards Bergen. At Bolstad, turn off towards Rasdalen, and park either at the community house or at the parking lot near the lake.
The trail is not marked, but it is easy to find the way if you check the map before you go! The most natural route is to follow Tuftedalen to its end, and then turn up towards Jonshorgi from there. This route is sporadically marked with small pink bands.
The hike is a shorter summit hike with an elevation gain of about 300 meters, making it suitable for children and families.
Note: Please be considerate of the local residents, especially regarding where you park, waste disposal, and bathroom visits. Do not block any access roads or park in front of a local farmer's tractor/car. Ask for permission if parking in yards or private areas. Remember to pay road and parking fees.
Have a great trip!