Photo:
Myrkdalen / Hunnalvatn Media
Top 5 family activities in the extreme sports capital - Voss
Create the perfect action-packed holiday for the whole family in Voss. The village may be full of extreme sports people and local daredevils, but Voss certainly offers activities adapted for all adventurers, both young and old. Below you is our top 5 experiences the family should do in Voss this summer!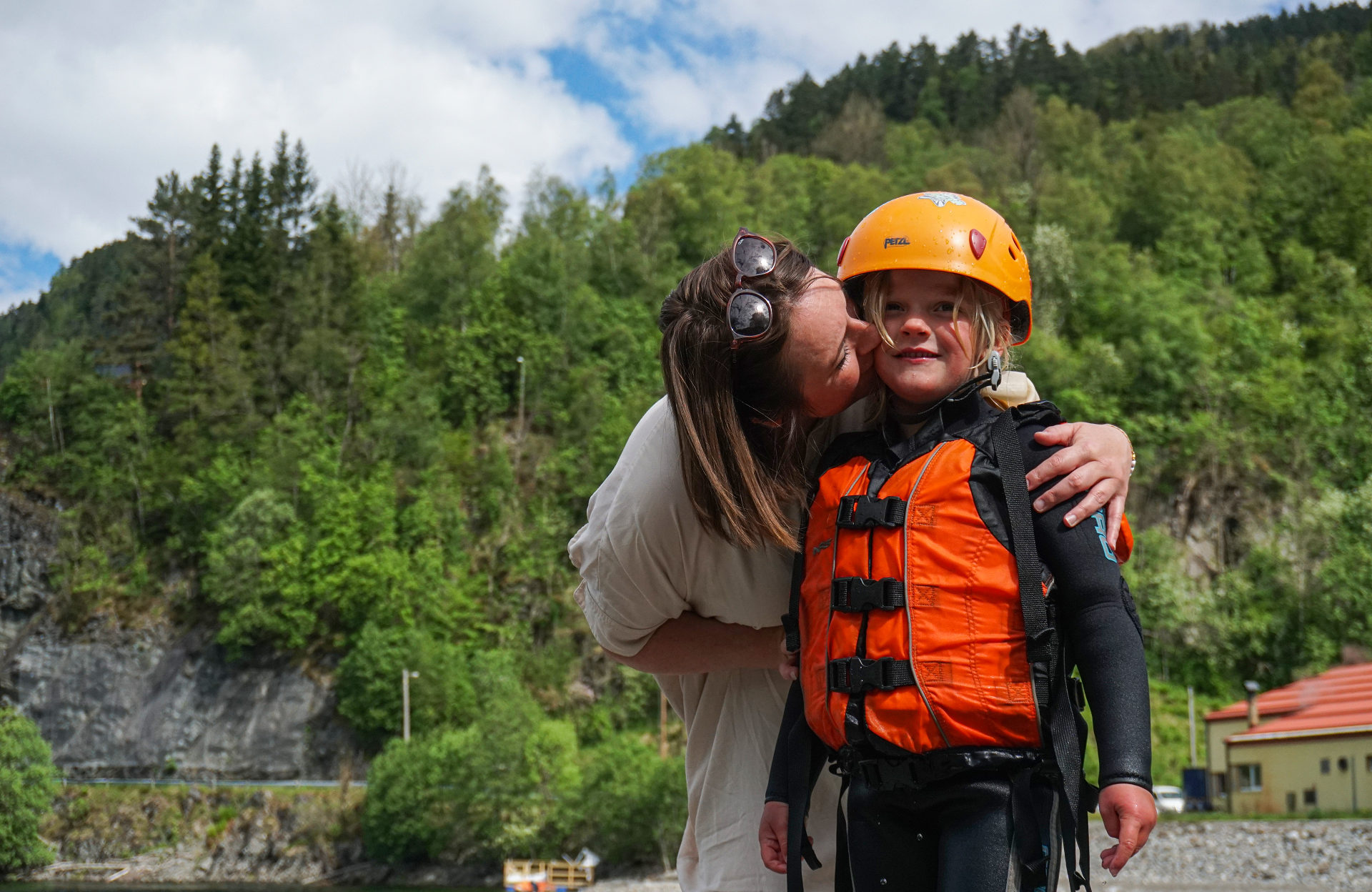 Family rafting, with Voss Active
The river Vosso is perfect for family trips! Here, we are rafting between Geitle and Evanger, approx. 7 km of fun and safe river rapids. In family rafting, you get to try both large sturdy boats and small twin rafters (Duckies) for those who want a bigger challenge. Lots of swimming and fun for everyone! Age limit is five years.
Family-friendly activity with varied and fun challenges for everyone! The climbing park has 6 trails with varying degrees of difficulty. In the autumn of 2017, the park was expanded with its own zipline park where the longest zipline is 150 meters and follows the riverbank downwards! The large trails and ziplines are for those who are at least 140 cm tall. For the small trails, one must be at least 100 cm high. Join an adventurous journey through the treetops in one of the country's most beautiful climbing parks.
Fly as superman in Norway's first wind tunnel. Flying for three minutes is equivalent to four free falls from planes at 12,000 feet! The age limit is 5 years. You get instruction in advance, rent of equipment and an instructor who is with you all the time inside the tunnel. You do not need any prior knowledge to fly at Voss Vind. It is completely safe, just terribly exciting.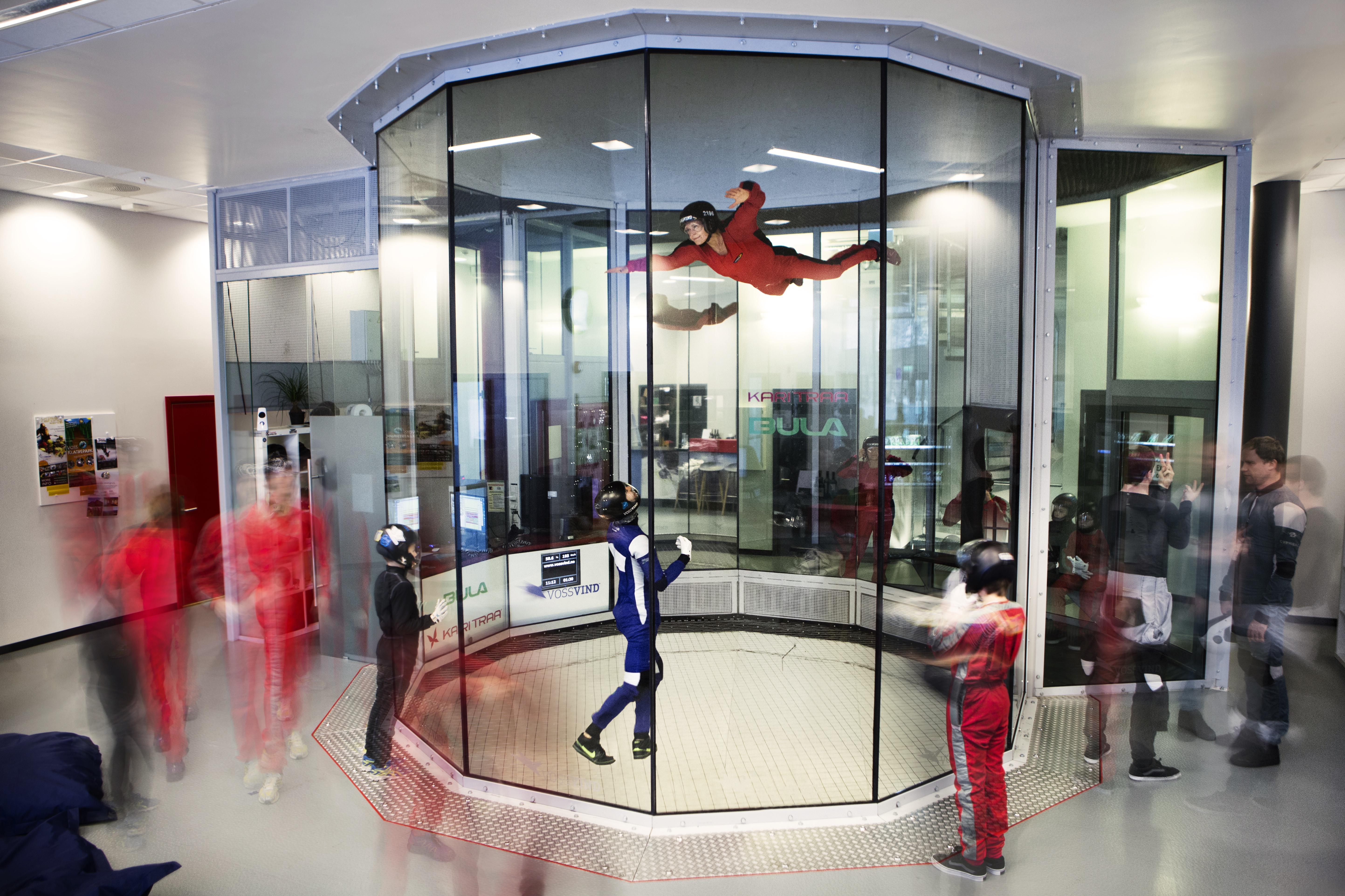 Vindtunnelen hjå Voss Vind
This bike ride lasts about two and a half hours and goes on hilly paths and on gravel roads. Bømoen is known as one of the best outdoor areas in Voss and is well used by the locals, both summer and winter.
The good thing about this area is that all the trails offer alternative lines. This means that most trails can be used by both experienced and beginners and everyone can have a fun ride.
 
A trip with the Voss Gondola is exciting enough in itself. The top station is the starting point for the paraglider pilots in the village, and on a fine day you can see dozens of paragliders in the air. This can be exciting for the young and the older ones. To top off the experience, maybe father or mother climbed off the edge and did a tandem paraglider jump? At the top of the Gondola you will also find a great restaurant, hiking trails, cycling, pole hunting, Grebberebus and swimming.
 
Extra:
Cycling in Myrkdalen
Right next to Myrkdalen Hotel you will find an 850 sqm pump track, jumping lines in various degrees of difficulty and a short cycle path with various elements aimed at children and beginners. In the pump track you can use everything from skateboard, scooter, tricycle and regular bike. The offer is open 24 hours a day and free for everyone. No space for a bike in the luggage? Then you can rent a bike at Myrkdalen Sport & Utleige.
Read more about cycling in Voss here
Experience the atmosphere at Europe's largest skydiving club
At Skydive Voss you will find a cozy café and Voss's largest and most beautiful playground. For the little ones, it is exciting enough to see the skydivers in action, and planes that take off and land a stone's throw away. Maybe someone in the family wants to try a tandem skydive jump? It will be a great experience for the whole family. The skydive club is also a great starting point for walks and bike rides, with trails in child-friendly and flat terrain in Bømoen park area.
Ps:
• The Ekstremsportveko is held during the last week of June every year. Many fun activities for children and young people have been added to the festival program in recent years!
• The activities above are available from May to October
• July is a very busy month in Voss, many activity companies have long waiting lists this month. There is better capacity and sometimes special deals for May, June, August and September.
Book your activities here:
<% totalFilter %> filter applicerade
<% totalFilter %> filter applicerade