This is why you should visit the Norwegian alpine town
- Voss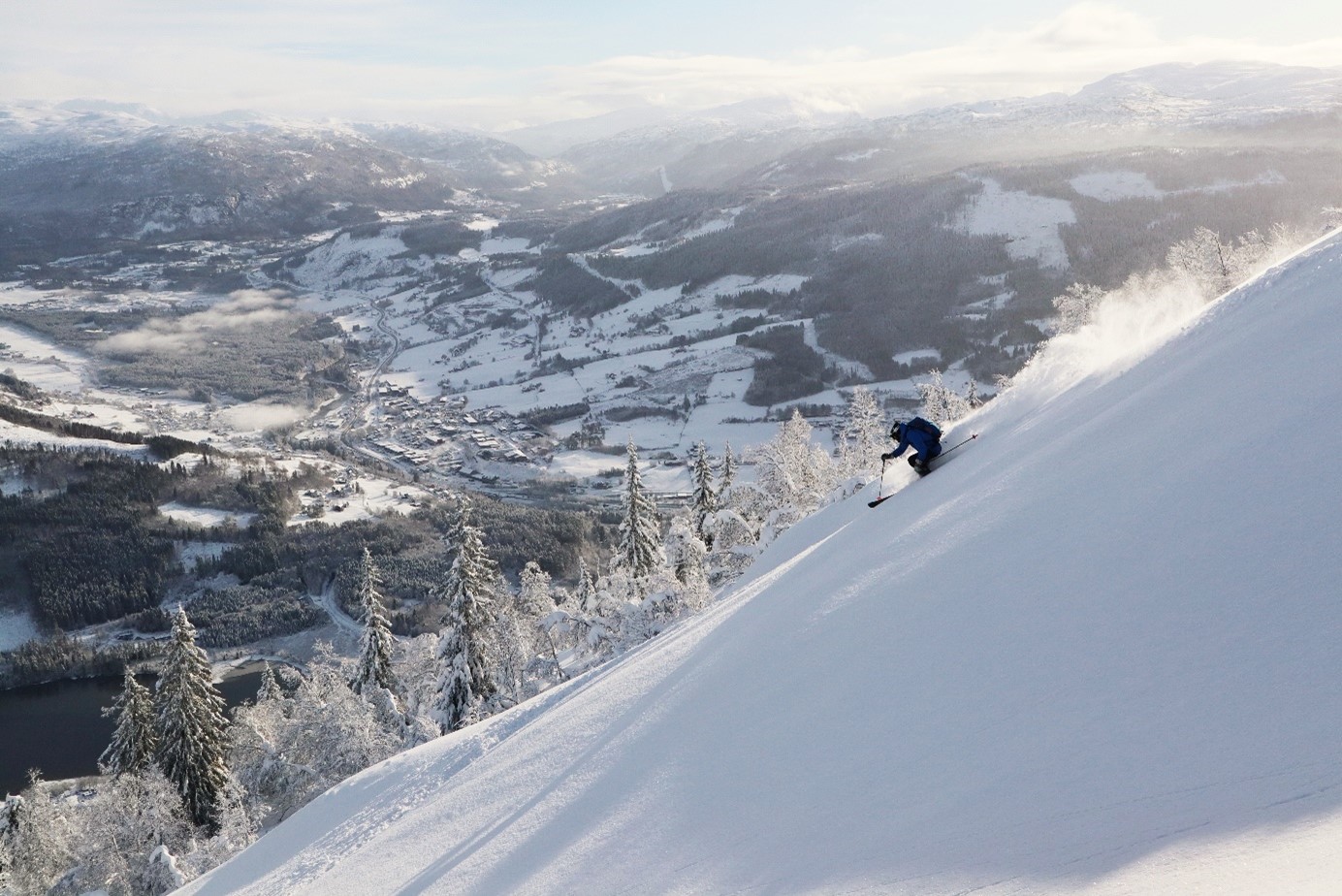 Local skier Dag Sandvik shows us why Voss Resort and Voss are so unique. You get the feeling that the town center is just a snowball's throw away from the ski resort. Photo: Sondre Folkedal
When it rains in the cities, it snows in Voss
In the extreme sport and skier communities, everyone had heard of Voss - the ski town.
However, not everyone is aware of just how easy it is to get to Voss, both from Oslo and Bergen, by train or by car. 
Eager skiers, like to keep that secret to themselves to secure the first track in Western Norway's best ski terrain.
Bergen is only 1.5 hours from Voss. The rainy town is probably one of the best urban locations for ski enthusiasts. You have the genuine offer of urban city life and the ultimate skiing experience within a very short distance. You can also hop on the morning train from Oslo and still have 6 hours of day and night skiing in the western mountains.
 
The ski town 
Voss is a charming town, with a long ski history and culture. It is not the Alps, but will still trigger emotions in skiers who appreciate the "real".
Voss is just the right size - everything you need is within walking distance. Right in the town center is the gondola that takes you straight up the mountain. It only takes you 10 minutes to go from a good cup of coffee at the local cafe until you are standing in the snow at mount Hanguren. There is something about the "Aiguille du midi feeling" that inspires. In the west Norway countryside town - Voss, you get a unique and similar experience to the Alps.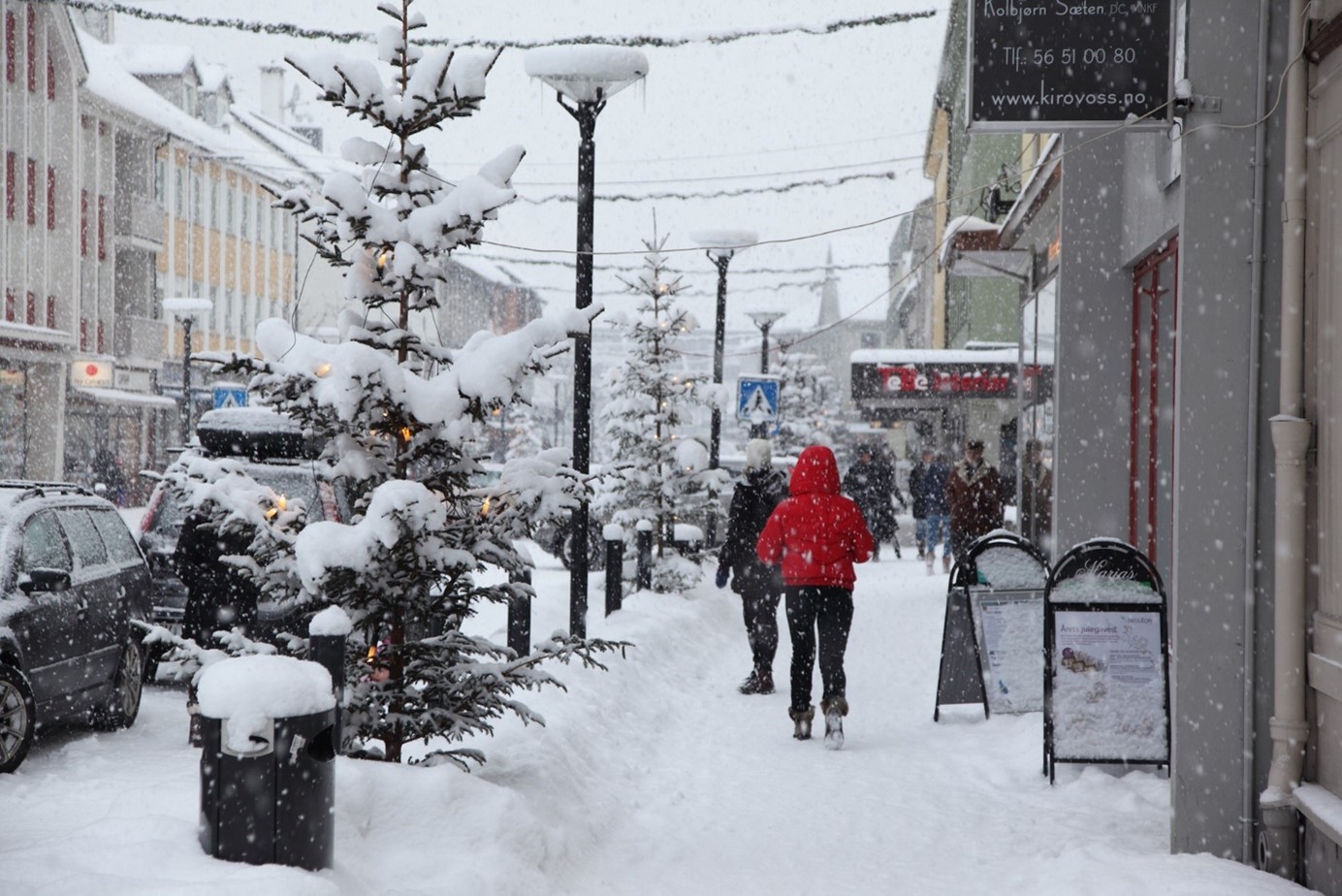 Photo: Svein Ulvund/Fotovoss.com
The local patriots are another thing that makes Voss extraordinary. The people of Voss are generous, enthusiastic, and known for being both daring and social. They always go a little further than most people, on weekdays and at parties. It is not without reason that the people of Voss have brought home over 100 medals from the Olympics and World Championships, despite that they are barely 15,000 inhabitants.
In Voss, the spirit of volunteering is stronger than anywhere else in the country, and the willingness to invest locally is great. Volunteering has peaked at the Extreme sports festival, Vossa Jazz, Voss Cup, and other large events in town.
Voss is one of the few towns in Norway where the population is increasing and there is a steady growth of young people who come to live here. You have the opportunity to live a cultural life, with rich food culture and a very wide range of activities throughout the year.
In Voss, you get extreme sports, ski resorts, gondolas, trains, and Olympic winter medalists in beautiful union.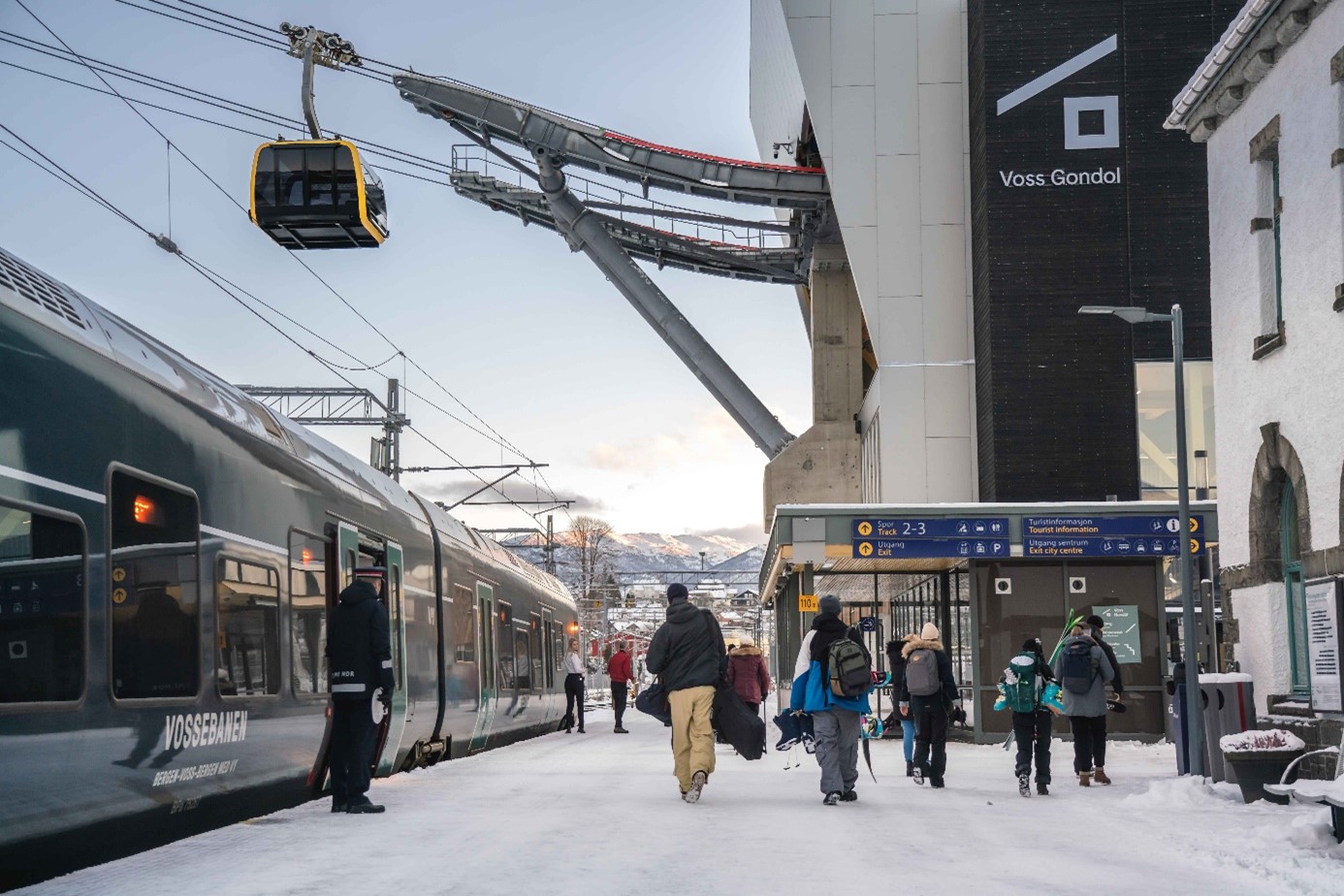 Photo: Hunnalvatn Media
The journey to Voss Resort is seamless with the new gondola. 
You can walk onto the train in Bergen in your slippers, have some breakfast, and stroll straight into the gondola from the platform. You will be in Voss Resort with your skis on in 1.5 hours from when you got on the train in Bergen! The same train also runs from Oslo. After 5 hours and 30 minutes on the comfortable Bergen line, you are in Voss.
From the town center with cafes and shops it only takes you 8 minutes by gondola until you can ride off on your skis or snowboard.
The terrain and the endless possibilities
Norway is full of mountains, but there are some places where the topography is a little wilder and the mountains peaks rise a little higher. This is the experience you get in Voss. What does this mean, you ask?
More vertical meters of snow to cover and plenty of opportunities for skiing.
Depending on the humidity level, Voss Resort has some of the most exciting and accessible off-piste terrains in the country. There is a gorgeous forest to explore, great ski touring terrain, and playful lines to run, all with the resort as your base. The park is also growing, and the resort is investing in the park at Slettafjellet.
Voss Resort also offers many activities for families. There are 3 children's areas with beginner lifts, gentle slopes, small huts/lean-to, activity leaders, forest trails, ski cross trails, ski runs, and a skiclub for the little ones.
Local heroes
Ski destinations with good terrain and a good community often raise athletes who contribute to their sports. Kari Traa is a well-known name in Voss. She has spent hours in the ski resorts and has given the town many memorable moments through an impressive sports career.
Early bird gets the worm, especially on days when the snow is just right. You will get the first tracks fresh powder and the terrain all to yourself. Mount Hanguren and at Slettafjellet is the place to be after work, or school, at night skiing! The off-piste terrain is great, it has some super playful lines, and great variation in degrees of difficulty.
At the end of the day, there is not much fresh powder left. However, you can still look forward to the long descent from Slettafjellet, Horgaletten, or Hangurstoppen and all the way down to Bavallen!
After a long day in Norway's most varied ski resort, Voss Resort, it is time for food. Hangurstoppen Restuarant is a great place for dinner and drinks. If you are looking for something more upbeat we suggest taking a trip to the legendary après ski at SkiBarBula. Alternatively, head back to town and enjoy the wonderful atmosphere. There are several hotels right next to the gondola. At Park Hotel Vossevangen you can even enjoy wine tasting at a world-class level. In 2020, Park Hotel was named the winner of "The World's Best Wine List" by "World of Fine Wine", which is one of the world's most prestigious wine magazines.
 
Photo: Voss Resort
At Voss Resort, you will find: 
Voss Resort has something to offer skiers at all levels, whether you are a beginner just learning how to ski, or an experienced skier looking for something a bit more challenging.
40 km of groomed ski slopes 
11 ski lifts (including one gondola) with a total capacity of 12 000 people an hour
The gondola is located right next to Voss Station. This gives you the opportunity for a green travel from the town centre to the mountain in less than 9 minutes. The gondola is included in all of our ski passes.
24 ski slopes, including an international giant slalom and one SuperG slope
Great conditions and several areas for off-piste skiing
18 km groomed cross-country trails
Evening-skiing 3 days a week; Tuesday, Thursday and Friday
10,5 km of floodlight slopes, including a terrain park (green, blue, red and black)
Three areas dedicated specifically for the kids: Trollbakken, Grebbesbakken and Badnakrokjen
Ski school and ski rental at Hangurstoppen and in Bavallen
Terrain park, floodlit
Snowmaking equipment to ensure snow in most of the resort during the entire season
3 cafes/restaurants in the resort; Hangurstoppen Restaurant, Storastova at Slettafjellet and Varmestova in Bavallen
Ski in/ski out accommodation