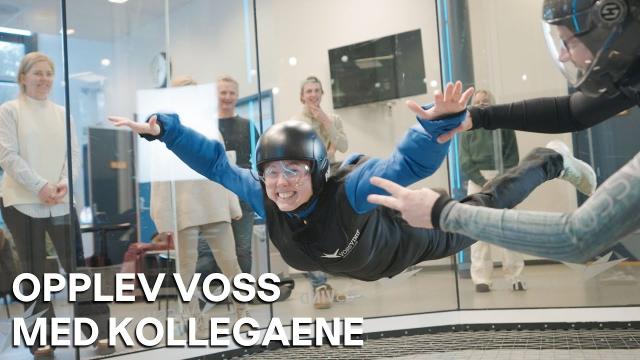 Voss for business trips, meetings and events
Voss is a perfect destination for business groups. Most providers offer tailor-made experiences.
Furthermore, Voss is easily accessible by train and we have a strong focus on sustainability, our role as hosts and local traditions.
If you need a presentation that shows a selection of activities, accomodations and capacity, you will find it here "Presentation MICE".
 
Transportation
It is easy to get to Voss. The town is centrally located in the middle of Western Norway and is a transportation hub for trains and buses. Voss is located between Oslo and Bergen, along the E16 on the road network east/west and between Sandnes and Balestrandalong on the inland route south/north RV13.
Flesland BOG is the nearest airport and is about 2 hours away.
Train tickets can be purchased at vy.no and here you will also find train times and prices. The Flåm Railway has its own train times. There are many daily departures from Oslo and Bergen to Voss.
From Bergen: 1 hour and 10 minutes
From Oslo: 5 hours 25 minutes
From Flåm: 1 hour 45 minutes
Voss Station
Voss Station is the hub for public transport in the town. Here you can rent an electric bike from VossaBike (summer), local bus routes are based at the train station, here you will also find Voss Gondola, and at street level you will find Voss Tourist Information.
 
Tailor-made experiences
At Voss, we have extensive experience with team building, events and tailor-made experiences. Here are some examples of activities you can bring your company or group to.
Contact Visit Voss or the activity provider you want to visit directly, to get a proposal.
If you need a picture of Voss, you will find a large archive at our Imageshop: Voss - Imageshop. 
<% totalFilter %> filter applicerade
Environmental considerations
Voss is a tourism destination that puts great emphasis on sustainable tourism. Together with the tourism industry in Voss, Visit Voss works purposefully with sustainability at all levels. Voss was awarded the badge for "Sustainable Travel Destinations" in June 2021. Voss has had a strong focus on e.g. universal design and a tourism accessible to all, local value creation - all year round, transport solutions for the future and local and short-distance food. Visit Voss is also certified as an Environmental Lighthouse.
A concrete measure that is very important both for us, the district and the visitors is "Voss - a destination for everyone". The measure will highlight the focus on universal design and adaptation of activities. Disability should not be an obstacle to experiencing the extreme sport capital - Voss.
Meetings and conferences 
In Voss, you can choose between top modern hotels with all the new tech, unique and exciting locations like Hangurstoppen 818 masl or maybe a renovated barn? It does not matter if you are planning a large conference or just need a meeting room for a day - we will find something that meet your needs and brings that special Voss-factor. 
Accommodation 
In Voss we have several hotels close to the city center which are centrally located by Voss Station. You will also find alternatives such as self-catering cabins, boutique hotels and Myrkdalen hotel.
<% totalFilter %> filter applicerade
Food and drink
The food culture is strong in Voss and our village is known for just this. A trip to Voss offers unique culinary experiences. Most restaurants use local ingredients and short-distance food when serving home-cooked and traditional dishes. Vangen Cafè and Flor'n at Store Ringheim are among those who use local ingredients and suppliers.
Voss also has long traditions in beer brewing, something that has long been maintained. Most people who have a serving license have a good selection of local drinks and are happy to help you find something good. Several of the breweries will take visitors, for example Voss Brewery and Voss Fellesbryggeri.
At Voss you will also find one of the world's best and largest wine maps at Park Hotel Vossevangen. 
<% totalFilter %> filter applicerade
Vossahost
We want your visit to Voss to be 10/10. Vossavert is Visit Voss and Voss Sentrum's hosting program. Through the program, we develop the knowledge in the whole town and have training for all employees in our member companies. This way, everyone gets a good knowledge of what the others offer. Those who are in activity companies know the various restaurants, and those who work in the shops in the city center have full control of the various hotels etc.