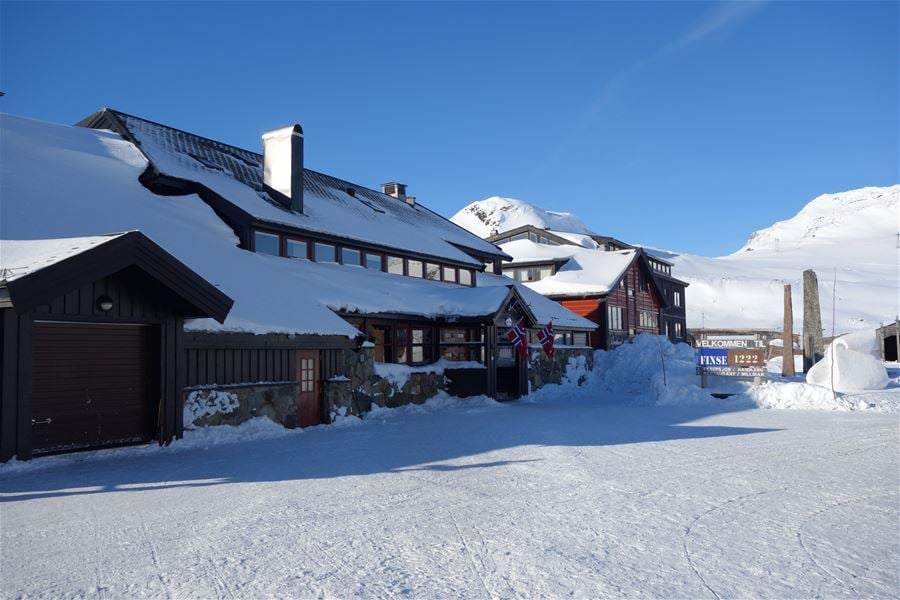 The hotel at Finse is located at the highest point along the Bergen Railway, at 1222 meters above sea level.
The hotel was first opened in 1909, at the same time as the Bergen Railway was completed. Finse is only reachable by train, bicycle, or foot, and the platform is located a little over an hour by train from Voss and 4,5 hours by train from Oslo. The hotel is found directly on the platform, overlooking the stunning glacier Hardangerjøkulen, amongst other views, and is generally surrounded by a scenic and beautiful mountain region. During the winter, Finse 1222 is open from January to the end of May, and during the summer from July to end of September.

Rooms:
The hotel has 41 rooms and 109 beds. About half of the rooms are double rooms, but there is also a few single rooms. Additionally, there are a few suites and several larger rooms for three, four or five people. The larger rooms are well suited for families or groups who wish to stay together. All the rooms have modest furniture and offer plenty of natural light. All rooms have a private bathroom with a toilet and shower. Some rooms have views over Hardangerjøkulen and other rooms face Finsenut and the beautiful nature at Finse.

Click here to read more and to book your stay!

Activities summer:
During the summer, Finse offers a variety of activities. For example, you can explore the glacier, Hardangerjøkulen, with crampons on guided tours, or ride the great bike road Rallarvegen from Finse to Hallingskeid or Flåm. You can also visit the Rallar museum for a look at the old snowblowers / locomotives with their large rotors. You could also take a walk in two of the most beautiful national parks in Norway. There is much to explore both through marked and unmarked territories.

Activities winter:
Whether you prefer exploring the unspoiled landscape around Finse on skis, dash around in dog sleds in true polar fashion or if you'd like to "fly" over the vast expanses with help of ski sails, Finse is the perfect place for a genuine winter adventure! During the winter, Finse 1222 regularly organize ski sail courses on the frozen Finse lake, which is located between the hotel and Hardangerjøkulen. Should you not be comfortable with skis or simply prefer to replace the skiing with a "trek", a snowshoe walk with a headlamp in the beautiful blue light is always a great alternative.