Rallarvegen is the old construction road along the Bergen line from Haugastøl to Voss. A cultural, bicycle, and walking path, built in the years 1895-1902. The trip is several times named Norway's most beautiful bike path. It is a unique trip with a mighty landscape, and it is on many people's "bucket lists". Take the train to Finse or Haugastøl and cycle to Myrdal. From here you can take the train to Voss or take the train to Upsete, before continuing the bike ride back to Voss! Contact the tourist information if you need more information.
Route description
Take the train to Finse. There are bicycle trains from mid-July to mid-September. On all other trains, bicycles must be dispatched. Possibly rent a bike at Finse, this must be done in advance. From Finse you cycle Rallarvegen to Hallingskeid and Myrdal. This is a great bike ride in the high mountains. Remember that the weather can be changeable in the high mountains, so bring the right clothes. From Myrdal you can travel on to Flåm or take the local train back to Voss. You can also get off at Upsete and cycle back to Voss.
You can read more about the trip at eg ut.no. Click on the map to go to ut.no.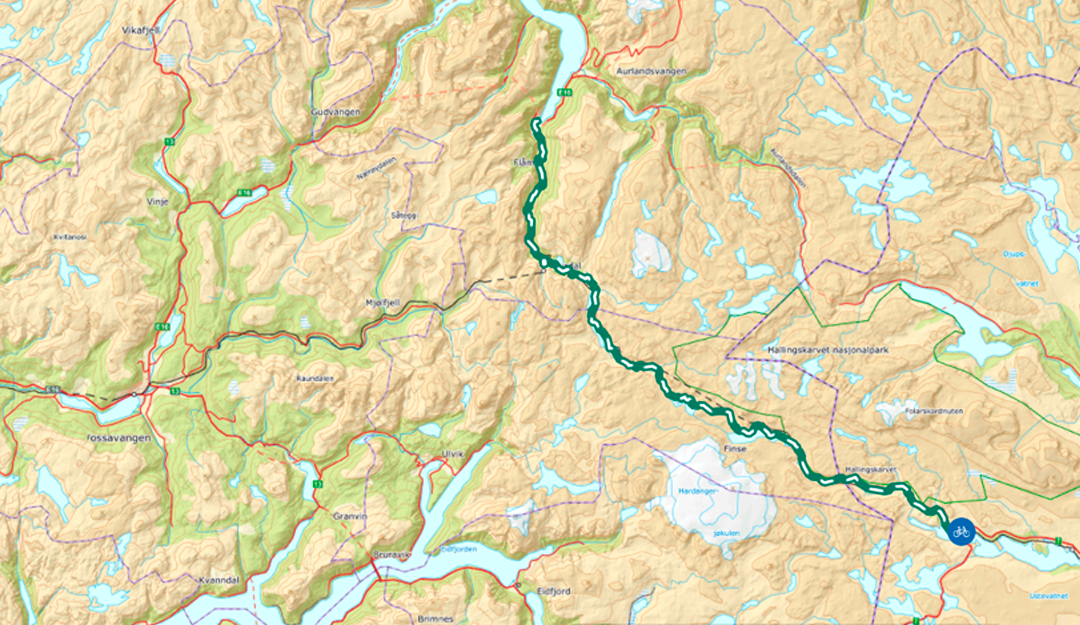 Total: 82 km
38 km from Finse - Mjølfjell
44 km from Upsete - Voss
More info:
www.rallarvegen.com
For info about bicycle packages:
Fjord Tours
www.fjordtours.no
Train info:
Vy
www.vy.no