Topp 10 Instaspots på Voss
Av Karoline Fosse
Swing with lake view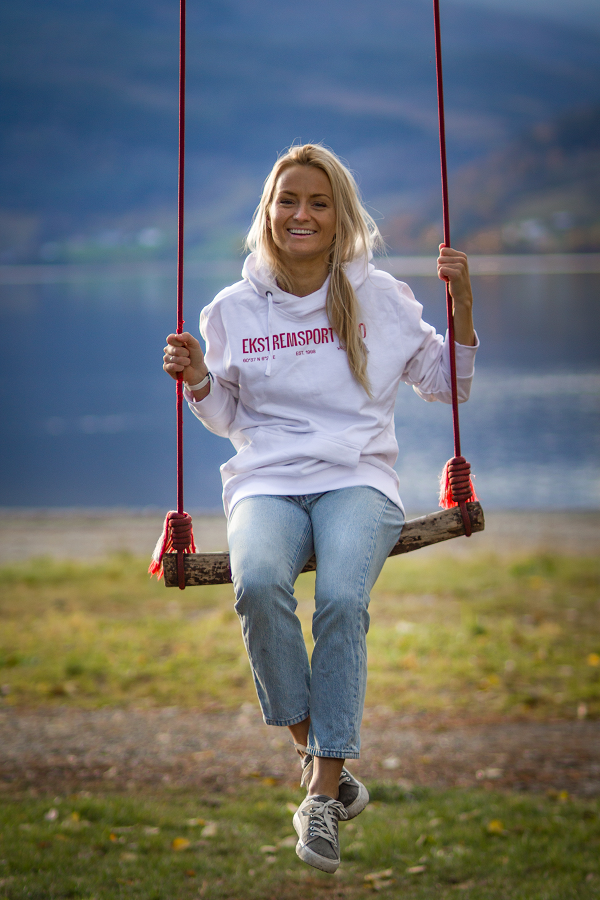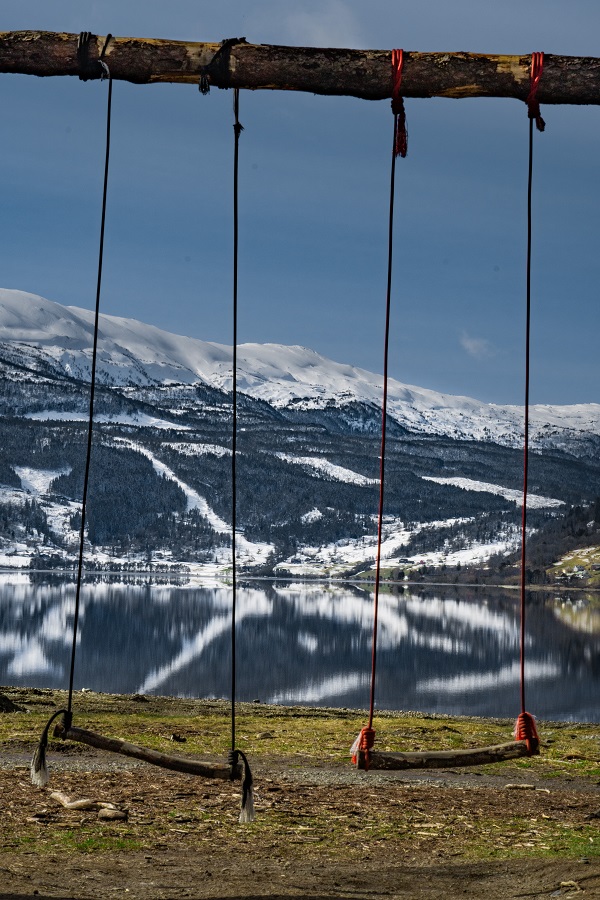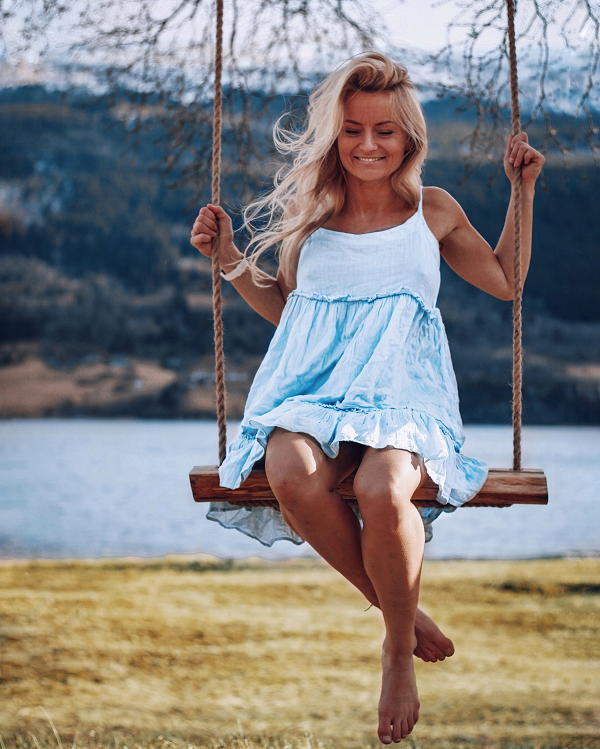 Photo: Karoline Fosse
What is more insta friendly than a proper wood swing with a view? You will find two beautiful swings right next to Voss camping, hanging between two large pine trees overlooking Vangsvatnet. The swing in the photo to the right can be found next to Voss hostel hanging under a birch surrounded by baby apple trees! 
Photo tips: For these photos I have used portrait mode - and I highly recommend trying that on your phone if you want some photos for your Instagram.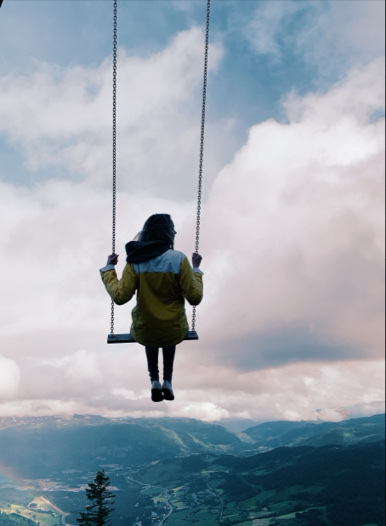 For the first Instaspot you actually get three locations. The last swing is located 820 masl! This is both a Insta-worthy spot and a great experience. You can find the swing named "Hangurshusko" on the trail by the top station of Voss Gondol. This round tour starts just outside the top station "Hangurstoppen". This is an easy walk that is suitable for all ages and levels, and you can even bring a stroller. 
Kiellanbu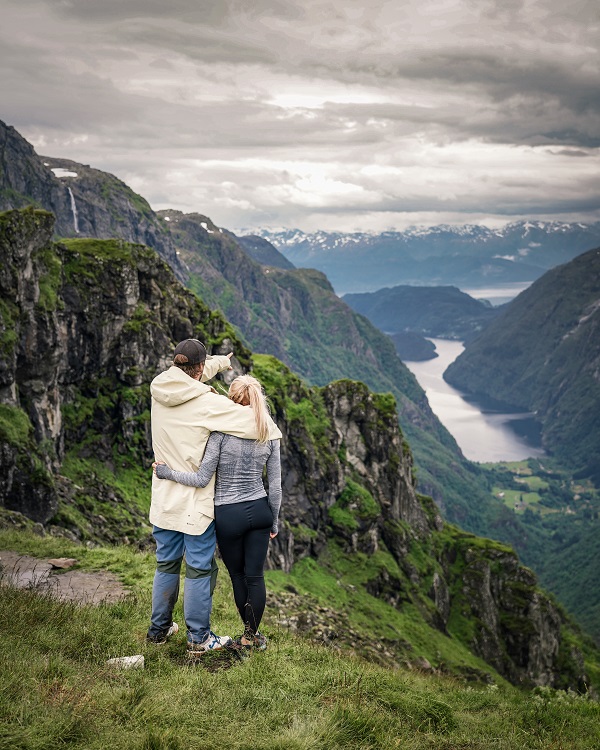 Photo: Torkel Brekke
Kiellandbu is one of the most well-known hikes in Voss - and for a good reason. Park your car at Hamlagrø next to the power station, you will find several signs directing you to Kiellandbu. The hike is about 6km each direction, so make sure you have proper hiking clothes, food and water. The best part about hiking to Kiellandbu is that the whole hike has beautiful surroundings including rivers, waters to swim in, a wooden bridge and great views. When you reach Kiellandbu you will find a tiny DNT cabin where you can take the most outstanding videos and photos looking out the little window facing the fjords. 
Bordalsgjelet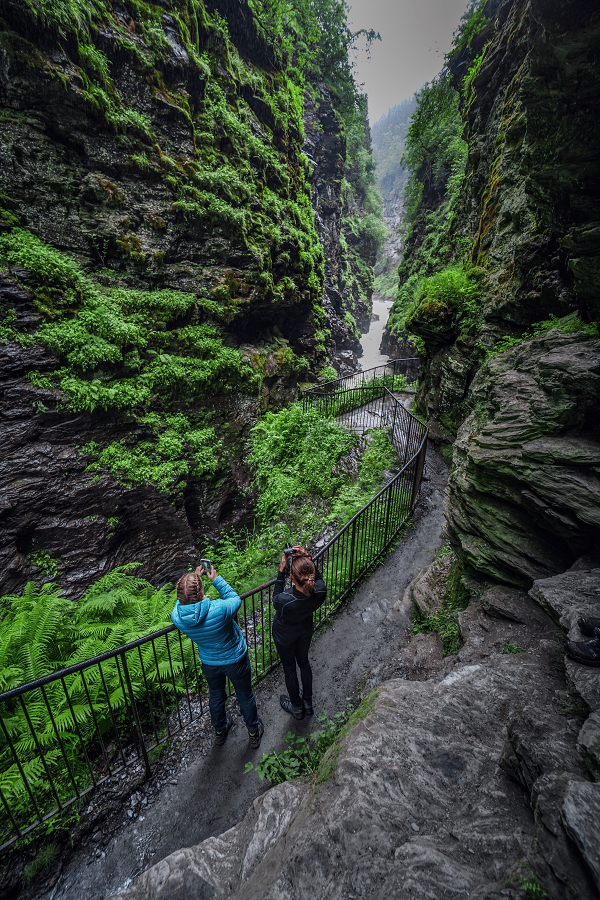 Photo: Karoline Fosse
Bordalsgjelet is a naturally formed george. The river has over the past thousands of years used its power to create the canyon. It looks so spectacular! In the middle of the summer, it looks very tropical, as all the walls are covered in green. This place is only a short walk from Vangen, about 2 kilometer. You can also drive all the way there. From the city center you cross the bridge going towards Voss Amfi, take a sharp right after the bridge onto Gjernesvegen. You stay at Gjernesvegen for about 2 km before you cross another bridge and that´s where you park.
Photo tip: Use a wide lens if you have one!
Hedleberget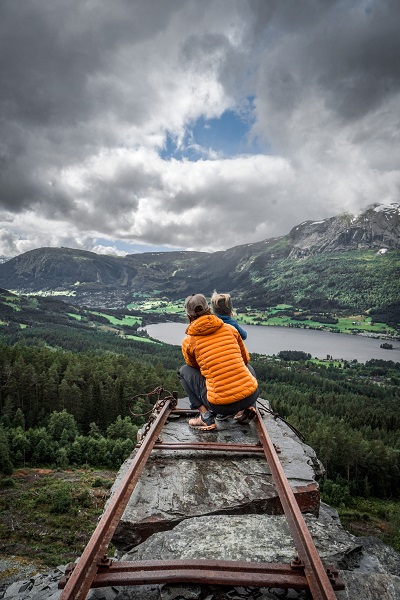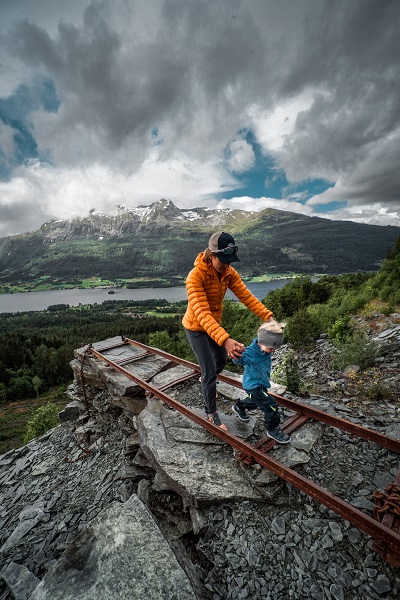 Photo: Karoline Fosse
Hedleberget is a slate quarry with lots of history. As you walk the short walk to get to these tracks, you will pass some beautiful old buildings and a concert area made of slate. The view from the train tracks you see in these photos overlook Skulestadmoen and the majestic Lønahorgi. To get here drive from Voss city center and onto E16 towards Oslo. When you get to the roundabout by the Coop Extra in Skulestadmoen make a right towards Nedkvinte. You pass Voss Active and after a few hundred meters make a right again toward Almeland. Make another right onto Reppavegen. Soon you will see a new intersection and on the left you will see Voss Brewery. Turn left towards Voss Brewery. Drive until you see a sign for Hedleberget to the left. Facilitated parking before the barrier on the road.
Liaset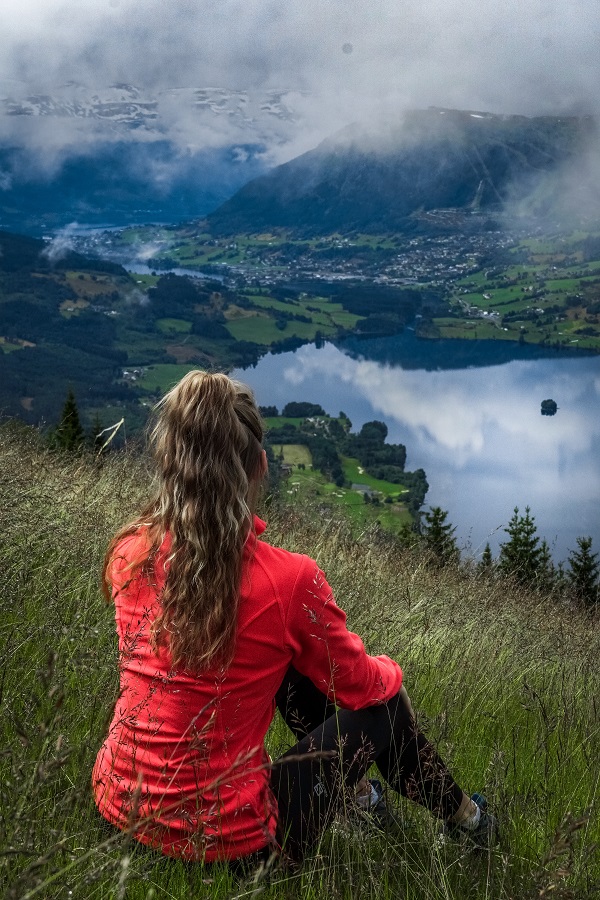 Photo: Karoline Fosse
From Liaset you get a beautiful view overlooking Lønavatnet and Lønahorgi. To get here you can pay a small fee and drive all the way up Lemmesvegen to the top parkin area. You can also park at the beginning of Lemmesvegen and walk to the top, the hike is only a few kilometers. This place is beautiful in the evening – you might also meet some cows and sheep walking around.
Sunset from Sonvesåsen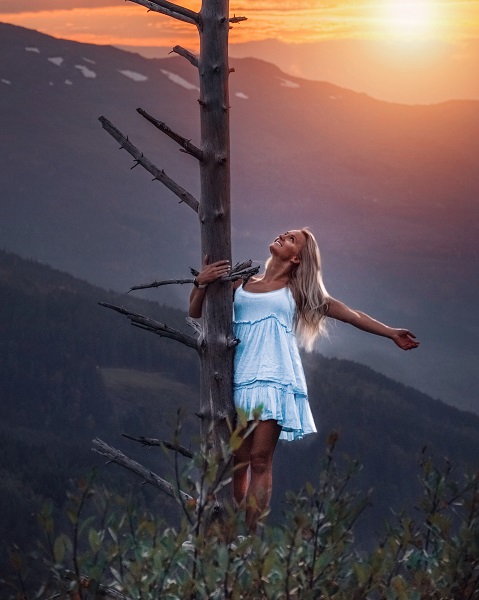 Photo: Karoline Fosse
As Voss is surrounded by mountains it´s hard to grab a proper sunset - but if you head up in the mountains you are more likely to see it. This photo is taken from Sonvesåsen, at Voss Ski and hikingsenter (Voss ski og tursenter). Drive along Bordalsvegen for about 7 km and take a left towards "Voss Ski- og Tursenter". Keep driving until you reach a cross surrounded by lots of big cabins. Follow the signs towards "Sonvesåsen" and drive until you see the view overlooking Voss. Be mindful of the forestry. From here, the sunset looks best in late spring or late summer/early fall, but all summer still gives a great experience.
Lake Vangsvatnet in the morning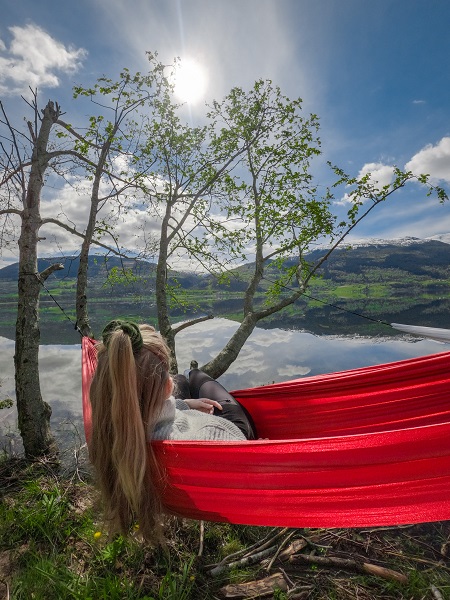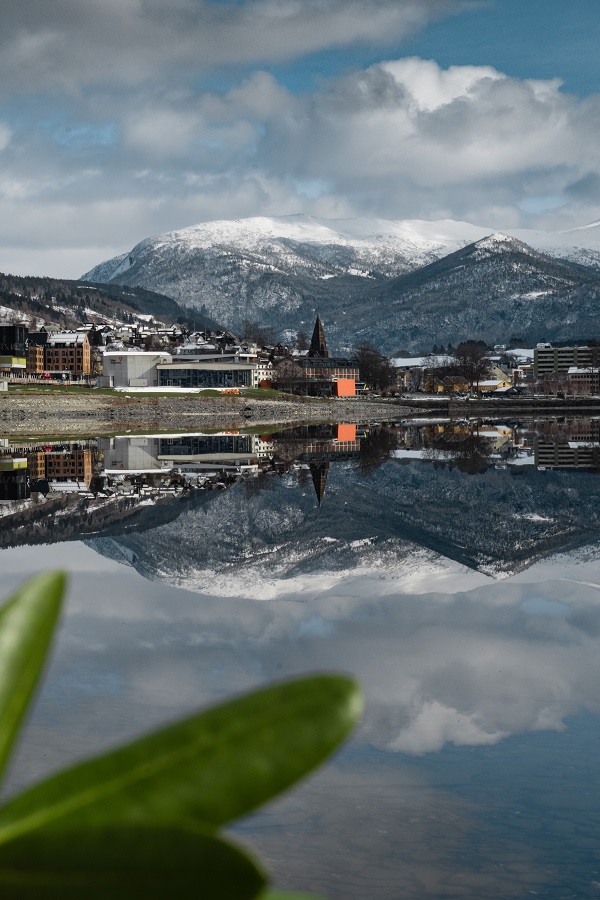 Photo: Karoline Fosse
The local lake in Voss often looks like a mirror in the morning. If you know it is not going be a windy the next day, I highly recommend getting to the lake before 10 o'clock in the morning. Check the weather forecast at www.yr.no! This is the best way to get a full mirror perspective of Voss, and you will get some amazing photos! A great place to put up a hammock to enjoy the view is in front of/next to Voss Hostel. You can also camp there overnight for a small fee, including breakfast. A great place to wake up!
Prestegarden allé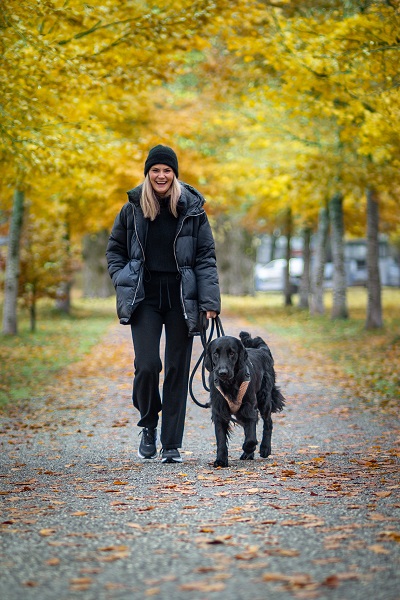 Photo: Karoline Fosse
If you walk from the church in Voss city center towards lake Vangsvatnet, you will find a beautiful avenue with huge leaf trees along it. In the summer, the trees are fully green before they turn yellow and red in September - a great place to take outfit or "hiking" photos. 
Photo tips: This place looks good from every angle, you are surrounded by the city on one side and the water on the other. There are many ways to get a great photo, such as; portrait mode, normal lens and wide angle lens. Play around with your camera and settings.
Fairytale looking forests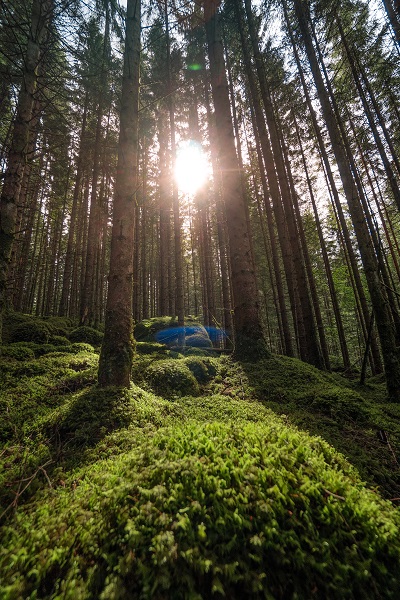 Photo: Karoline Fosse
Voss offers lots of forests with tall pine trees and trails covered in moss. It looks like a scene from the old Norwegian fairytale "Askeladden". If you drive along Raundalselva and look to your sides, you will see plenty of forests with the perfect scenery for Instagram photos. If you don´t have a car, you can walk to the pine forest next to Voss camping (and try one of the swings at the same time!) or you can rent an electric Vossabike and bike to Bømoen forest. 
Photo tips: In my photos I have used a wide-angle lens, but you can create a completely different mood using a portrait lens. Try to take photos from the bottom and upwards! The forest looks magical in sunlight, but it is also a great activity to do in the rain, because the trees will keep you somewhat dry.
 
Paddleboard or kayak along Vangsvatnet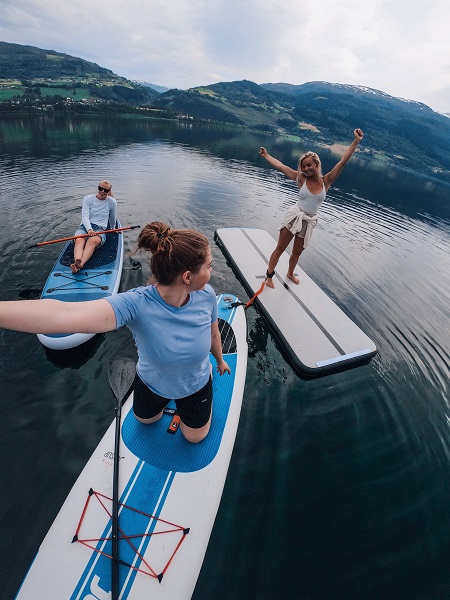 Photo: Karoline Fosse
A great way to explore Voss from another angle! You can paddle across the lake or just go along the beach. You will find paddleboards and kayaks to rent at Outdoor Norway or at Voss Hostel. In these photos I have used a GoPro camera with a wide-angle lens - it´s great because it is waterproof. Be careful – don't drop your phone in the lake. Bring a friend so you can take pictures of each other. 
Topp 10 Instaspots på Voss
Av Karoline Fosse
Husker med utsikt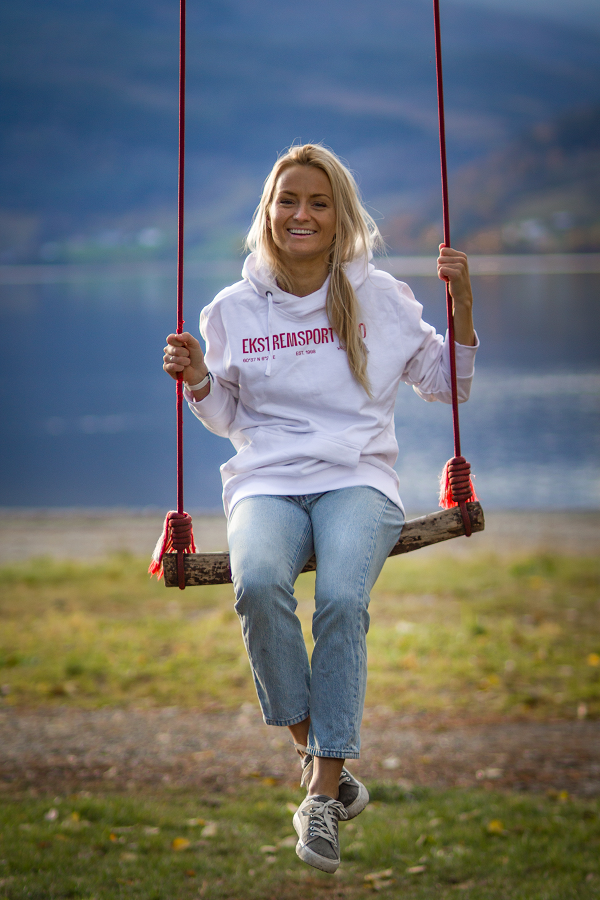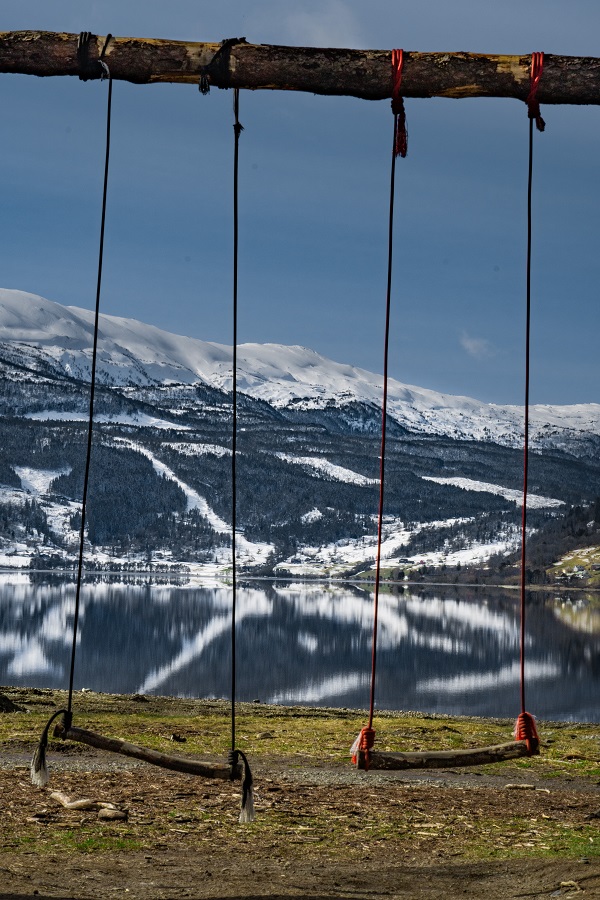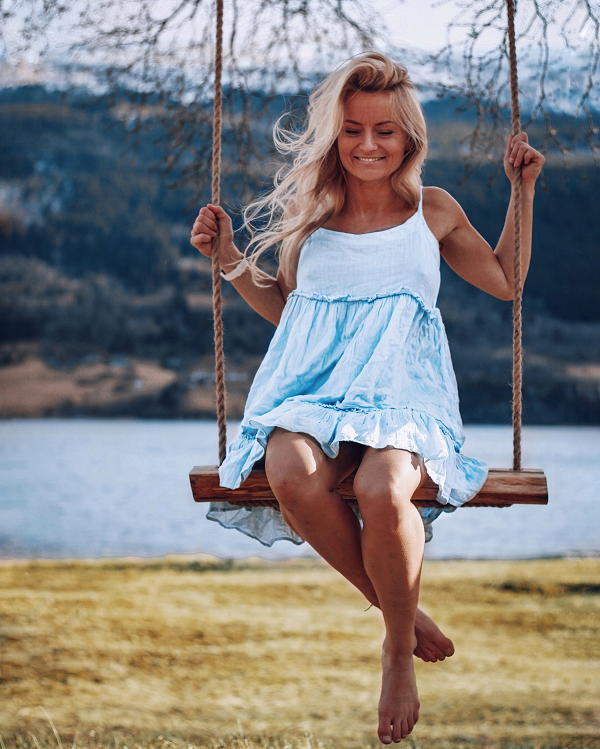 Foto: Karoline Fosse
Kva er vell meir instagram-vennleg enn ei skikkeleg trehuske med unik utsikt? Like ved Voss Camping heng to husker. Frå huskene har du flott utsikt over Vangsvatnet og Gråsida. På bilete til høgre ser du ei anna huske. Denne heng mellom flotte epletre rett ved Voss Vandrarheim. 
Fototips: Desse to bileta er tatt med portrett modus med telefonen. Eg anbefaler verkeleg å prøve dette om du ynskjer å ta bileter til Instagram. 
Kiellanbu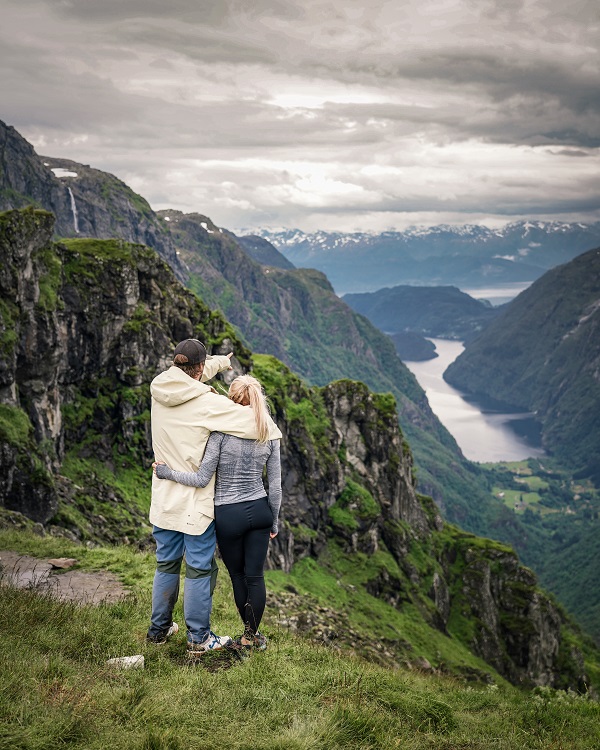 Foto: Torkel Brekke
Kiellandbu er eit av dei mest vellkjente turmåla på Voss – og det med god grunn. Parker på Hamlagrø, ved kraftstasjonen og følg skiltinga til Kiellandbu. Turen er om lag 6km kvar veg i høgfjellet så hugs å ha med deg gode klede, mat og vatn. Det beste med denne ruta er at heile turen til Kiellandbu er utruleg flott og langs ruta er det elver, vatn ein kan symje i, ei flott hengebru og mange flotte utsiktspunkt. DNT har ei lita hytte på Kiellandbu. Utsikta frå vindauga mot fjorden er perfekt for å ta bilete og filmklipp. 
Bordalsgjelet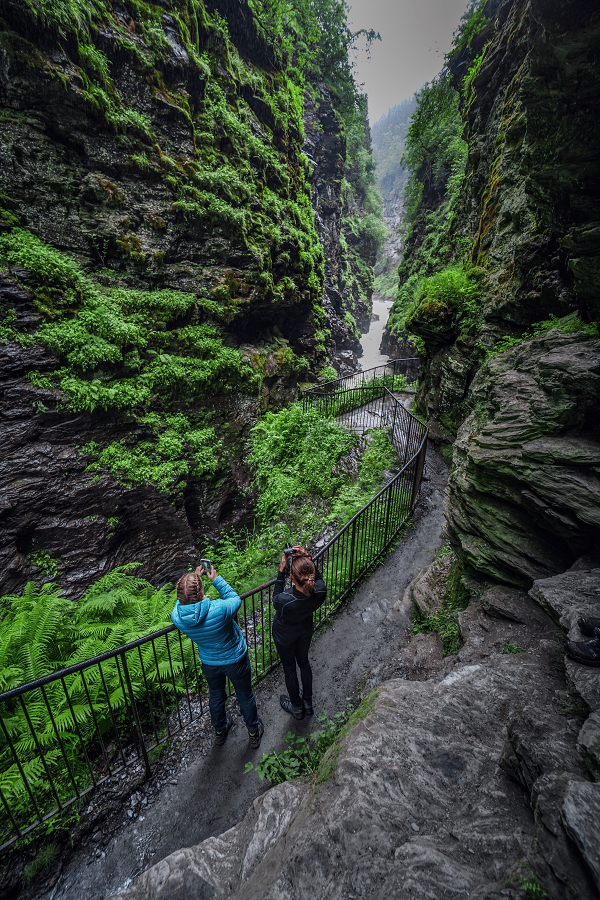 Foto: Karoline Fosse
Bordalsgjelet er forma av elva gjennom tusenvis av år og er ein spektakulær naturattraksjon. Om sommaren er fjellsida dekka i grønt og område ser veldig tropisk ut. Bordalsgjelet er kun 2km frå Vangen og er ein fin gåtur. Ein kan også køyre hit. Frå Vangen køyrer ein mot  Voss Amfi, ta til høgre rett etter langabrue. Følg Gjernesvegen om lag 2km til du kjem til ei ny bru, rett etter brua er det tilrettelagt parkering og infoskilt. 
Fototips: Bruk vidvinkel om du har det!
Hedleberget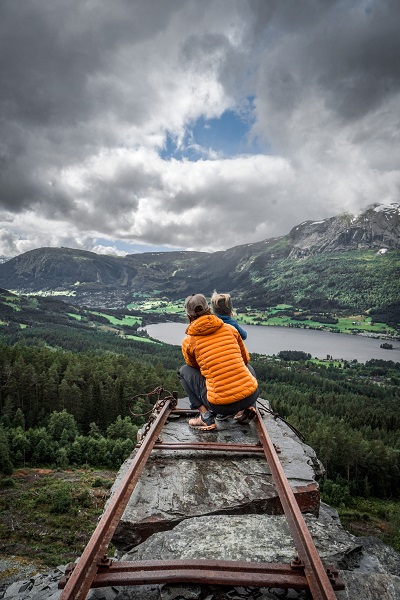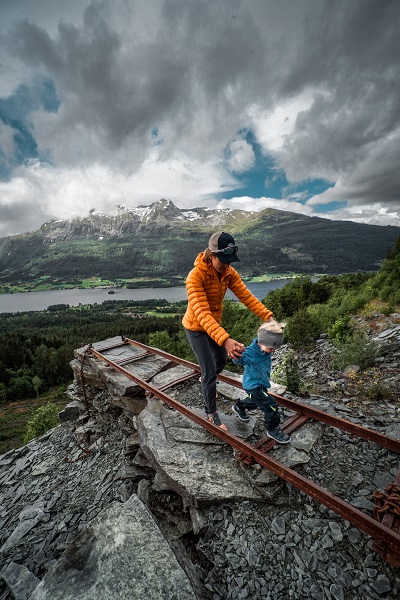 Foto: Karoline Fosse
Hedleberget er eit gamalt skiferbrot med mykje historie. Det er ein kort tur frå parkeringa til togskinnene og på vegen ser du vakre, gamle hytter og eit konsertområde laga i skifer. Frå togskinnene ser ein Skulestadmo og majestetiske Lønahorgi. Frå Voss sentrum køyrer du E16 mot Oslo, ved Coop Extra i Skulestadmoen tar du mot Nedkvitne. Køyr forbi Voss Active og etter eit par hundre meter tar du til høgre mot Almeland. Ta til høgre igjen, inn på Reppavegen. Snart kjem du til eit nytt kryss og på venstre side ser du Voss Bryggeri. Ta til venstre mot Voss Bryggeri. Køyr inn med Voss Bryggeri og følg skiltinga til parkeringa ved Norheimssaga. 
Liaset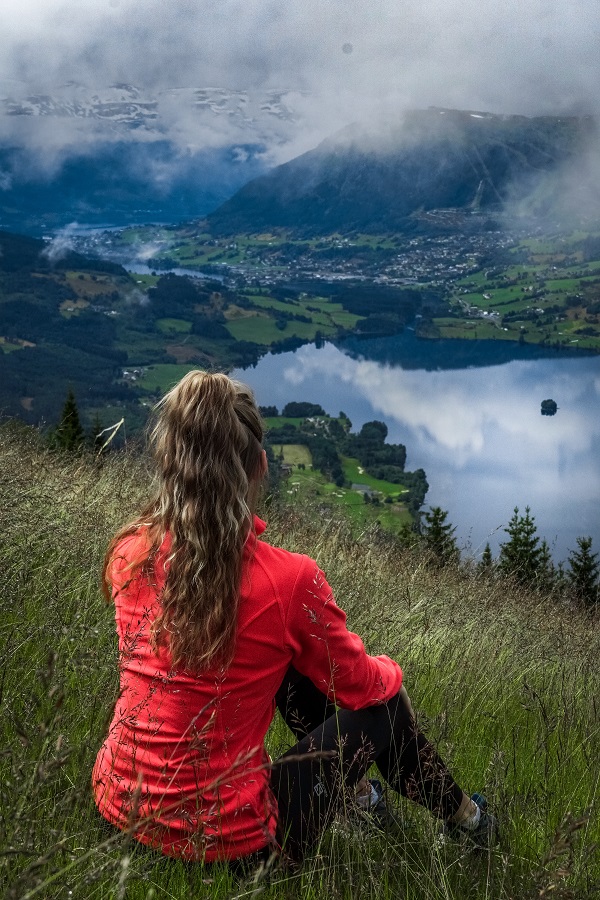 Foto: Karoline Fosse
Frå Liaset er det fantastisk utsikt mot Lønavatnet og Lønahorgi. Ein kan køyre heilt opp Lemmesvegen om ein betalar bompenger, eventuelt kan ein parkere på tillaga parkeringsplass i starten av Lemmesvegen og gå nokre kilometer til toppen. Er du heldig møter du på nokre kyr eller sauer som ruslar rundt. Liaset er også veldig fint om kvelden. 
Solnedgang på Ronve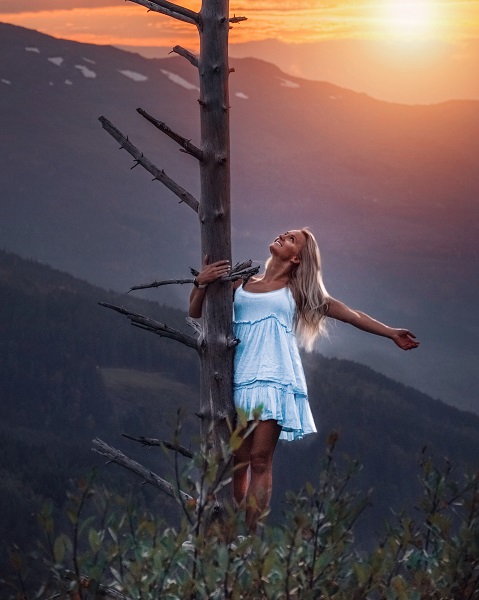 Foto: Karoline Fosse
Det er ikkje lett å fanga ei skikkelig solnedgang, spesielt då Voss er omgitt av høge fjell. Tar du turen opp i fjella er det der i mot større sjanse for å få fine bilete. Dette bilete er tatt på Ronve. For å køyre hit føl du Bordalsvegen nokre kilometer. Ta til venstre og følg Sonvesvegen. Køyr til du kjem til eit kryss med mange store hytter, her tar du til venstre og køyrer vidare til du ser utsikta mot Voss. Solnedgangen herifrå er flott heile sommaren, men dei aller beste kveldane får ein på slutten av våren, seinsommaren eller tidleg haust. 
Vangsvatnet om morgonen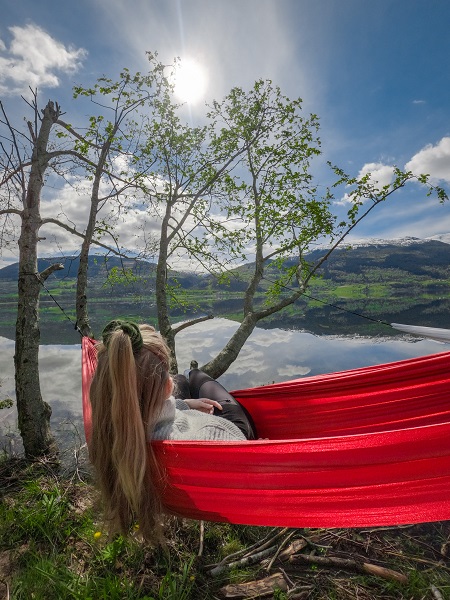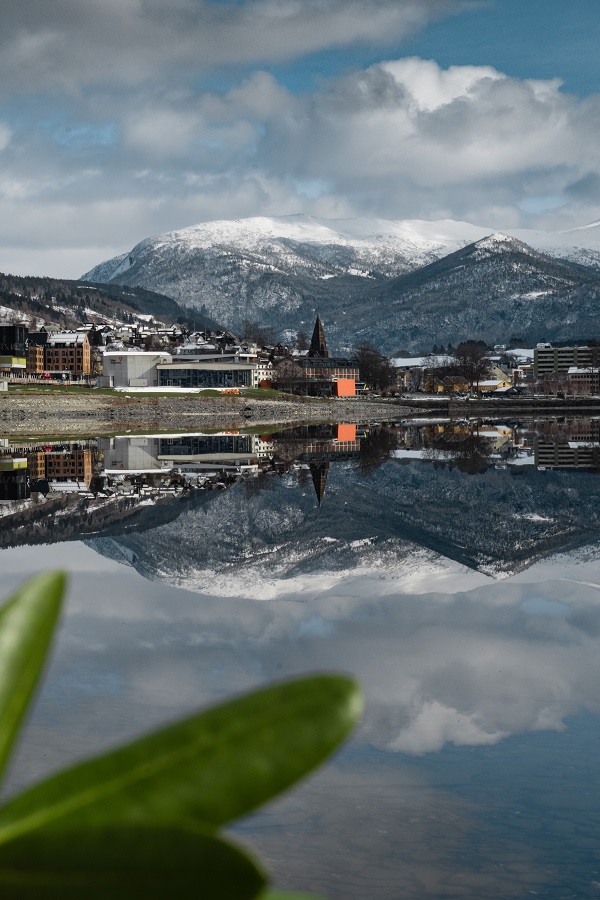 Foto: Karoline Fosse
Om morgonen er Vangsvatnet ofte blikstille og spegelblankt. Om du veit at det vert ein dag med lite vind anbefaler eg å ta turen til Vangsvatner før klokka vert 10. Sjekk gjerne værmeldinga på t.d. www.yr.no. Dette er den beste sjansen til å få oppleve skikkeleg spegl effekt i vatnet og å ta nokre fantastiske bilete. Om du verkeleg vil nyte utsikta kan du henge opp ei hengekøye ved Voss Vandrarheim. Du kan også overnatte og få frukost her, mot betaling. For ein plass og vakne på!
Prestegarden allé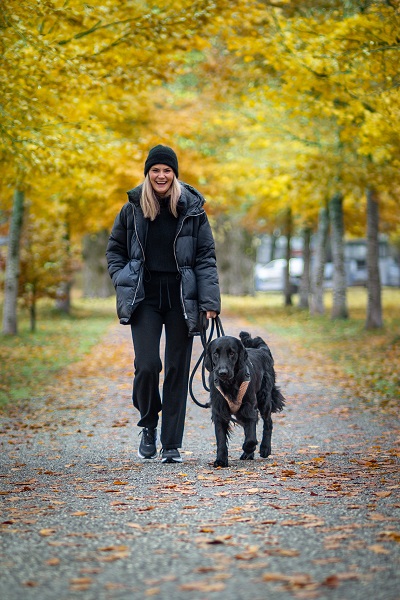 Foto: Karoline Fosse
Om du går frå Vangskyrkja i sentrum mot Prestegardsmoen finn du ein nydeleg allé. Det er tre med store lauv på begge sider av vegen. Om sommaren er alle trea grøne, medan dei i september vert gule og raude. Dette er ein perfekt plass å ta t.d. outfit eller tur bilete. 
Fototips: Denne plassen ser bra ut uansett, ein har sentrum og butikkane på ei side og Vangsvatnet og naturen på andre sida. Det er mange måtar å få fine bilete her, men prøv å leik deg med både portrett modus, vanleg utsnitt og vidvinkel. 
Eventyrleg skog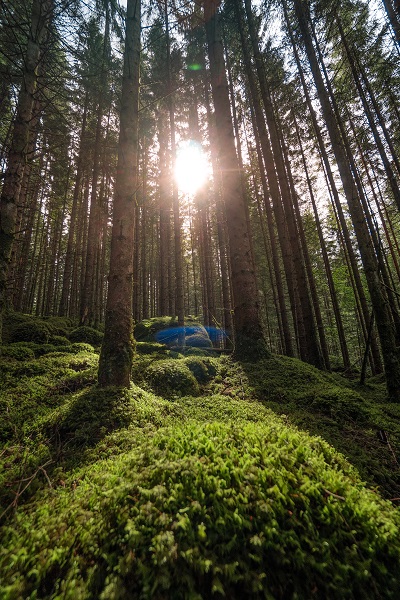 Foto: Karoline Fosse
Voss har mange skogområde med høge furutre og mosekledde stiar. Det ser ut som om ein har gått rett inn i eit av Askeladden sine eventyr. Køyrer du langs Raundalselva finn du mange skogar og stiar som er perfekt for å ta Instagram bilete. Om du ikkje har bil kan du gå til skogsområde i Prestegardsmoen, ved Voss Camping. Hugs å prøve ei av huskene om du tar turen hit! Eventuelt kan du sykle til Bømoen på ein elsykkel, som du kan leige gjennom VossaBike. Skogen ser heilt magisk ut i solskinn, men dette er også ein perfekt aktivitet på regnværsdagar. Dei høge og tettgrodde trea vil ta i mot noko av regne og halde deg nokolunde tørr.
Fototips: I bilete over har eg brukt vidvinkel, men ein kan skape ei heilt anna stemning med t.d. portrettmodus. Prøv å ta bileta frå bakkenivå – froskeperspektiv. 
SUP brett og kajakk på Vangsvatnet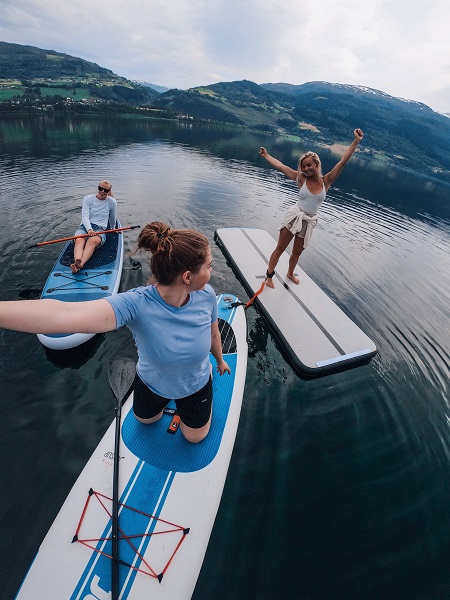 Foto: Karoline Fosse
Utforsk Voss frå eit nytt perspektiv, med SUP brett eller kajakk på Vangsvatnet. Ein kan padle både over vatnet eller langs stranda. Du kan leige utstyr hjå t.d. Voss Vandrarheim eller Outdoor Norway. Desse bileta er tatt med Gopro kamera, med vidvinkel. GoPro kamera er perfekt fordi det toler vatn. Vær forsiktig så du ikkje mister telefonen din i vatnet. Ta med ein venn så ein kan ta bilete av kvarandre.