Photo:
Jon Hunnålvatn Tøn, Hunnalvatn Media
To the mountains in nine minutes with Voss Gondol!
Voss Gondol opened in July 2019. The gondola is open all year, and takes you from the train- and bus station in Voss and to Mount Hanguren (820 masl) in under nine minutes. This is the largest and most modern mountain gondola in Northern Europe.
At the top station you will have a panoramic view to many of the mountains surrounding the town of Voss. You'll also find a variety of activities here - in the summertime you can go hiking, biking, padagliding or rappelling. In the winter the gondola takes you to the big ski resort Voss Resort, where you can have fun in the snow all day.
Click here to order tickets online!
 
Hiking
Wheather you are searcing for short og long hiking trips, Hangurstoppen is the perfect starting point for hiking in the mountains. Here – you'll find spectacular nature and marked trails suited for everyone. 
Hanguren Panorama
This round tour starts just outside the top station at Hangurstoppen. This is an easy walk that is suitable for all ages and levels, and you can even bring a stroller. 
The trail is around 800 meter and offers beautiful panoramic view of Voss' mountains, lakes and part of the town centre.
Mount Hangur / Hanguren
The area at Hanguren is an easy and accessible hiking area for all ages. If you are looking for a full workout, the mountain has lots to offer, but you can also find plenty of trails that are suitable for the entire family. From the old "Hangursrestauranten" you have panorama view overlooking the Vangsvatnet lake and Voss town centre.
From Hanguren, one can also access "The Red Cross Cabin / Røde Kors hytta", Raugstad, mount Lønahorgi or Bavallen. One can also walk down to Mølstertunet or Voss town centre from here.
The Red Cross Cabin / Røde kors hytta
The red cross cabin is accesible from both Bavallen and Hanguren. 
Situated by the lake "Valbergstjørni", it is possible to take a swim on hot summer days.
The cabin is a popular hiking destinaton with great view to some of the mountains surrounding Voss, amongst others mount Lønahorgi.
Mount Lønahorgi
Mount Lønahorgi (1410 MASL) is another popular destination for hiking. Choose to start from either mount Hangur og Bavallen. From the summit of mount Lønahorgi one has spectacular view and one clear days you can see a total of 4 glaciers from the top; Fresvikbreen, Hardangerjøkulen, Vossaskavlen and Folgefonna. 
Please note that the trail to Lønahorgi is a demanding hiking trip with a distance of approx. 20 km return trip, lasting around 6 – 8 hours. The climb from Bavallen to Lønahorgi is around 1100 meters.
During summer, the trail is marked. The trail covers high mountain terrain, where the weather can change quickly. Therefore, one should/must bring a map and compass at all times.  
Some facts about Voss Gondol:
Capacity: 1069 pers/hour
Number of cabins: 9
Capacity per cabin: 34 pers.
Height difference : 763 meters
Top station: Hangurstoppen/Mount Hanguren (820 masl)
Length: 2020 metres
Travel time: 8 min 48 sec
Type of gondola: Leitner Ropeways 3S
Hangurstoppen Restaurant
At the top station of the gondola you'll also find Hangurstoppen Restaurant. The restaurant has room for 450 people and serves cold and warm dishes made from local ingredients. See menu and read more about the restaurant here!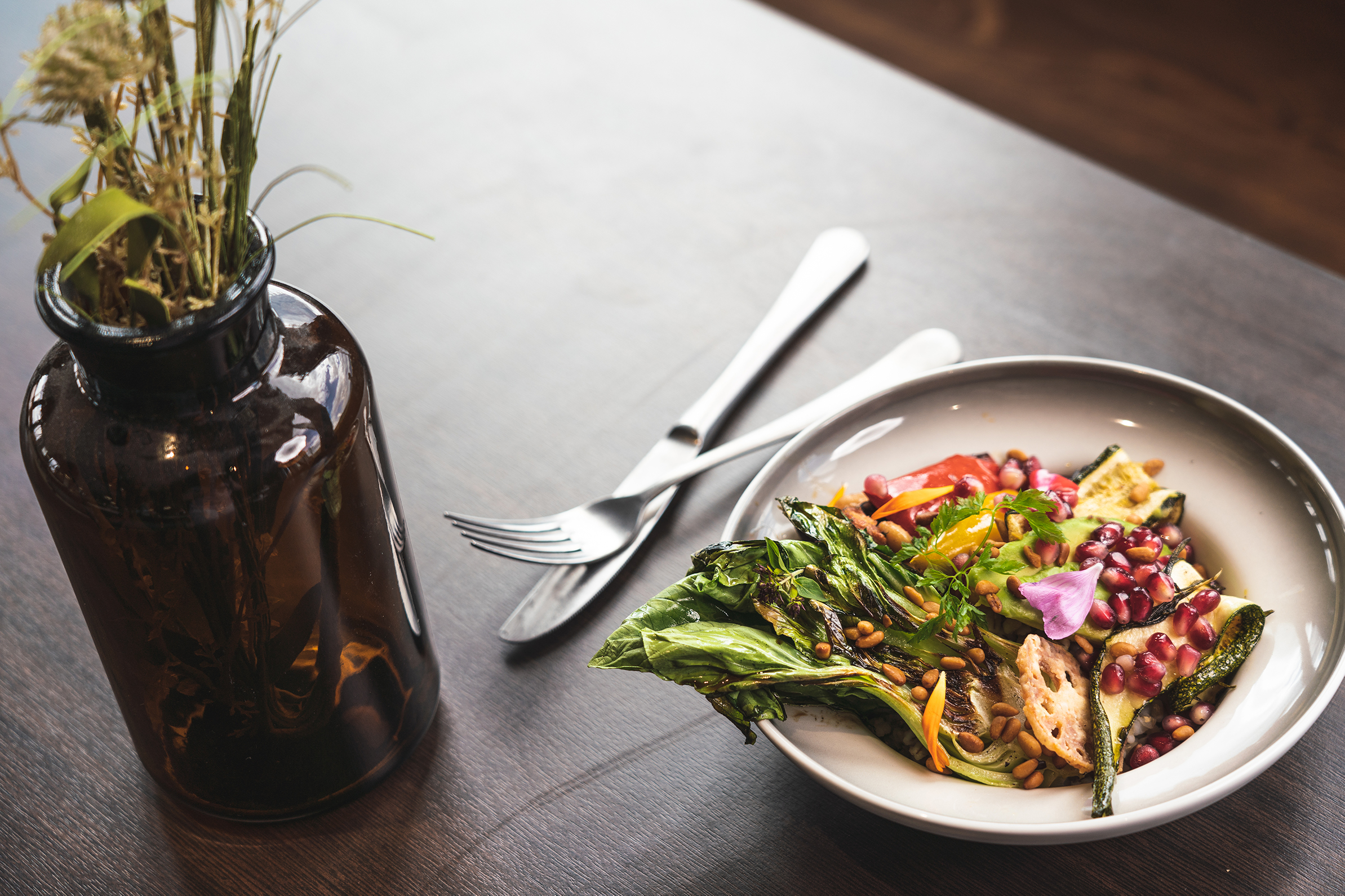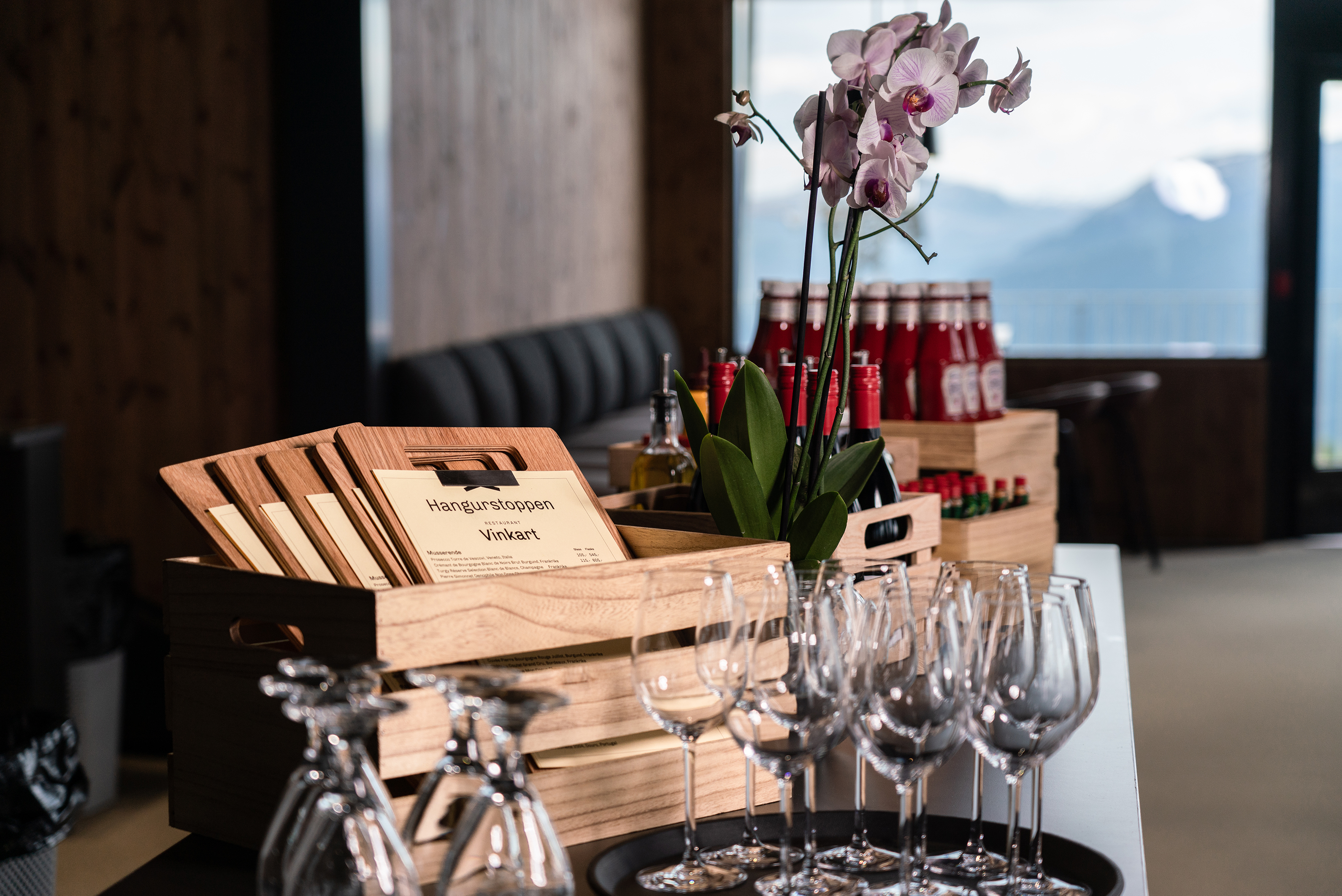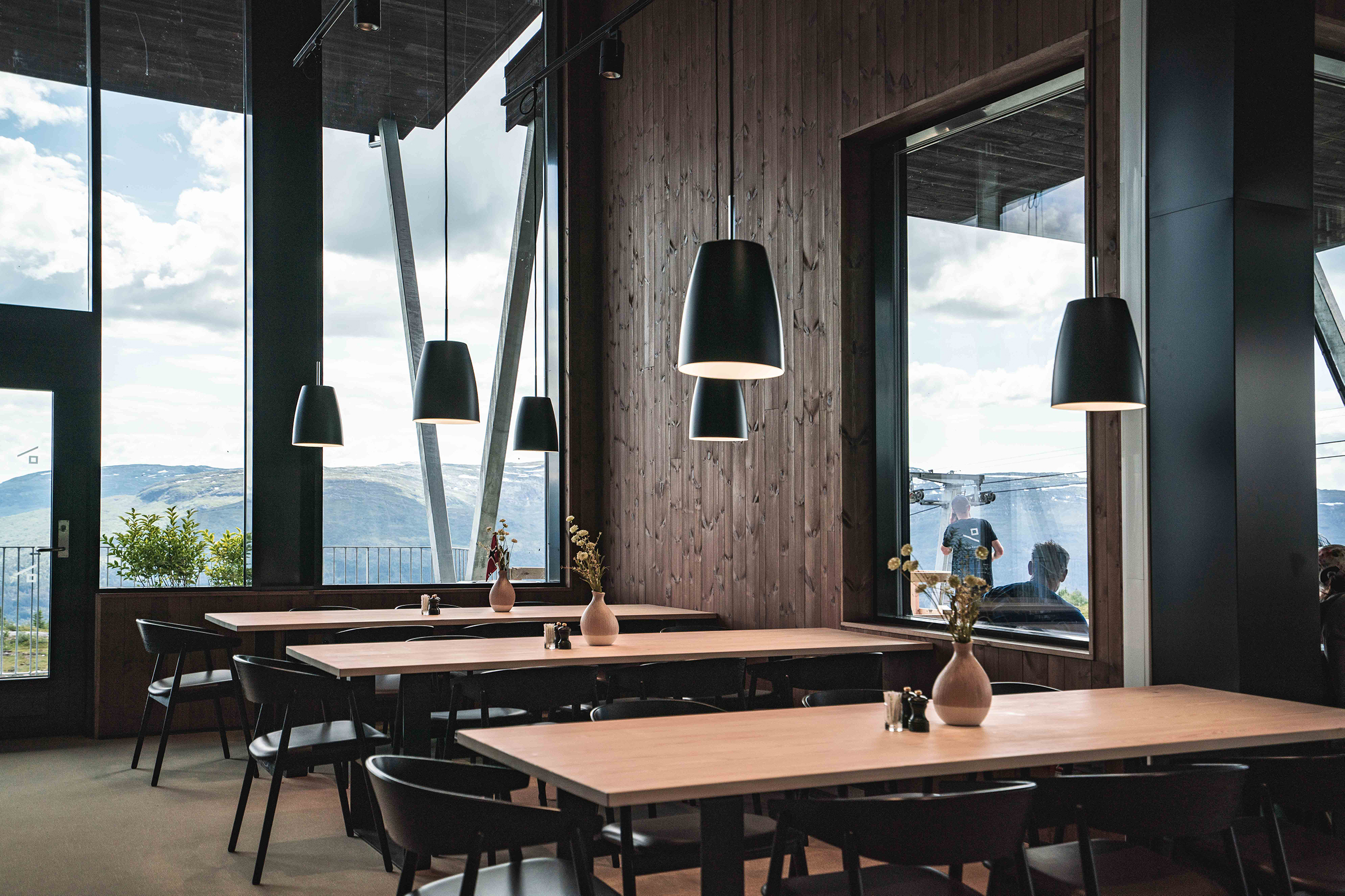 Du kan også få kjøpt billettar, årskort, sesongkort og ambassadørkort hjå Voss Turistinformasjon som du finn på bakkeplan i Voss Gondol.
Vandring
Frå Hangurstoppen har ein eit fantastisk utgangspunkt for ein rekke flotte turar i fjellet. Her finn du både korte og lange turar i ulik vanskegrad. I tillegg er det moglegheit for guida turar. 
Hanguren Panorama
Denne rundløypa starter rett utanfor toppstasjonen på Hangurstoppen. Dette er ein lett tur som passer for alle målgrupper, både med og utan barnevogn. Løypa, som er på 800 meter, byr på vakker panoramautsikt over Vossafjell, Lønavatnet og Voss sentrum.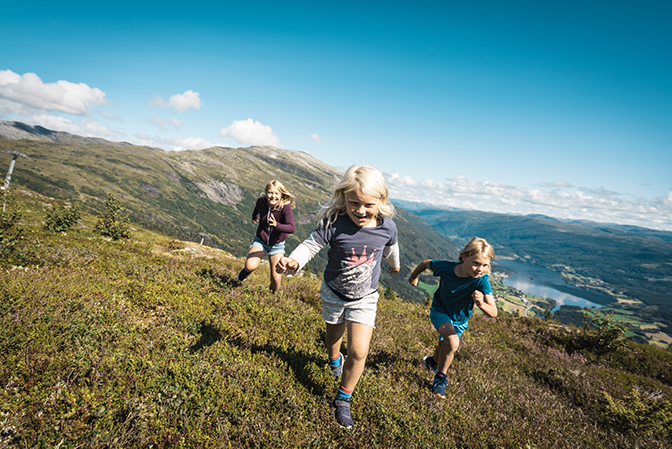 Hanguren
Området på Hanguren er flott å gå i uansett alder og form; ein vel sjølv kor mykje ein vil gjere ut av det. Her finn ein stiar som høver små barneføter, og turar for dei som ynskjer ei ekstra utfordring for både musklar og kondisjon. Uansett kvar du går får du fin natur med på kjøpet! 
Frå Hanguren har ein og anledning til å gå vidare til Røde Kors hytta, Raugstad, Lønahorgi eller Bavallen. Ein kan og ta seg ned til Mølstertunet og vidare ned til Voss sentrum om ein ynskjer det.
Røde Kors hytta
Røde Kors hytta kan ein nå både frå Bavallen og frå Hanguren. 
Hytta finn ein like ved Valbergstjørni og her har ein høve til å bade på varme sommardagar.
Røde Kors hytta er eit populært turmål med flott utsikt til nokre av Vossafjella, mellom anna Lønahorgi.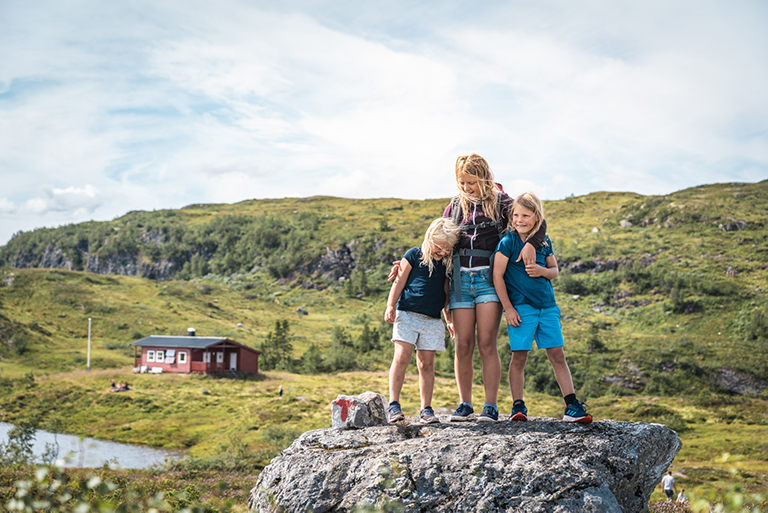 Lønahorgi
Lønahorgi (1410) er eit anna populært turmål med utgangspunkt frå Voss Resort. 
Vel mellom start frå Hanguren eller Bavallen. På toppen har ein spektakulært utsikt og på fine dagar kan ein sjå heile 4 isbrear; Fresvikbreen, Hardangerjøkulen, Vossaskavlen og Folgefonna.
Denne fotturen er for dei litt meir utholdne, då det er ein krevande tur på ca. 20 km tur/retur som tek omlag 6-8 timar, alt etter kvar ein starter frå. Frå Bavallen til Lønahorgi er det omkring 1100 høgdemeter. Ruta er sommermerka og går i høgfjellsterreng. Ta difor med utstyr som kart og kompass og vèr budd på skiftande vêr.
Korte fakta om gondolen:
Kapasitet: 1069 personar per time
Kabinar: 9 stk
Kapasitet per kabin: 34 personar
Høgdeskilnad: 763 meter
Toppstasjon: Hangurstoppen (820 moh)
Lengd: 2020 meter
Reisetid: 8 min 48 sek
Type gondol: Leitner Ropeways 3S
 
Hangurstoppen Restaurant
På toppstasjonen kan du også nyta eit måltid på Hangurstoppen Restaurant. Med sitjeplassar til 450 personar er dette Voss sin største restaurant, og her får du både kalde og varme retter og drikkevarer, basert på lokale ingredienser og lokale leverandørar. Restauranten har også møte-og konferansefasilitetar til omlag 50 personar. Sjå meny og les meir om restauranten her!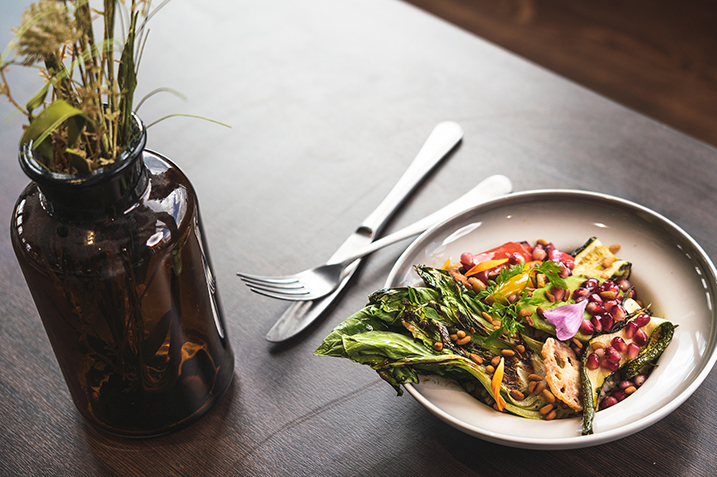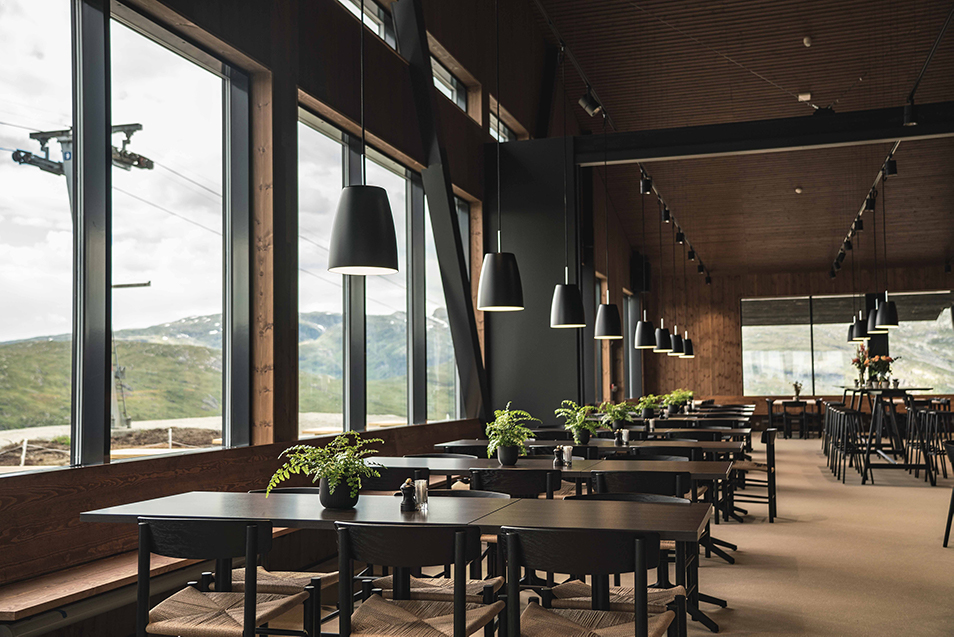 <% totalFilter %> filter applicerade