Photo:
Magnus Furset, FjordNorway
Five great road bike trips
As a road biker you get to be outdoors in nature while getting exercise that is gentle on your body. You also get to see a lot places as you can travel far in a short amount of time. Voss is a perfect place for road biking. You can bike between mountains and fjords and explore well known routes such as "the green loop". 
Visit Voss has talked with local enthusiast Jørund Rong to get the best tips for road biking this vacation. Voss has a varied landscape, and it is easy to avoid the flat and possibly boring rides. Dirt roads are also good for road bikes, although many might try to avoid them. At least the avid biker we are interviewing seem to think so, he rides on gravel quite a bit with his road bike. With some practice, the right tires and tire pressure this opens up many more possibilities. Here you will get Jørund's favourite rides.
 
1. Round trip to Ulvik
A nice ride with beautiful nature, almost without traffic. You have a bike path all the way to Holven, and the ride over Ulvikhøgda is great in both directions. The ride home up Skjervet is always a good experience. Estimated time: 3-4 hours.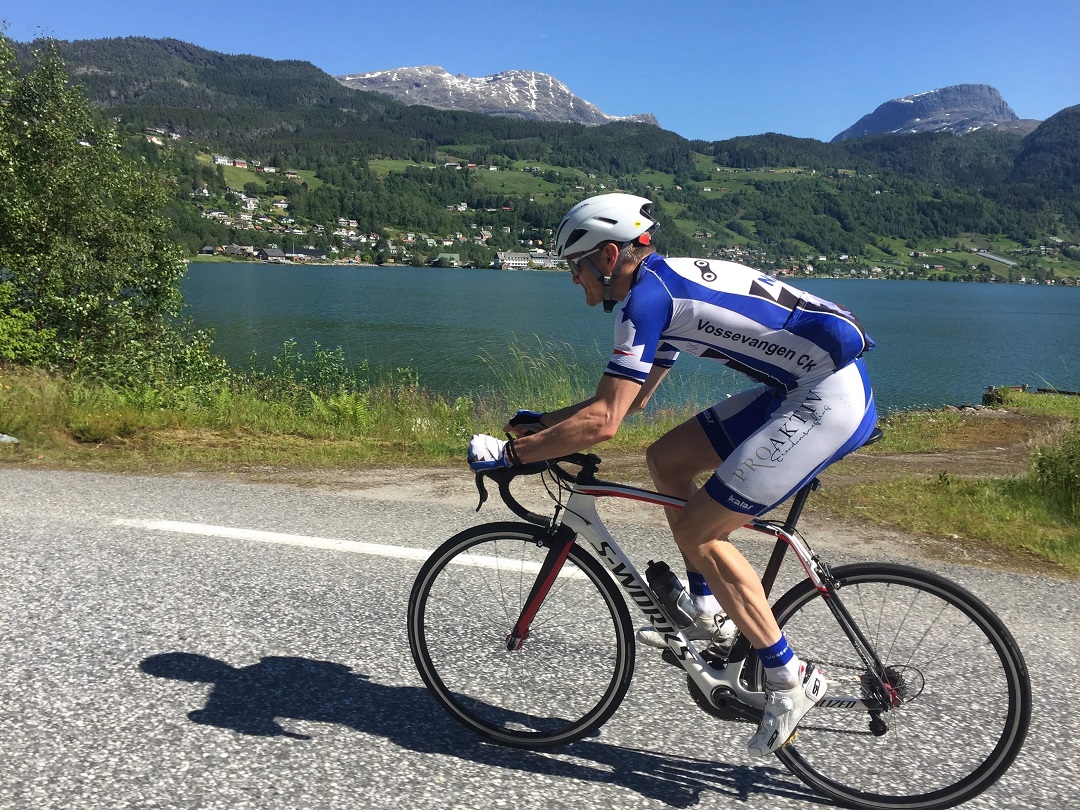 Jørund in Ulvik. Photo: Kjetil Isaksen
2. The green loop 
This loop is a west coast classic from Evanger, through Teigdalen and Nesheimsfjellet and further through Eksingedalen. The way back over Bergsdalen and Hamlagrø completes the journey. An alternative is to take the train home from Dale if you are satisfied with half the ride. The ride between Geitle and Evanger can have a lot of traffic, otherwise you ride on small quiet roads. NB: you need light on your bike since there are tunnels without light between Eidslandet and Stamnes. Estimated time: 6-7 hours.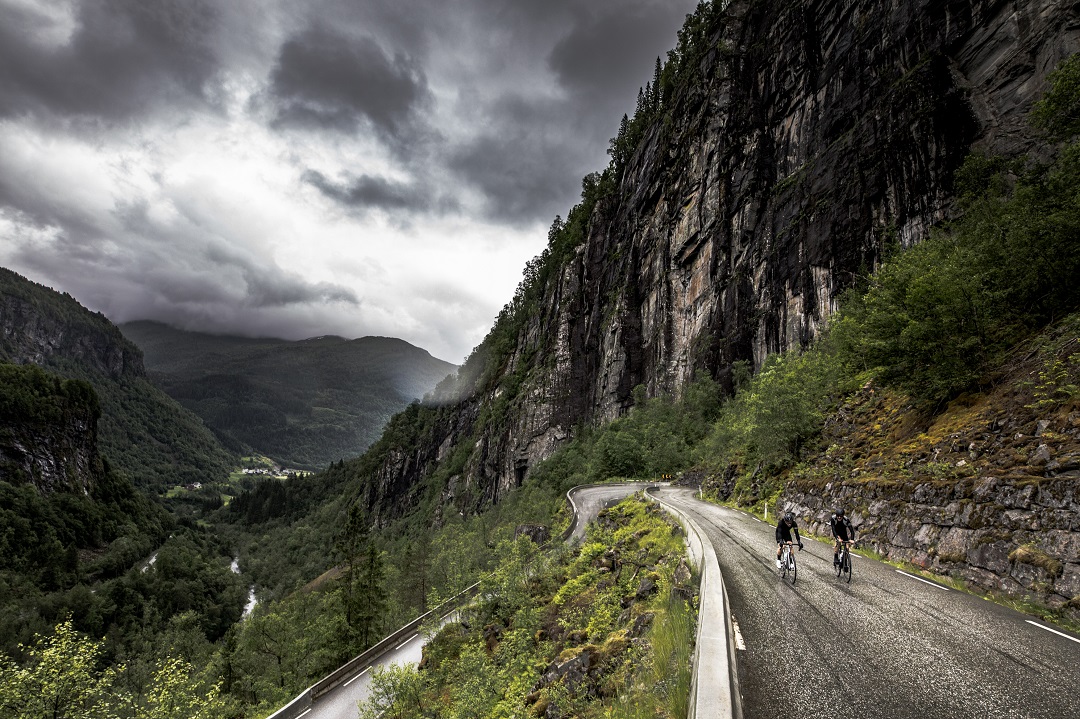 The hill "Skjervet" is a hard segment for most bikers, although well known to anyone who has partisipated in the race "Bergen-Voss". Photo. Rapha, FjordNorway
Jørund is very active in the local community, he holds the record up Skjervet at 6 minutes and 19 seconds together with Sindre Hirth.  That is an average speed of 24 km/h. Around 3400 bikers have logged the segment "Skjervet" on the app Strava. He has also competed in what is known as the worlds hardest amateur ride, «Haute Route», in the Dolomites in Italy and did pretty well there. Since he is from the west coast he prefers riding uphill. He says he got some strange looks that time he and a friend rode Rallarvegen uphill on a road bike.
 
3. Round trip to Vik
Spring and summer rides over Vikafjellet with snow patches, down to the green hills in Vik is always a good thing. Unfortunately, the ride has stretches with a lot of traffic, especially E116 to Vinje can be challenging. This is something to be aware of. At Vikafjellet there is a short tunnel, and you need a light on your bike. Estimated time: 4-5 hours.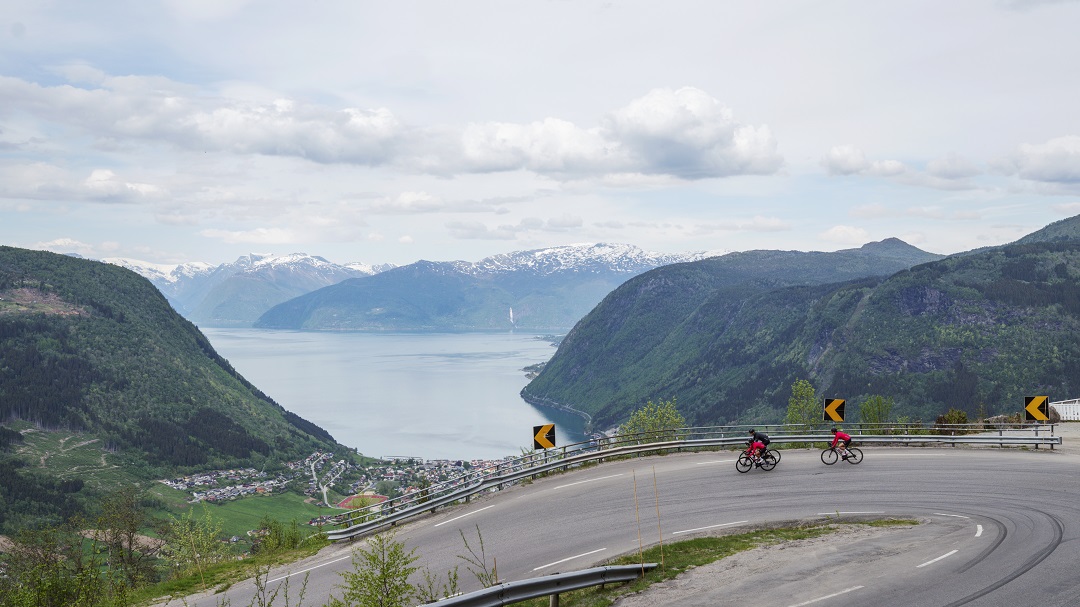 The view when going down to Vik, from the mouintain "Vikafjellet". Photo. Magnus Furset, Fjord Norway
4. Local round trip
The round trip Tjukkabygdi, Kløve, Lemme, and returning by Tøn/Ygre, Almeland or Nedkvitne is a very nice round trip. The view from Lemme is worth the trip alone! The trip can be done in both directions with a detour past Nesheimstunet and up to Tvinne. Estimated time: 1-2 hours. 
5. Around Herresåren 
A local, nice ride, with some hills to climb. I like this one best from Lid and up Auro and Skulte, returning through Bordalen. It has a short gravel section. Estimated time: 1-2 hours.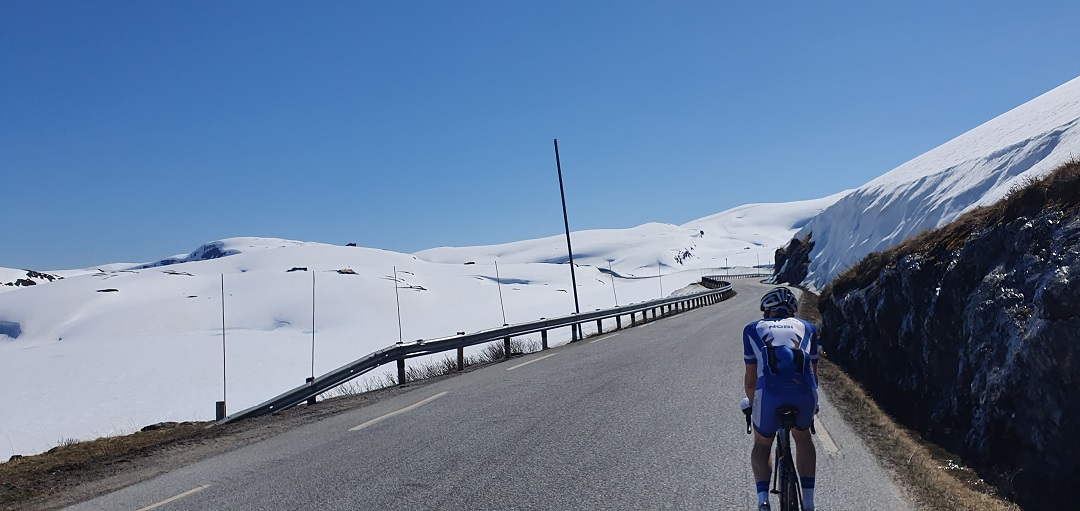 Geir Ove Byrkje at Vikafjellet. Photo: Jørund Rong
The west coast and Voss can be challenging, even though you have biked a lot previously. Here you have to work hard on the uphill, but when you get to the top you get rewarded. Jørund has a few extra tips to what you should think about before going on a bike ride and how he plans a ride himself.  
Tips for the ride:
Riding on gravel is not dangerous. Riding on gravel roads opens up many possibilities. 
Bring an Emergency kit. Always bring an emergency kit when you go on longer rides. You never know when you need a multitool or need to repair a flat tire.
Check out Strava! On Strava you can see the most popular rides, where the locals ride, elevation of the rides and much more. The rides get accessible with the help of GPS and you can download them if you wish. 
Ask a (new) friend. Road cyclists are friendly and including. If you meet someone at a race, ask if they want to go for a ride. Jørund has ridden many places in Norway with friends he has met through the sport and has been called up by people who are in Voss and want someone to ride with while they are in town. 
Drivers and bikers: share the road and be conciderate of each other. 
Road cycling is a broad term, and there is more to the sport than just jumping on a bike. Jørund participated in cross-country skiing and ran track. He started cycling when he was 12 to get better at winter sports. He got back at in as an adult and has been an active cyclist the past 10-12 years. If you have just started biking, or want to test it out, we recommend trying some shorter trips with easier terrain. Bike the Fjords rent out bikes, can recommend trips and offer guiding at various levels.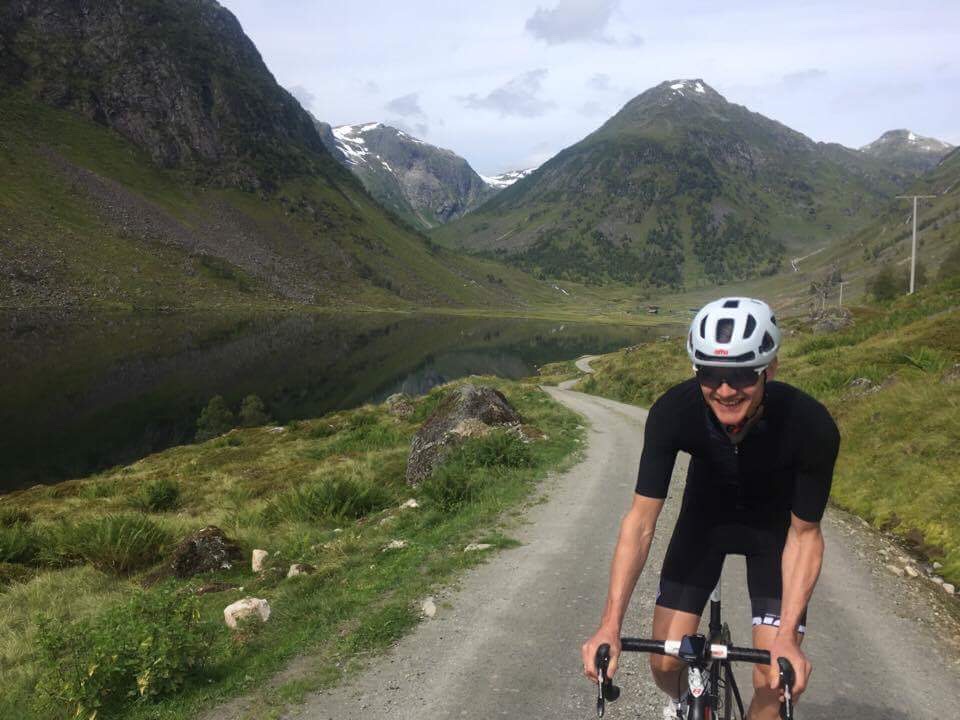 Jørund on a dirt road, with a racer. Photo: Kjetil Isaksen
Jørund also has some good advice for those just starting out and/or those who wish to start road biking
Take it gradually. Begin with a relatively simple bike and do shorter rides. Cycling requires specific exercising, and you need to have done several miles before going on longer rides. 
Bring some friends, or tag along with someone. Biking is a social activity, and you learn best by going with experienced riders. Voss has an active bike club with social rides. Contact one of them and join the community.  
Make sure to stop for coffee. Cyclists love coffee. 
 
Guided trips, classes and rentals:
<% totalFilter %> filter applicerade
More bike routes in Voss: