Photo:
Voss Fallskjermklubb
7 Action-Packed Activities in Voss
Overcome challenges together, explore the crystal-clear, blue rivers in a raft or learn to fly with Skydive Voss. In Voss, there is something for everyone no matter if you prefer air sports, water activities, high adrenaline, or relaxation. 
Rafting is the most popular summer activity in Voss! Join Voss Active and their fantastic guides on the river. Kayakers from the whole world come to Voss to challenge themselves on our rivers so this is a  truly unique experience. It doesn't matter if it's sunny or rainy, you are guaranteed to get wet either way.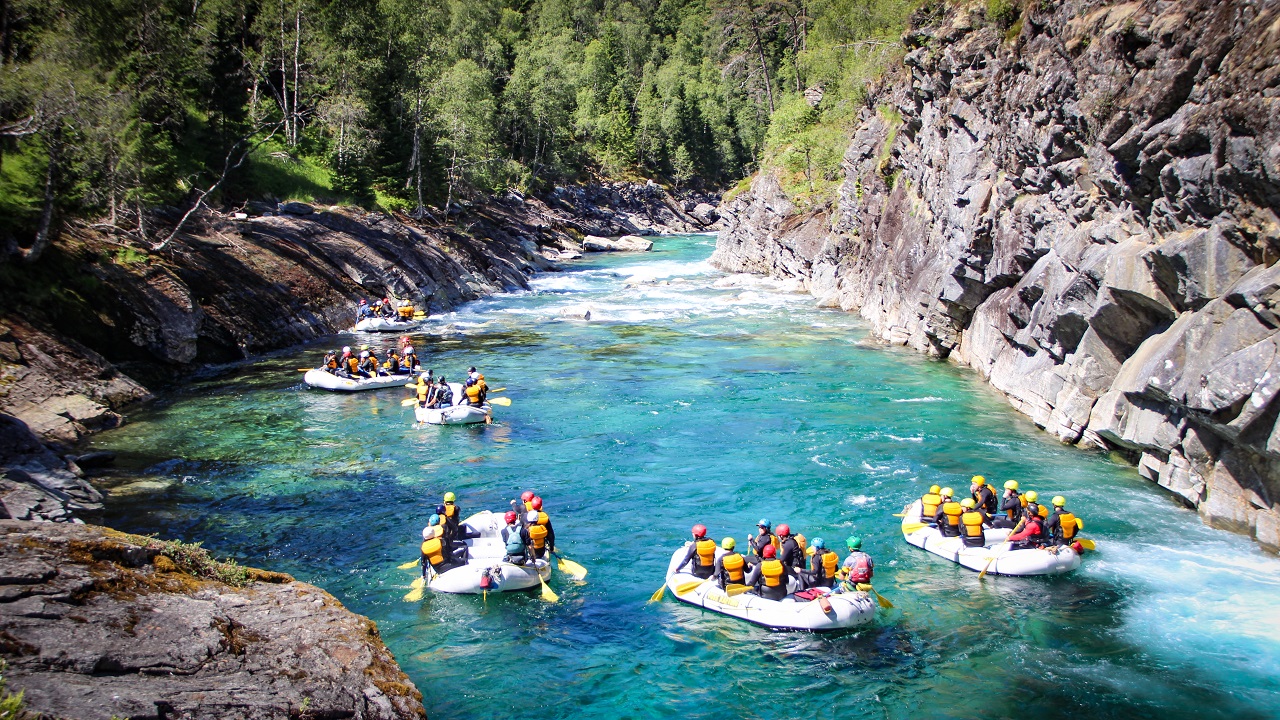 Photo: Voss Active
Last year's most sought out activity! A lot of people are looking to fill their holidays with unique experiences and memories for life. You will find all this at Norway's largest skydiving club - Skydive Voss. Skydiving gives you a bird's eye view of the beautiful landscape in western Norway and you get a taste of the Extreme sports festival and local culture. The drop zone atmosphere is also very special and the club get a lot of praise for their teamspirit. They also have a cafe where you can order tasty vegetarian food. Why not eat lunch here…after your freefall! 
NB. Slots fill up fast, so don't wait too long to book. 
No matter which activity you do in Voss you are always surrounded by beautiful nature. Just outside Voss city centre you find an idyllic spot for climbing. Wild Voss has taken part in establishing bolted climbing routes. Climbing is a physical and mental challenge and is therefore a perfect activity for clearing one's mind and being in the moment. Wild Voss has certified instructors and you get to try rock climbing and rappelling at your level for up to 5 hours. Everything is laid out for an unforgettable day with this activity!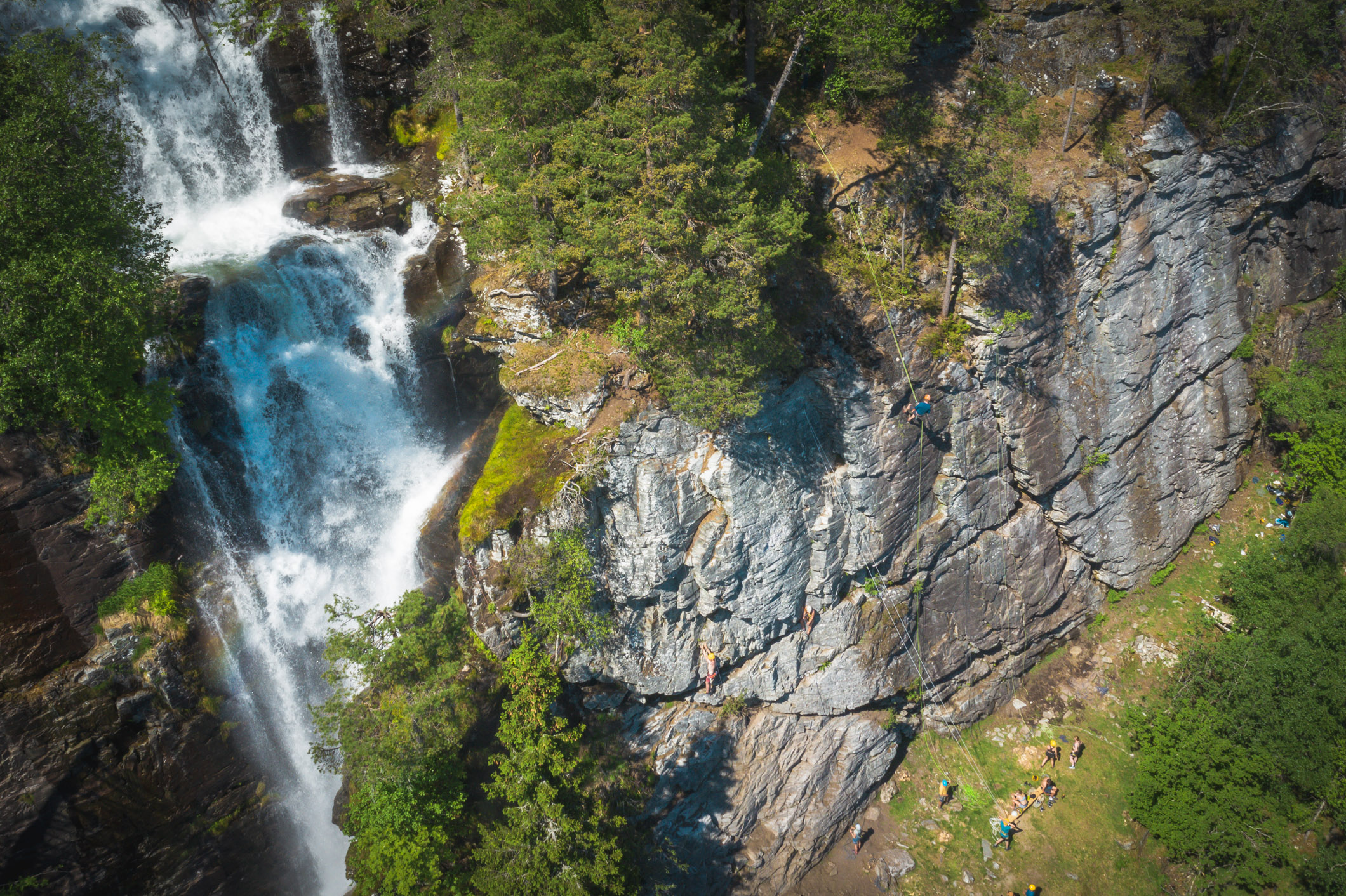 Photo: Jon Hunnalvatn Media, Hunnalvatn Media
Whilst canyoning you get to experience large natural pools, water slides, small rapids and crystal-clear water. You have to swim, climb and jump along the river canyon to move up/down the river.
Everyone is provided with a wetsuit, helmet, and lifejacket .Canyoning is only available when the water levels are too low go rafting (usually late in summer). 
SUP boarding is a fun and exciting activity. With Outdoor Norway you get to see Voss and the river Vosso from a new perspective. You get to practice on lake Vangsvatnet before you drive to the river. All trips are done in small groups so that the guide can adjust the trip depending on the participants' level of experience. If you wish to explore lake Vangsvatnet on your own it's possible to rent a SUP board.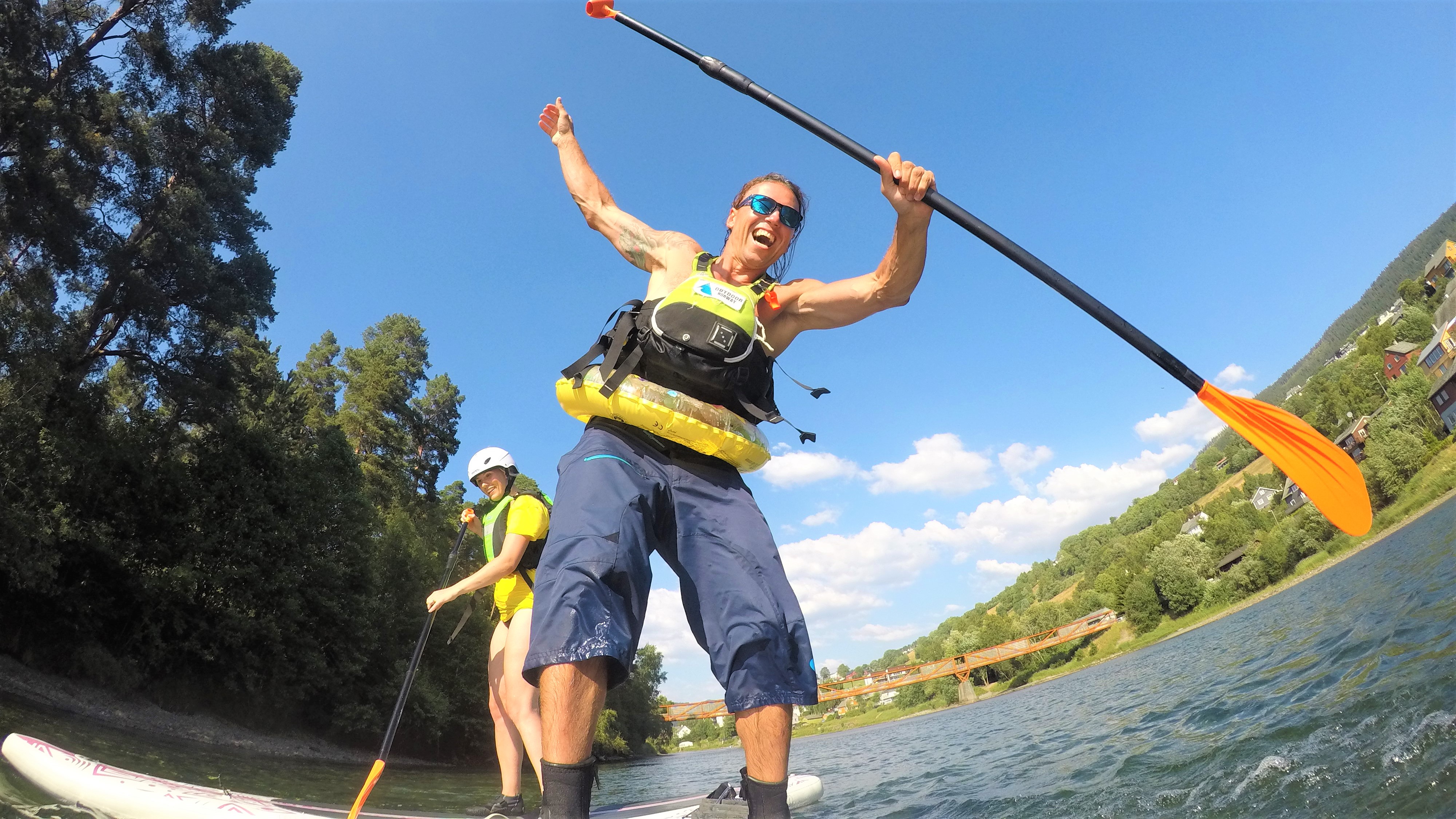 Photo: Outdoor Norway
6. River canoeing - Outdoor Norway
With fun river canoes you can experience the river up close. With guides from Outdoor Norway you get to paddle approximately 5 km down the spectacular Raundalselva river. 
The guides follows in kayaks and keeps everyone safe. The river offers both rapids gentle streams and many secrets swimming spots with crystal-clear water. 
7. Indoor Skydiving - Voss Vind
Have you always dreamt of being able to fly? At Voss Vind you get to feel what it's like to be weightless. This activity is suitable for everyone, and you don't need any experience. You get good instructions before and during your flight time. Here you get to challenge yourself in a safe environment. Sharing an experience like this is quite special and you will definitely have something to talk about during dinner. Flying is extremely fun and completely safe! 
<% totalFilter %> filter applicerade
Other fun activities in Voss:
<% totalFilter %> filter applicerade