A guide to dining in Voss
An overview of restaurants and cafes in Voss.
Hangurstoppen  
Hangurstuppen is Voss's largest restaurant with 450 seats. The restaurant is located 850 meters above sea level and has a fantastic scenic view of the mountains surrounding Voss. You will find people dressed up, going out to enjoy a better dinner, and people in skiing and hiking gear stopping by for a quick snack. The restaurant focus on food prepared from scratch and the menu changes with the seasons, based on the availability of produce.
At Hangurstoppen you can get snacks, lunch, and dinner. You can even rent the venue for private events.
The restaurant is at mount Hangur and the fastest way to the top is with Voss Gondol. The trip takes less than 9 min. It is also possible to get there on foot from Mølstertunet or Bavallen.
Foto: Jon Hunnalvatn Tøn, Hunnalvatn Media
Haik at Scandic
In the evening, the charcoal grill at Scandic Voss is the heart of the hotel. At Haik you can taste locally produced food and enjoy the relaxing atmosphere. After dinner, you can challenge your friends to a round of shuffleboard or chess and check out the bar. On good days, the large outdoor seating area is highly sought after. Here you have a great view of lake Vangsvatnet and mount Gråsida. The bar outside is inspired by the old gondola "Dinglo and Danglo".
Scandic Voss is located right next to the train station and Voss Gondol's lower station.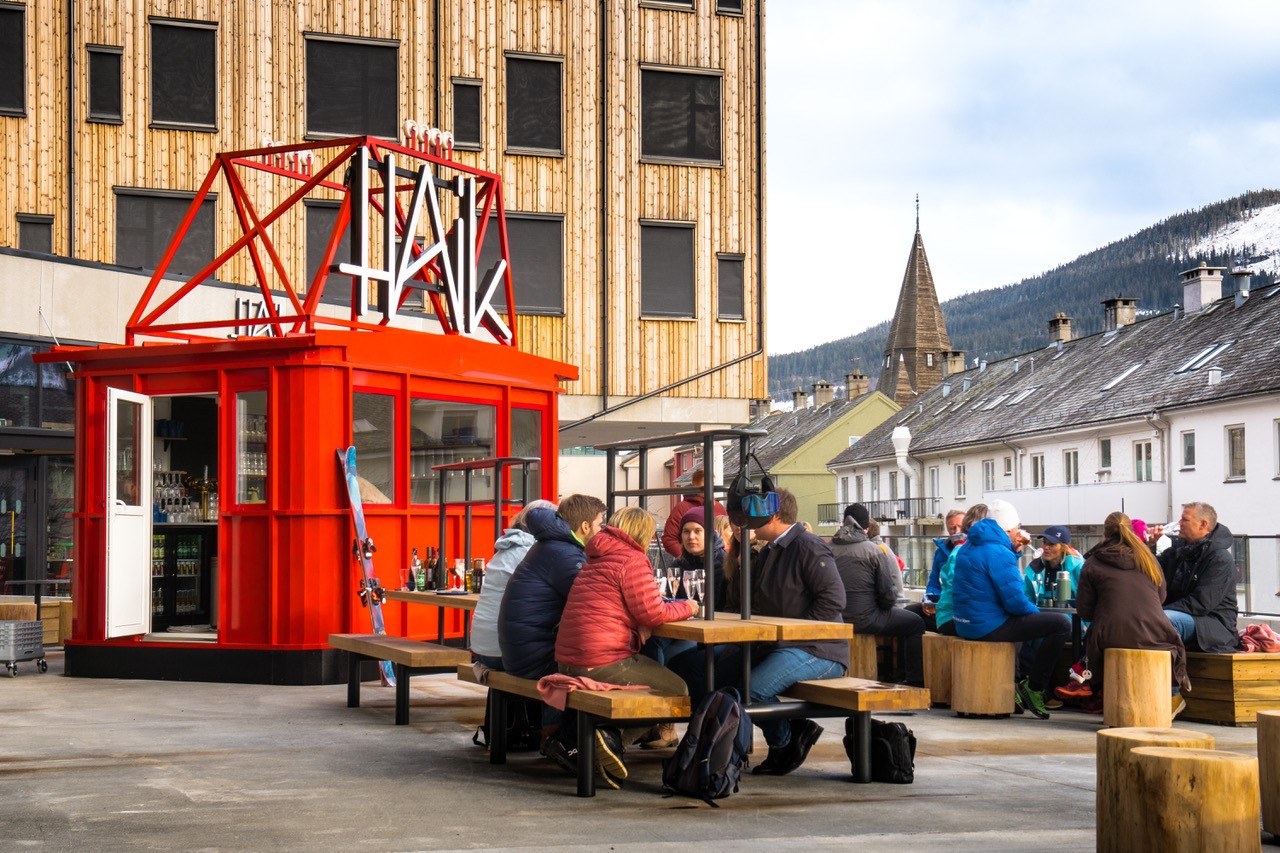 Restaurant Elysée 
Elysee is a place for celebrations and fine dining. The international kitchen focuses on locally sourced ingredients. They can also offer one of the world's best wine lists. Feel free to order directly from Park and let the kitchen and their wine director decide the menu. Storing wine requires time and care, the wine must therefore be ordered at least one day in advance.
Restaurant Elysée can be found at Park Hotell Vossevangen, in the center of Voss (in Uttrågata 1).
Vossevangen Bodega
At Vossevangen Bodega they mix Norwegian and Mexican culture. They also focus heavily on using local produce. You can order things like fajitas with Norwegian salmon, quesadillas with bacon from Voss, and Nachoburger with locally produced bacon. They serve up a taco buffet every day.
"The bodega" as the locals say, is good for children. You will find them close to the church Vangskyrkja.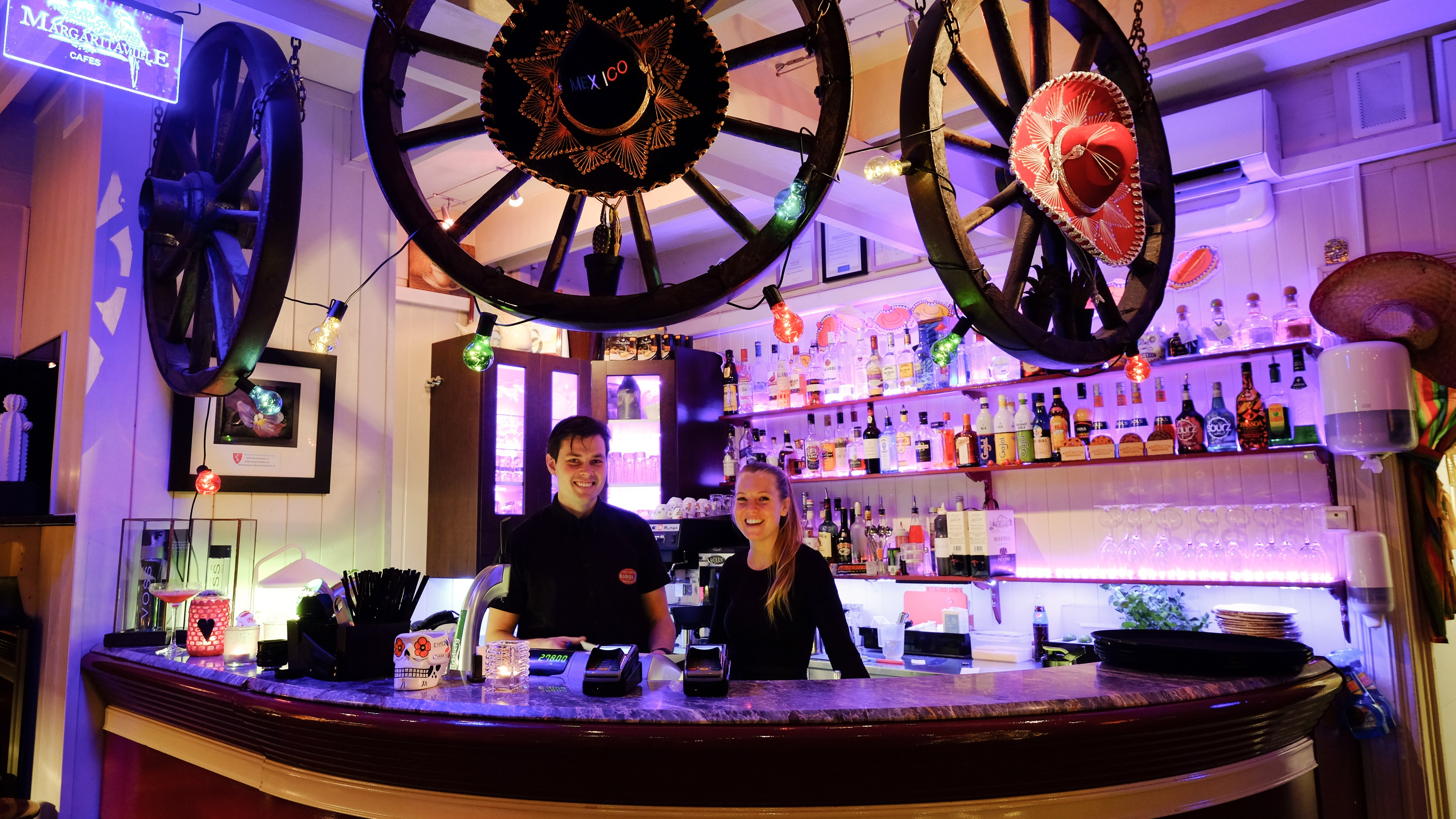 Tre Brør Cafe and Bar
Tre Brør serves breakfast, coffee, snacks and other dishes. It is more than a café, it is also a culture center, a bar, and a concert arena. In summer, the outdoor terrace is a very popular place to meet up.
Tre Brør is located in the center of Voss, at the town square.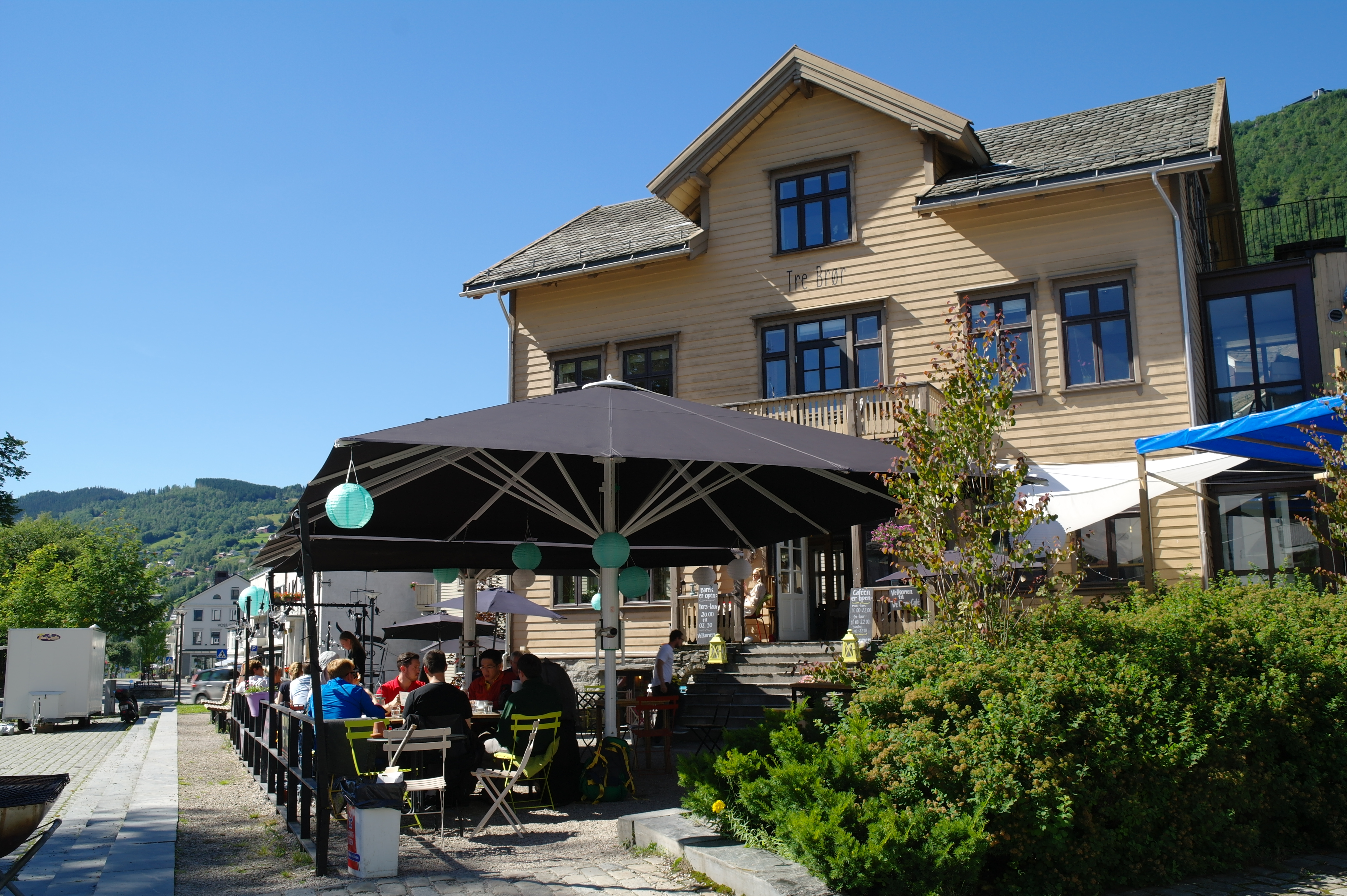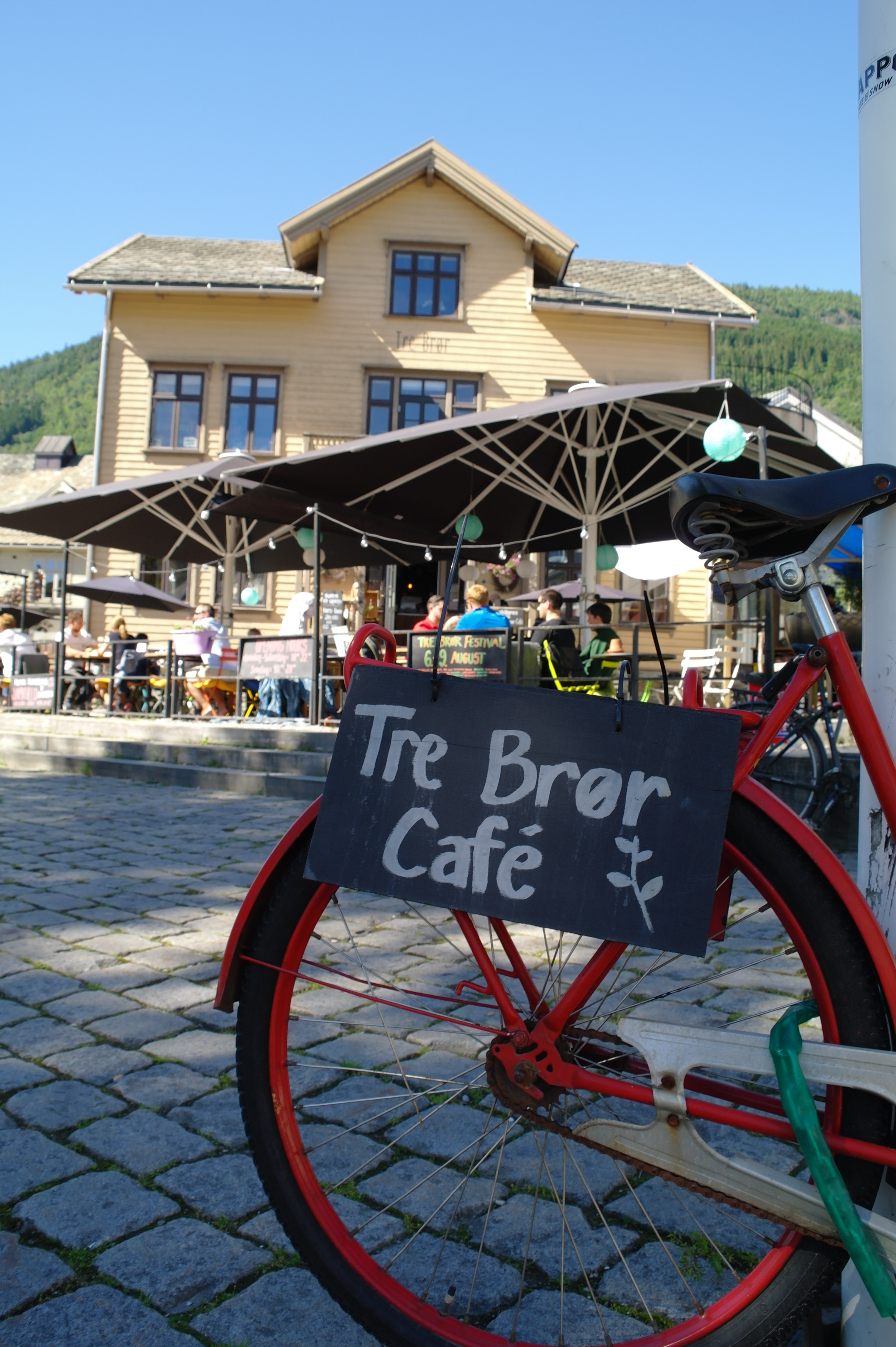 Skrot Cafe and Bar
Skrot is a small piece of the city, in the countryside. The bar has a hip and unique atmosphere. The ceiling is decorated with paintings with traditional, ornate frames and the menu looks like old vinyl records. You can either sit at the bar and have a chat with the friendly owners or sit down by the big windows and watch people walking by.
During the day, Skrot serves food such as sandwiches and carrot cake. They also have tea, coffee, and their famous milkshakes. You will find Skrot at the start of Vangsgata, close to the square.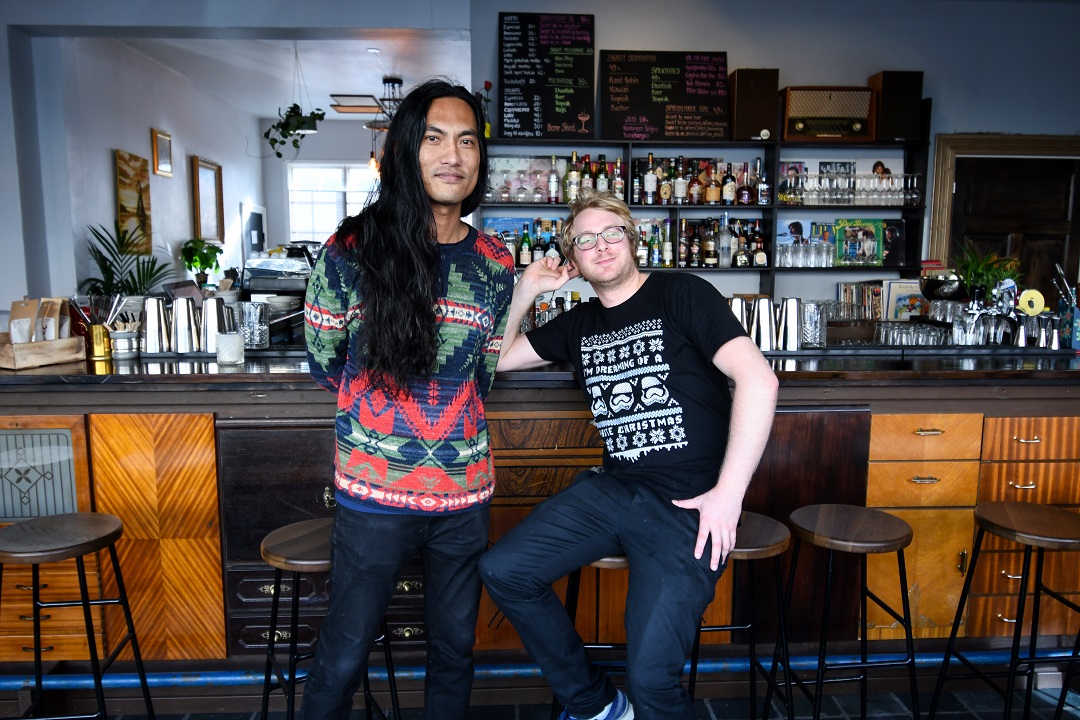 Vossakringlo
Kringlo is a cozy café with a large selection of freshly baked goods and coffee. They also sell sandwiches. The café is a regular meeting place for many locals and a perfect place to take a breather if you are shopping in the city center. If you go through the café and out the back you'll find a large outdoor seeting area, and heating lamps. 
You will find the cafe in Vangsgata, right next to Skrot.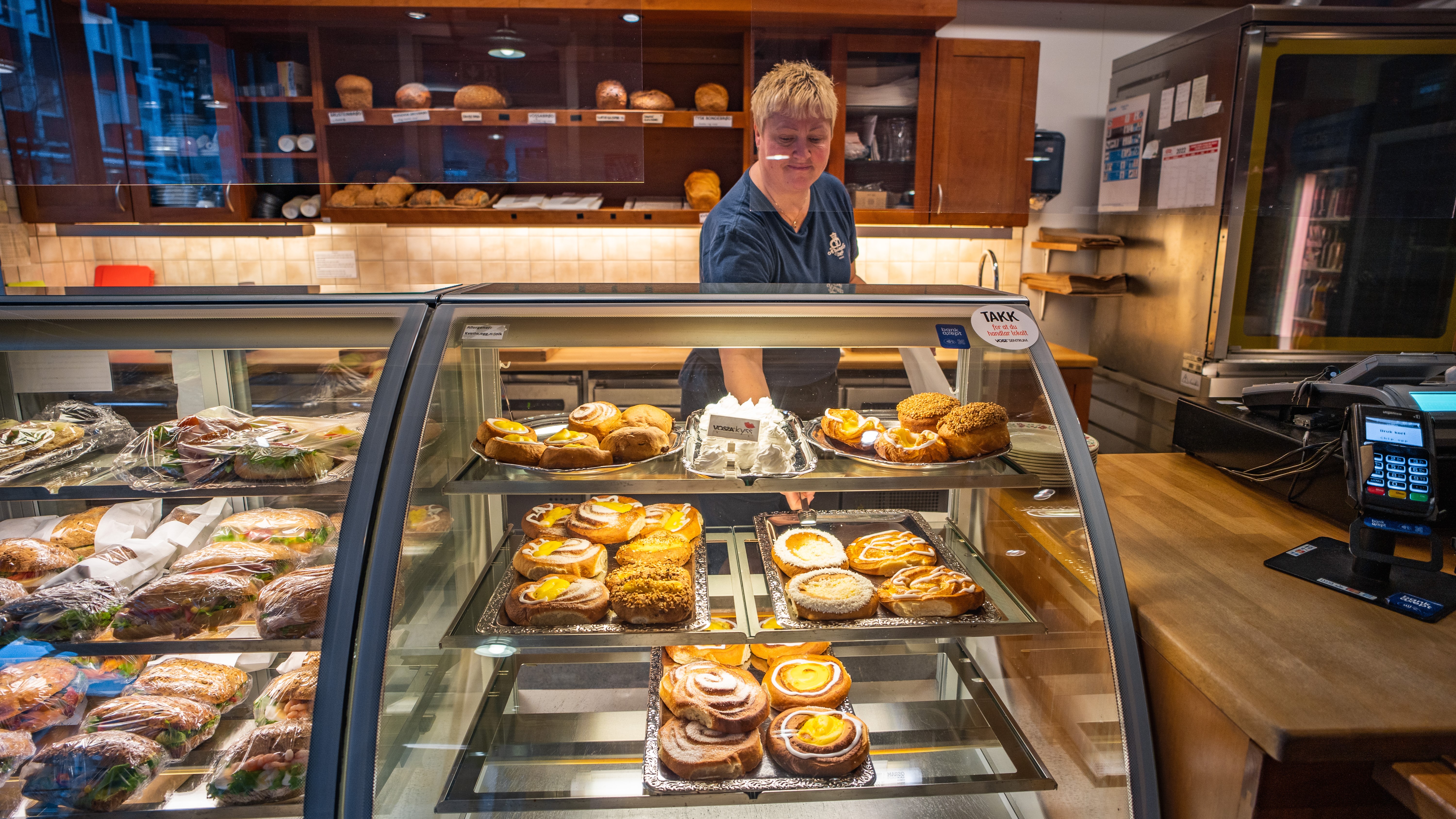 Foto: Karoline Foss
Ringheim Kafe
Ringheim cafe has both cakes, coffee, and hot and cold dishes. Here you will find something for people of all ages. They have their own children's play area for the little ones and in the summer you can sit outside on the pavement, like in Italy.
Ringheim Kafe is located in Vangsgata.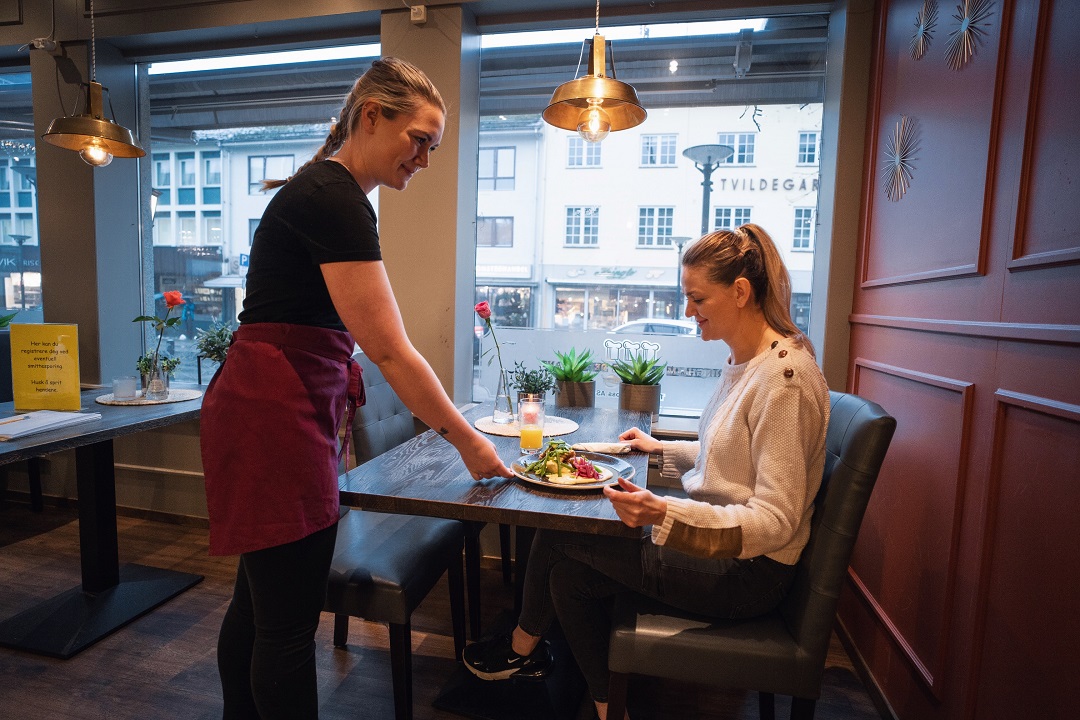 Foto: Karoline Fosse
Vangen Cafe
This is a modern, newly renovated cafe with a relaxed atmosphere. They serve traditional Norwegian dishes and tempting cakes made from scratch. The meat comes from local farms in Voss, the baked goods from Vossabakst down the street, and fresh fish from Bergen.
At Vangen Cafe you can eat both lunch and dinner, or just have a coffee. You can come here both in your fancy shirt or ski gear.
Vangen Cafe is located in the middle of Vangsgata.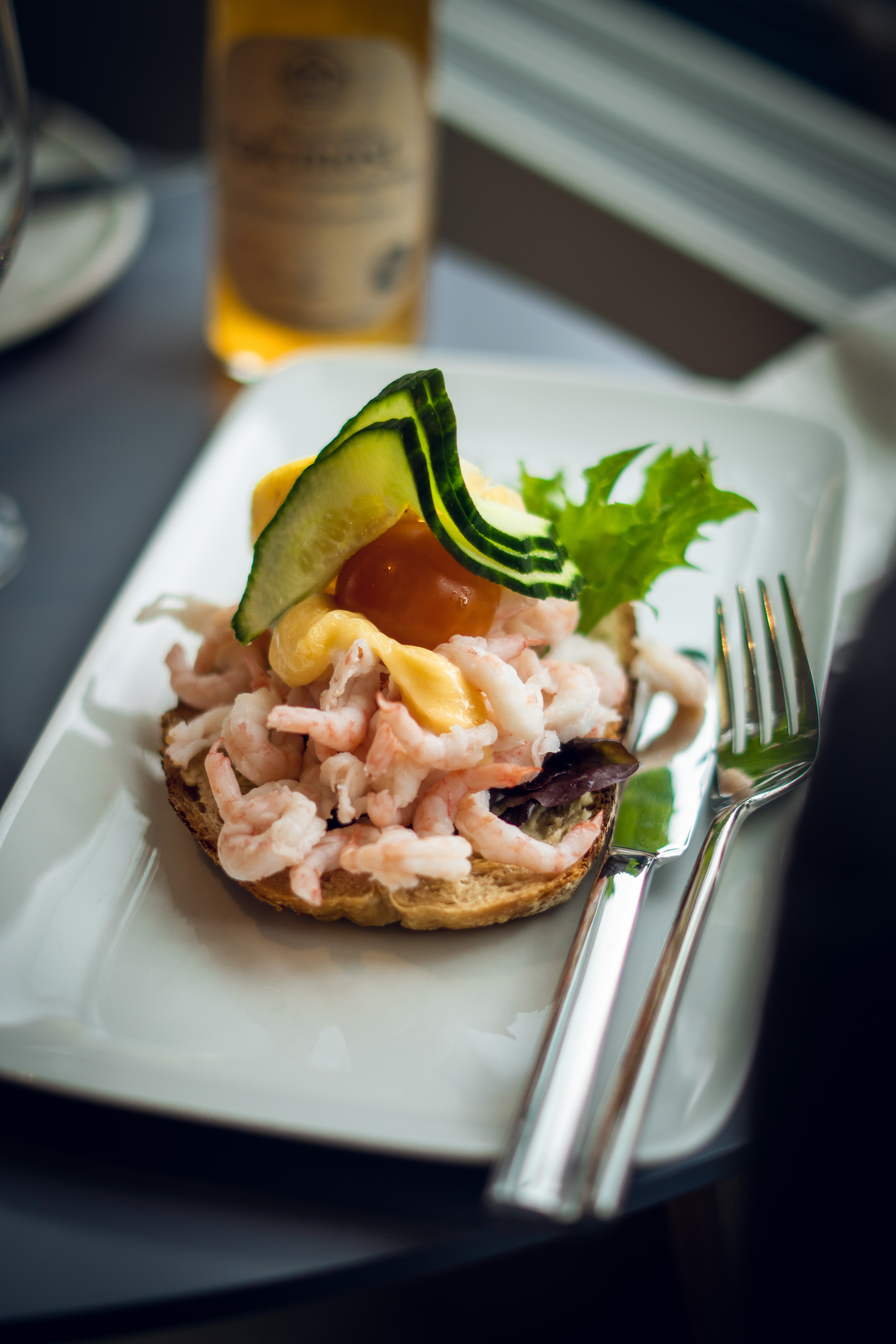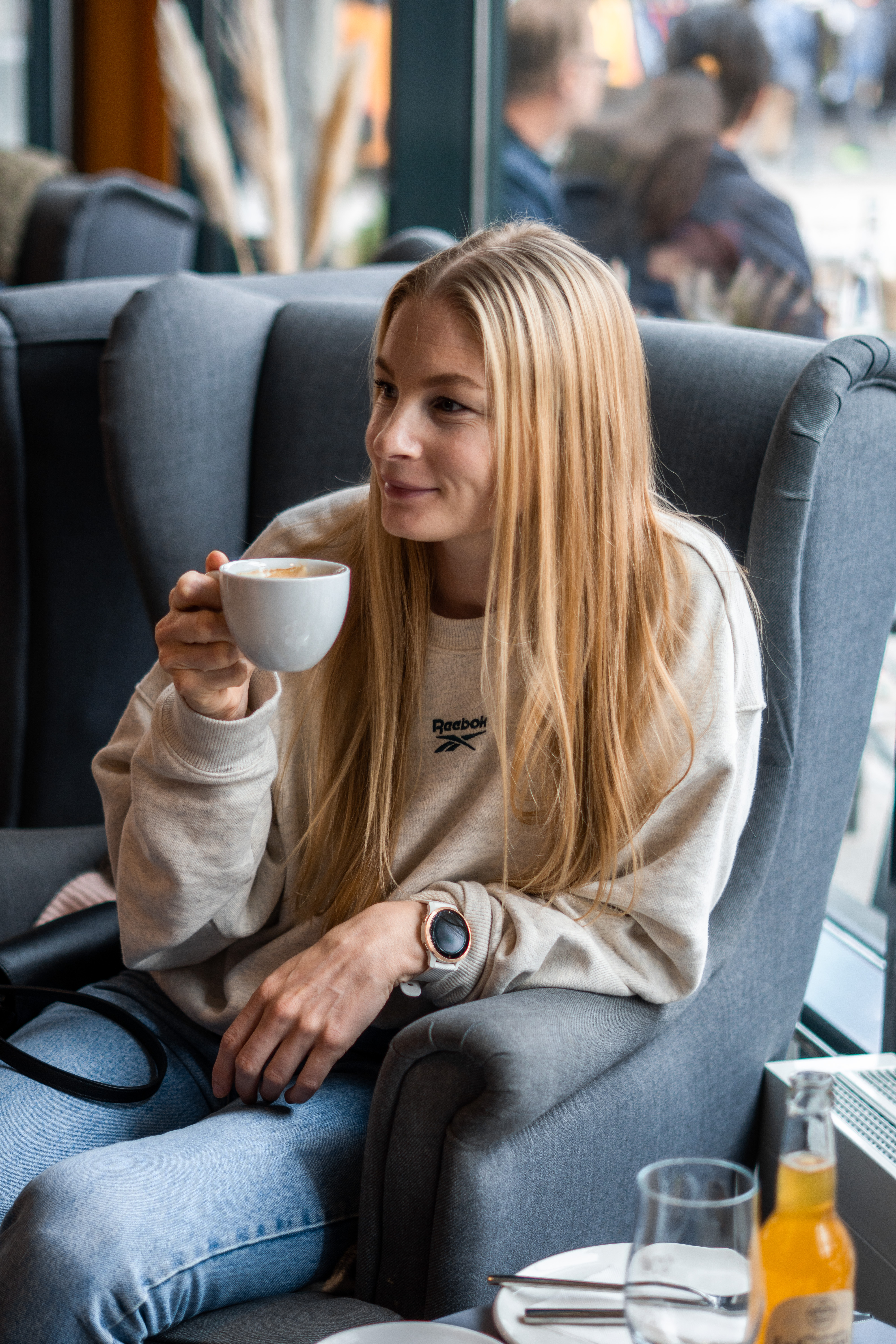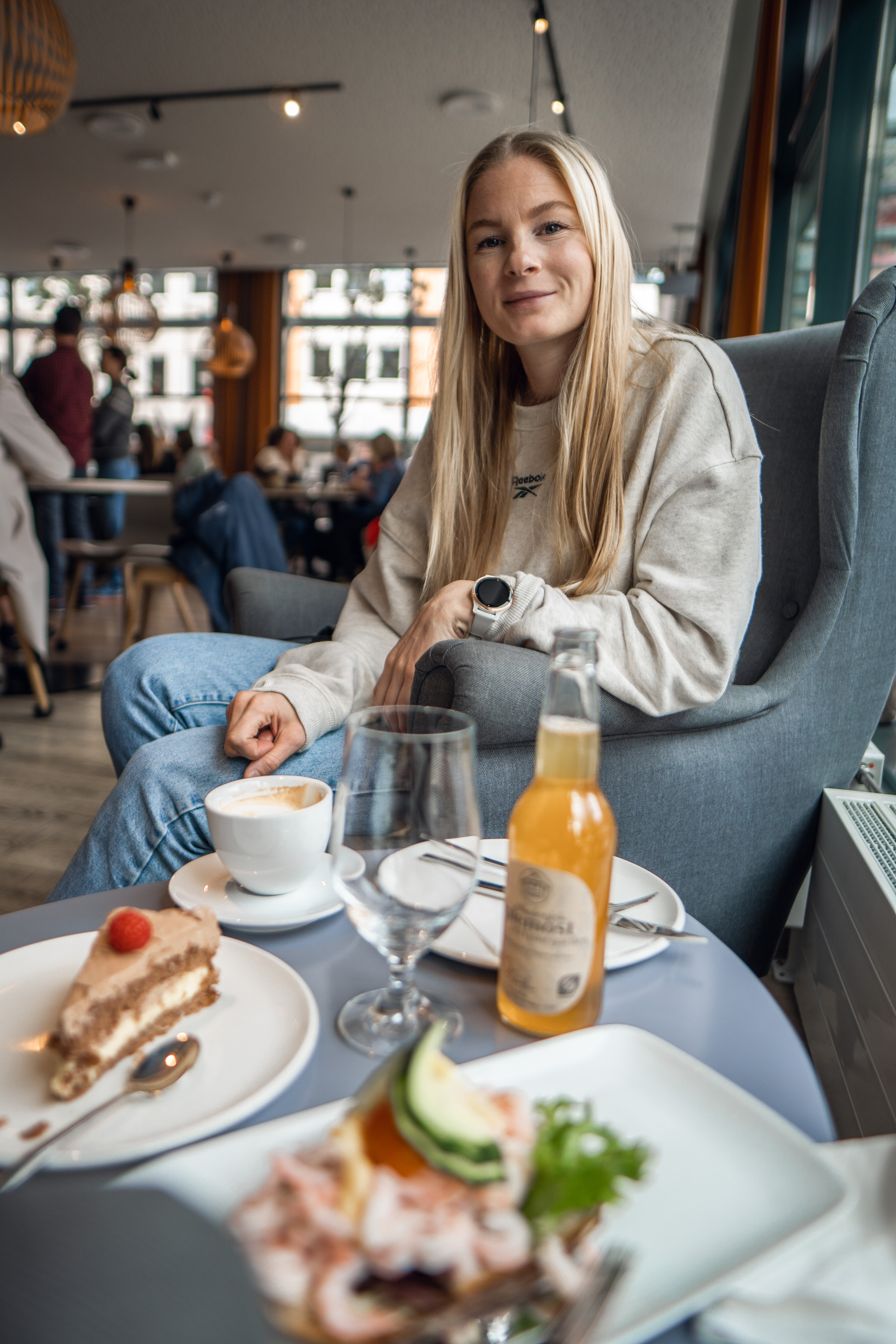 Foto: Karoline Fosse
Vossevangen Grill and Steakhouse
The Steakhouse is a casual, intimate, American-inspired restaurant. Here you can get proper "tasty" food. Their specialties are of course perfectly cooked beef and delicious burgers. If you are a group of people looking for a small meal, the tapas plate is perfect. Again locally produced food is important.
You will find the restaurant at the end of the main street, at Vangsgata 52.
Flor'n restaurant, at Store Ringheim
One of the best at using locally grown food and seasonal goods is Store Ringheim. They harvest a lot of the food themselves, at the farm, in the forest, and in the mountains. Local hunters supply them with game meat. The menu changes often, depending on what ingredients they have available. Of course, they also serve local drinks to go with the food. The night is set for a great experience, with delicious dishes with a down-to-earth feel.
Flor'n is part of Store Ringheim hotel and restaurant and is located a little outside the city center. If you do not live at the hotel, it is easy to order a Taxi. In the summer, the 30-minute walk back to the city center can be a very nice end to the evening.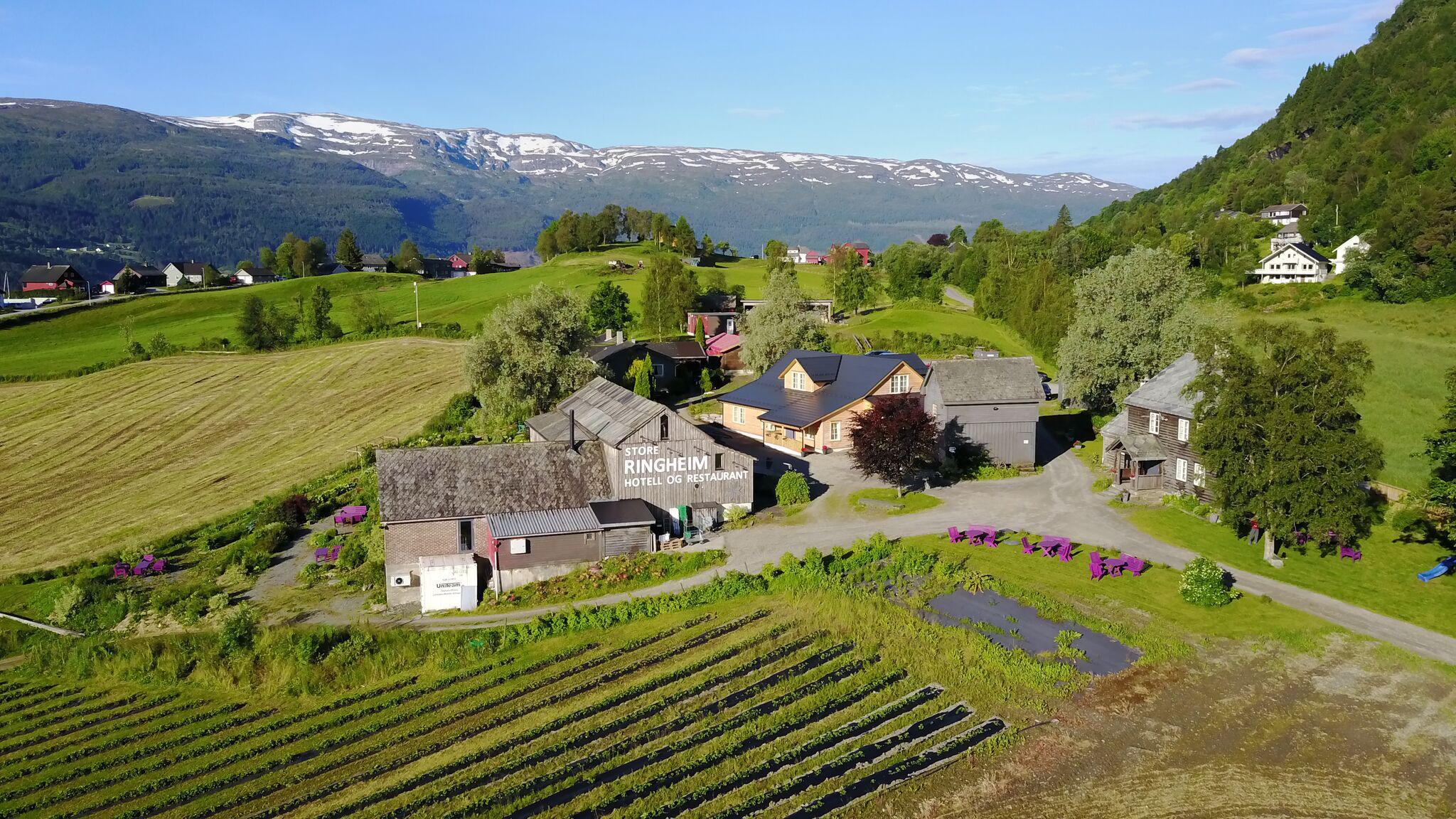 Fjellstova Vetlebotn 
The style at Vetleborn is on traditional dishes based on local food. The dishes are made from pure ingredients from the region. You can get both simple dishes such as sausage from Vossakjøt in bread rolls and stew from Haugen Gardsmat to full-fledged dinner dishes (both with and without meat). Fjellstova is decorated so that it celebrates the long history of farming in Myrkdalen.
You will find Vetlebotn in the middle of the ski resort in Myrkdalen, close to the Kari Traa skilift.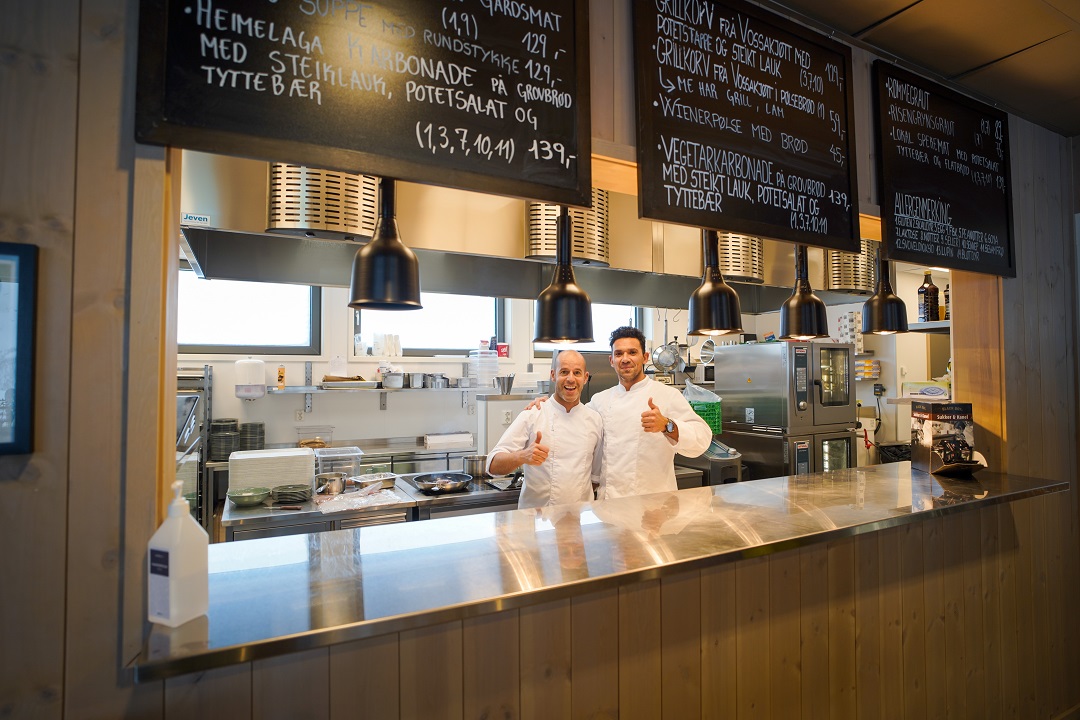 Foto: Karoline Fosse
Tunet i Myrkdalen
Tunet is a superb, Italian pizza restaurant in the middle of a mountain village. The pizza is baked in a stone oven and is of course topped with local food. If you are not in the mood for pizza, they also have à la carte dishes on the menu and sweet desserts. Here you can have lunch and dinner every day, all year.
Tunet is part of Myrkdalen Hotel. You do not need a lift pass to get here, so this is also a great place to eat if you have been skiing at Vikafjellet or cross-country skiing in Årmotslia.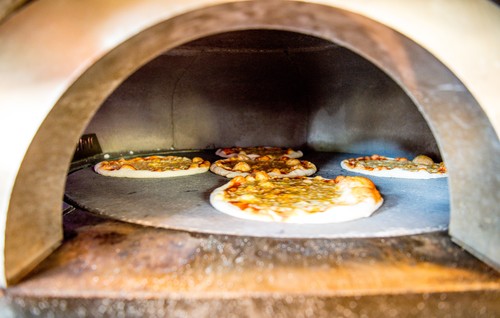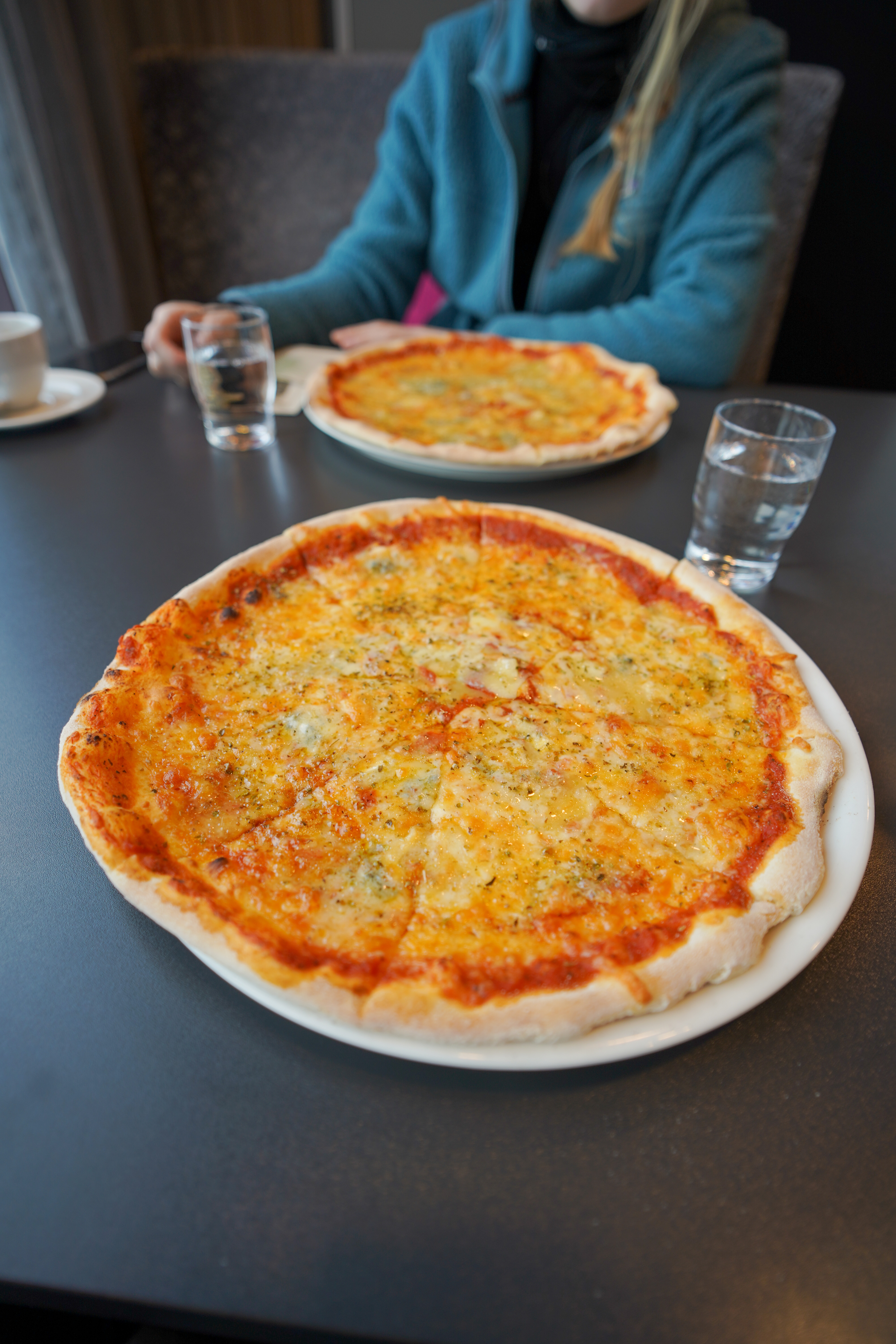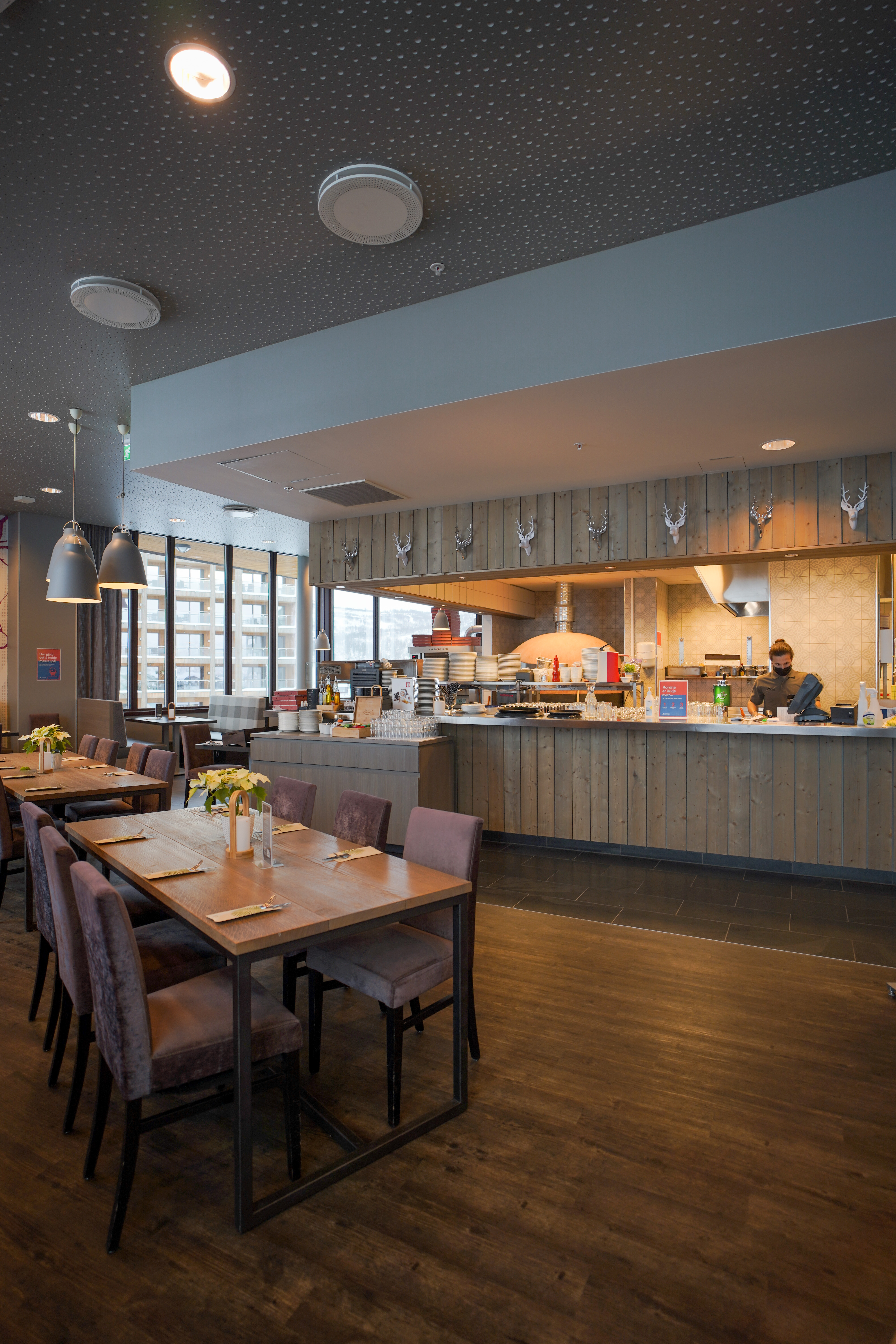 Activities to work the appetite:
<% totalFilter %> filter applicerade