Photo:
Sverre F. Hjørnevik
This is why you should take a skiing holiday in Voss and Myrkdalen
Only two hours from Bergen you can find winter paradise Voss, here fun skiing is for everyone! Why don't you secure your winter vacation now? 
At Voss you will find two of the largest skiing resorts in western Norway, Voss Resort and Myrkdalen. Together they have almost 70 kilometres of slopes for all levels, 20 ski lifts and impressive off-piste terrain. Myrkdalen is known for being one of the most snow sure destinations in Europe, and you can easily access the slopes in Voss Resort by taking the new gondola from the train station on Voss. In both the resorts you also have kilometres and kilometres of cross-country tracks, and in Voss ski- og tursenter there is even more. 
Read this also: To dagar og ei overnatting på Voss - dette kan du ikkje gå glipp av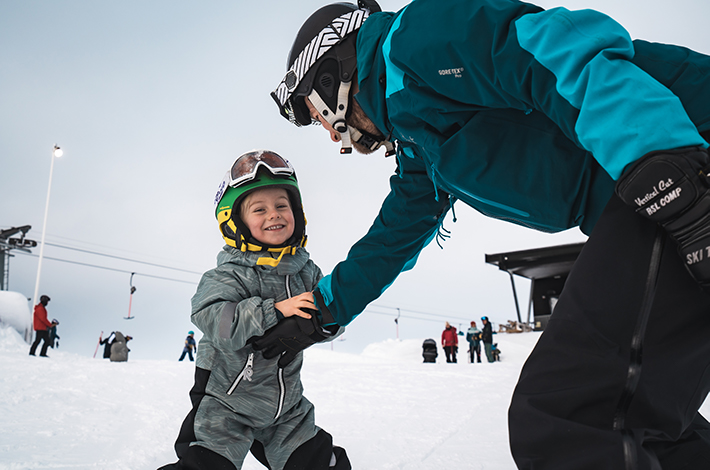 The children's area in Voss Resort on Hangurstoppen. Photo: Hunnalvatn Media
A paradise for the youngest
In Voss Resort you will find three children's area: 
- Trollbakken: The newest of the children's areas lies beside the gondola top station. It is sixty-five meters long and has a conveyor belt with roof, and a ski race every weekend and every day in holidays. 
- Badnakrokjen: This one is right behind the café on Slettafjellet, in the middle of the ski resort. With a ski lift for children, nice terrain for fun and two lean-tos. 
- Grebbesbakken: 50 meters long conveyor belt in Bavallen, it is free of charge to use. It is a perfect place for the absolute youngest to train in, and it is very accessible from the parking lot in Bavallen. 
Myrkdalen is the family's powder paradise. The children's area here is in the base of the ski resort, with easy access from the parking lot, the cabins and Myrkdalen Hotel. The area has a slow-moving conveyor belt for the youngest, two button lifts and three diverse green slopes. In Myrkdalen «Reveparken» which is a park that consists of easy and playful park elements. The park is perfect for children and beginners. 
Get the mountain to yourself!
Are you one of those who have a flexible weekday, with shift work or working from home? Then you should take the opportunity to go to the mountain's midweek. Nothing is like skiing in freshly prepped ski trails with unlimited space or being the first one to put turns in the powder from the night before. 
In Myrkdalen you can stay at the hotel and get that good vacation feeling with hotel breakfast. You can also change between freshly prepped ski trails, powder and off-piste in the area around the resort and cross-country skiing in Årmotslia. Here you will find a 5-kilometre-long round with lights, and the lights do not turn off until 10 pm so here you can take advantage of the full day. 
In Voss Resort there is many possibilities to ski off-piste both daytime and nighttime. From Voss Resort you also have a short distance to the city centre and more experiences. What about finishing the day with a trip to Vossabadet or flying in the wind tunnel between the meetings? Here you can read Klaus Finne's best tips for skiing powder. 
Both Myrkdalen and Voss Resort have fair prices on accommodation in the middle of the week through the winter.
<% totalFilter %> filter applicerade
Secure your winter holiday already now!
Weekends and holidays fill up fast, so it can be smart to already secure your winter- and easter holiday already now! Voss Resort and Myrkdalen have tons of place in their ski tracks and is ready to give you and your family a great vacation in the mountains! 
Ikkje gå glipp av dei beste vossatilboda!